If you can make people happy or laugh, you can connect easily with them, and our Indian television represents many ways to make people laugh. First, there were many comedy movies and dramas, which were fun to watch. But nowadays, many comedy patterns have started invading the television. One of them is a stand-up comedy. You don't need any fancy get up or any attractive physique to make a person laugh. All you need is the best sense of humor and the content which relates to the audience's life easier. Here are some stand-up comedians who are living upon the audience's expectations.
1. ABHISHEK UPMANYU
...
Abhishek Upmanyu Abhishek Upmanyu is a prominent Indian stand-up co >> Read More... was born on 19 May 1990 in Delhi and he is a great Indian stand-up comedian. If you need some laughing therapy, then you must go and watch his comedy. This man never disappoints you. He has done many stand up comedies on National and international level. He got a tattoo with his handwriting named Dal Makhani and has millions of subscribers on YouTube and each video shows the sarcasm of this young comedian. People are eagerly waiting for his upcoming episodes.
2. ANUBHAV SINGH BASSI
...
Anubhav Singh Bassi Anubhav Singh Bassi is a well- known Indian comedi >> Read More... is one of the best comedians and YouTube sensation, born on 9 January 1991. He is best to describe his past experiences with his friends and College in a humorous way. Bassi wanted to be a lawyer but wasn't lucky enough to succeed and pursued his career as a stand-up comedian. In one of his videos named "cheating", he impressed the audience much and after this video, he turned into a star overnight. He was doing well to laugh at the audience.
3. AKASH GUPTA
...
This Delhi boy is known for his incredible comedy, and the youth admits that he is the laughter therapist. He has done many performances on different platforms like colleges, clubs, auditoriums, etc. He has his YouTube channel, and his videos get millions of likes.
4. KENNY SEBASTIEN
...
This handsome man is incredibly known for his unique content and sarcastic humor. He was born on 31 December 1990 in Pala, Kerala, in a Catholic family. He has done roles in many comedy web series called ',' Star Boyz, and . He was a judge of the comedy show comics that started on Amazon prime.
...
5. KARUNESH TALWAR
...
This sarcastic stand-up comedian is the same in real life as in reel life. He is also a writer and believes in doing comedy with dialogues as the base. His comedy makes the audience feel that as if the comedian is talking to them. He is a gem and loved by the people; they love to wait for his new videos.
6. ADITI MITTAL
...
Aditi Mittal Aditi Mittal is an Indian writer, actress, and a s >> Read More... was the first woman who did stand up comedy in India. She is the regular comedian of the YouTube channel "canvas laugh club," which included the best comedians in the world, and also famous for her incredible contents, taking from Osama Bin laden to Miss India Miss India was a TV serial that was aired on Doord >> Read More... . She made her identity and loved by the audience. She has done many comedies on international platforms.
7. VINAY SHARMA
Vinay Sharma Vinay Sharma is a Bollywood story writer, screenpl >> Read More... is one of the finest comedians, and he loves to joke about the things he is concerned about like hair loss, which is one of its physical appearances, star signs, shaadi.com, etc. He is the regular companion of the Canvas Laugh Club channel and one of the consistent stand-up comedians.
8. KUNAL KAMRA
Kunal Kamra Kunal Kamra is an Indian stand-up comedian & YouTu >> Read More... is one of the most famous personalities in India. He loved to make comedy on the political issues, government, Indian media. He is the only stand-up comedian who has a large number of haters as well as supporters. He is from Delhi and known for his rough physical appearance yet the best sense of humor.
9. DANIEL FERNANDES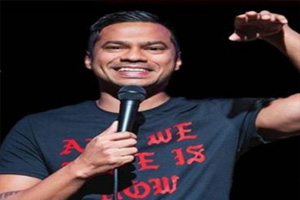 This brilliant and humourous comedian was born in Mumbai and raised in Goa. He performed in many comedy clubs like canvas laugh club, the Comedy store, etc. He is famous for his dark comedy on Indian issues, and believes that everything in his life is a comic material and so, why should not laugh at it? People love him for his beliefs and his humor.
10. ATUL KHATRI
This 40+ guy, Atul Khatri Atul Khatri is a 40+ stand-up-comedian from Mumbai >> Read More... , is an all-rounder comedian. He wanted to be a bartender and then a Disc-jockey. But didn't get a chance to pursue his career as he wished. He started to post jokes on Facebook, and then he became a stand-up comedian. He has done approximately 400 comedy shows and also performed on canvas laugh club and Comedy store.