Our Bollywood celebs have shown us their talent and versatility in their roles. With the responsibility of performing the role of a blind person, without seeing, they make us see a magnificent world. Here is a look at some well-liked blind characters from Indian movies.
1. Rani Mukerji Rani Mukerji is one of the most celebrated Indian >> Read More... in Black –
...
It is the story of Helen Keller. Director Sanjay Leela Bhansali has beautifully carved this creation, and the way he presents it on the screen is remarkable. Rani Mukerji plays the character of a deaf and dumb girl (Michelle),who struggles in life to come out from a black world. Her teacher Debraj () helps her to get the degree of Bachelor in Arts and later got into the grip of Alzheimer's disease. It was one of the biggest hits of 2005, and the acting of Bachchan and Mukerji has a record with the golden words in the history of Bollywood.
2. , Paresh Rawal The Padma Shri award winner who shot to fame with >> Read More... , and Arjun Rampal Amit Rampal is an Indian Actor, Host, Producer and >> Read More... in Aankhen–
...
This movie belongs to a different genre i.e. heist thriller drama which was made public on April 5, 2002. Aankhen presented not only a single blind character but three blind personalities. To take revenge from a bank,a fired manager, Vijay Rajput Bio coming soon... >> Read More... (Amitabh Bachchan) has hired three blind people (Akshay Kumar, Paresh Rawal, and Arjun Rampal) to rob the bank.
3. Yami Gautam Yami Gautam is a Hindi television and movie actres >> Read More... and Hrithik Roshan Hrithik Roshan with his unimaginable dance moves i >> Read More... in Kaabil–
...
This is the latest release in which both the lead actors are in a blind role. Yeah, quite an interesting plot!A local goon and his gang harassed the happily married couple. That goon raped Supriya (Yami Gautam) twice and this leads to her suicide. Then her scattered husband, Rohan (Hrithik Roshan) takes revenge for his wife's death.
4. Kajol Devgan Born on 5th August 1974, Kajol was the heartthrob >> Read More... in Fanaa–
...
Kunal Kohli One of the prominent faces in the industry of Boll >> Read More... has brilliantly woven the tragic love saga between blind Kashmiri Girl,Zooni (Kajol) and a flirty guide, Rehan ( Aamir Khan Aamir Khan or Mohammed Aamir Hussain Khan is Bolly >> Read More... ). The first half is about their romantic journey while in the second half their awful story is ended with Rehan's death. Zooni kill her husband for the sake of her country. Kajol as a blind girl,has done her job flawlessly.
...
5. Naseeruddin Shah Naseeruddin Shah is an experimental actor and asso >> Read More... in Sparsh–
...
This 1980 film is about an unconditional love between Aniruddh (Naseeruddin Shah) and Kavita ( Shabana Azmi Shabana Azmi is a film actress of Indian origin an >> Read More... ). Shah has played a blind character and was a school principal; the school is for the education of blind children. The widow Kavita is an employee of the same school, where both get started developing feelings for each other.
6. Lafangey Parindey Click to look into! >> Read More... –
...
Pinky Palkar ( Deepika Padukone Deepika Padukone is an Indian actress and model. S >> Read More... ) is an ambitious girl who wants to win a skating completion. But one day, in a car accident with Nandu (), she, unfortunately, lost her eyesight. Due to guilt, Nandu taught her to use her other senses, and in return, he got skating lessons. So, in the climax, they together took part in a competition,and both of them fall in love.
7. Moushumi Chatterjee Moushumi Chatterjee is an Indian actress who has w >> Read More... in Anuraag–
As the name signifies, it is about love, affection, devotion, and care. A carver girl Shivani (Moushumi Chatterjee) and Rajesh ( Vinod Mehra In the Indian film industry, Vinod Mehra is a name >> Read More... ) fall in love with each other. Due to the blindness of the girl, her father doesn't agree for her marriage with Rajesh. But at the end, a child who is a cancer patient and a small friend of Shivani donates her eyes, and she regains eyesight and lives happily with Rajesh.
8. Sanjay Dutt July 29, 1959, was the day when the two legends of >> Read More... in Dushman–
In this motion picture, Kajol has played the role of twin sisters. One sister got raped and killed by a brutal rapist Gokul ( Ashutosh Rana A versatile actor, Ashutosh has worked in Indian f >> Read More... ) and to take retribution, Kajol took help of Suraj (Sanjay Dutt), who is a blind man retired from military and finally kills Gokul. In the end, Sanjay and Kajol move together in life.
9. Madhuri Dixit Madhuri Dixit is not just known as the also a smil >> Read More... in Sangeet–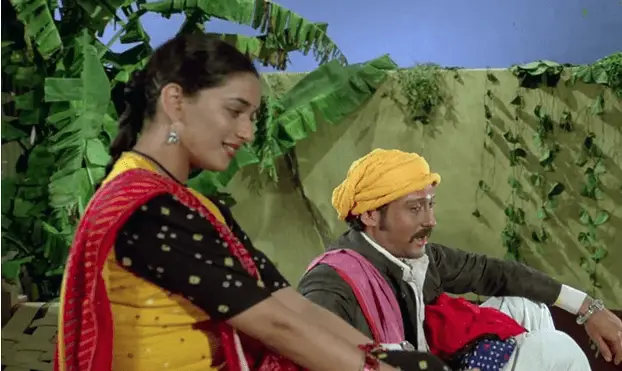 Madhuri has portrayed a part of an orphan girl who is blind. She dreamed of becoming a singer and achieved this goal with the help of Jackie Shroff Intro: Jackie Shroff is a well known Bollywood act >> Read More... (Sethuram). The role of Madhuri is praiseworthy.
10. in Suhaag –
This 1979 drama features the story of two brothers who get separated at birth. One of them named Kishen (Shashi Kapoor), an honest police officer while the other one named Amit (Amitabh Bachchan) becomes alcoholic and starts indulging in crimes. In the mid of the film, Kishan loses his visual power, and this role is one of the finest example of acting of the industry.