Tanmay Rishi Shah Tanmay Rishi Shah is a child actor. He was born in >> Read More...
Tanmay Rishi Shah plays the role of Kairav, the son of Kartik and Naira in the serial 'Yeh Rishta Kya Kehlata Hai' telecasted on StarPlus, starring Mohsin Khan Mohsin Khan is an actor, model, and an assistant d >> Read More... as Kartik and Shivangi Joshi Shivangi Joshi is an excellent Indian TV artist, w >> Read More... as Naira. Little Tanmay, aka Kairav, is just seven years old and steals the heart of the viewers with his cuteness in round glasses and his innocence. Recently the kid actor was shooting on video call due to the outbreak of Covid19.
...
Vidhaan Sharma Bio coming soon... >> Read More...
Vidhaan Sharma plays the role of Saransh Khurana in the serial 'Yeh Hai Chahatein' telecast on Star Plus, starring Abrar Qazi Hardworking and talented Indian Entertainer and Ac >> Read More... as Rudraksh Khurana and Sargun Kaur Luthra as Wife of Rudraksh named Dr. Preesha Khurana. Saransh plays the central role of the show as the story is all about him and his adopted mother. The child artist is just seven years old and captures the heart of the viewers from the very start as the show began.
...
Vansh Sayani Bio coming soon... >> Read More...
...
Vansh Sayani plays the lead role of Vivaan in the SAB TV channel's show Balveer Returns. He has a cute face cut and is ten years old. He has done many advertisements and worked with many celebrities. He first appeared on the screen when he was five years old in the serial Sath Nibhana Saathiya.
Dev Joshi Dev Joshi is a young boy from Gujarat who is the s >> Read More...
Dev Joshi Aka Balveer is famous since 2012 for his role Ballu/Balveer in the serial 'Balveer' telecasted on SAB TV. Balveer was first seen on the screen when he was twelve years old. He captures the attention of the viewers with his innocent looks. He is currently doing the season 2 of the same show named 'Balveer Returns.'
Deshna Dugad Deshna Dugad is a child artist. She works in Hindi >> Read More...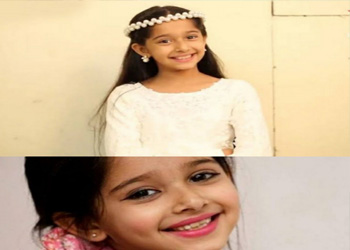 Deshna Dugad first appeared on screen in 2016 as ' Radha Click to look into! >> Read More... ' in the serial 'Baal Krishna.' Later she appeared in many serials such as 'Iss Pyaar Ko Kya Naam Doon.' She was also featured in the serial Mariam Khan-Reporting live. She also featured in the film 'Thugs of Hindostan' in 2018 and played the childhood role of the Fatima. She is a state-level karate player.
Aakriti Sharma Aakriti Sharma is a name that is very familiar amo >> Read More...
She first appeared on screen as Kulfi in 2018 in the Famous tv serial 'Kullfi Kumarr bajewala' telecasted on Star Plus. She was just eight years when she made her first debut. She received The ITA Award for the best child artist. She has done many advertisements. The serial "Jag Janani Maa Vaishno Devi: Kahani Mata Rani" is going to introduce the character of Rajjo, who is a child living with her stepmother. Aakriti is playing Rajjo in the show.
Myra Singh Myra Singh is a child artist appeared in her debut >> Read More...
Myra Singh appeared on screen as 'Amyra Singh Gill' in the serial Kullfi Kumarr Bajewala This is a musical tv series which is aired on Star >> Read More... Along with Aakriti Sharma. She was featured in the film Ferrous (2018). She was very fond of getting captured since she was a toddler at the age of 3, as said by herself in an interview. She is nine years old currently. At the age of 6, she was featured in a music video ' Bezubaan Bezubaan is a Pakistani drama serial that aired on >> Read More... ' by Indeep Bakshi Indeep Bakshi is a Hindi lyricist. He was born on >> Read More... . She dances very well.
Jinisha Bhaduri
Jinisha Bhaduri made her debut in 2019 serial ' Meri Gudiya Meri Gudiya is a Hindi television daily drama seri >> Read More... ' telecasted on Star Bharat Tv. She was born in Pune, Maharashtra. She has an innocent and cute face. She is fond of singing and dancing.
Aura Bhatnagar
Aura Bhatnagar is just nine years old and has made her debut in the serial 'Barrister Babu' in the year 2020, telecasted on Colors TV as the role of Bondita Das. She was nominated for Meri Ladli Award- 2017. She is from Uttrakhand, Dehradun
Aryan Prajapati Aryan Prajapati is an Indian born on the 12th of F >> Read More...
Aryan Prajapati is just 12 years old and has done a fabulous job by getting featured in movies such as Baaghi(2016) as Subbu, Judwa 2 (2017) as Junior Nandu, Bharat(2019) as Young Vilayti, and Lootcase(2020) as Ayush, Nandan's son. He made his TV debut as 'Khajoor' In Comedy Nights with Kapil Sharma Kapil Sharma was born in a small town of Amritsa >> Read More... . He is famous for the role of Ram in the Serial Bahu Hamari Rajnikant. He did many TV serials, such as Badi Dur Se Aye Hai and Ishqbaaz. He is a cute and entertaining child actor who is doing a great job.