1. Adil Khan Adil Khan is an actor of Punjabi descent. He was b >> Read More...
Adil Khan is from Norway and is a dancer and choreographer with 1.31 M subscribers and 114 videos on YouTube. His moves are killer, and his dancing energy is just unmatchable. His dance videos almost get more than 1M views. His choreography on the song 'Garmi' feat Anam Darbar Anam Darbar was born on 20th December 1997 in Mumb >> Read More... crossed 4M views.
...
2. Team Naach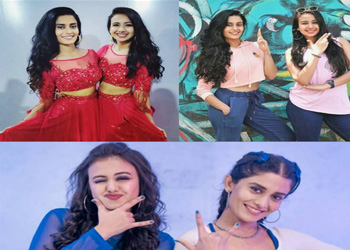 Team Nach is a YouTube channel started by Sonal Devraj Sonal Devaraj is an Indian film actress, popular a >> Read More... and Nicole Concessao Bio coming soon... >> Read More... in the year 2014 with 3.74M subscribers and 169 videos. Some of their videos crossed more than 4M views. Sonal is trained in Bharatnatyam, and Nicole is trained in Kathak and Bollywood dance. Their most popular videos on the song 'Saki Saki' Have crossed more than 53M views. The duo dances so gracefully on screen. Get the dancing shoes on while watching them dance.
...
3. Awez Darbar
...
Awez Darbar Awez Darbar is a choreographer and a social media >> Read More... is basically from Mumbai. He is a dancer, choreographer, and a social media influencer. His channel has over 3.04M subscribers and over 151 videos. Anyone can't match the type of energy and grace Awez has in his dance. He has also collaborated for a dance video with Dhvani Bhanushali Dhvani Bhanushali is a well-known versatile Indian >> Read More... for her song Na Ja Tu and Nora Fatehi Nora Fatehi is yet another foreigner to get a brea >> Read More... for the song Garmi And Saki Saki. His dance academy channel is named B You. Awez is so passionate about his work at a young age and dreams of becoming a famous choreographer.
4. Dhanashree Verma
Dhanashree Verma is a YouTuber, dancer and choreographer. She runs a dance company named Dhanashree Verma company. She has over 1.82 M subscribers on YouTube. She took training in Bollywood and hip hop. She has collaborated with many Punjabi celebrities such as Sargun Mehta Sargun Mehta is an Indian model, comedian, actress >> Read More... , Guru Randhawa Guru Randhawa is a singer. He mainly sings in the >> Read More... , and Hardy Sandhu Hardevinder Singh Sandhu recognized widely by the >> Read More... . She recently had her Roka ceremony with Indian cricketer Yuzvendra Chahal. She is also a dentist by profession. She is a flawless dancer.
 5. Sonali Bhaduria
Sonali Bhaduria is a beautiful dancer and YouTuber with 2.16M subscribers on her channel named 'Live To Dance With Sonali.' She has achieved IMW Buzz Digital Awards for Rising Star Reality TV talent hunt shows have always been one >> Read More... of the Year in 2019. She also received a silver button from YouTube. She also performed in Dance India Dance in the year 2019. She is very dedicated to her passion that she left her job to pursue dance. She has also collaborated with famous Punjabi Singer Hardy Sandhu.
 6. DanceFit live by Tejas and Isha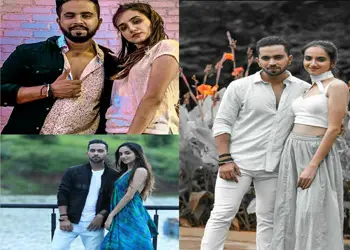 Dancefit live is founded by Tejas Dhoke And Isha Dang in the year 2016. It is a Mumbai based dance company and also has a YouTube channel with more than 4.5M subscribers. They are such an inspiration as they left their jobs and pursued dance as a passion, and now they are living their dream to the fullest. Tejas believes that if one keeps doing what he loves and believes in it, one day it will come true and also he wants to do anything with passion. Their dance video on Daru Badnaam song is a hit. They have also collaborated with the famous Punjabi singer Hardy Sandu.
7. B Funk by Chaya and Shivani
B Funk is owned By Chaya Kumar, and Shivani Bhagwan. B Funk is a Los Angeles-based dance company. They have crossed more than 1.5M subscribers on YouTube, and their videos have more than 2M views. The duo dances so gracefully that one can't take their eyes off them. They also take online classes for dancing. They have also collaborated with the legendary actor Shah Rukh Khan Shah Rukh Khan or also known as SRK is a prominent >> Read More... .
8. Melvin Louis Bio coming soon... >> Read More...
Melvin Louis is an Indian choreographer and dancer and has 4.01M subscribers on YouTube. He had a passion for dance since he was a child. He opened his YouTube channel in 2006, and today, he is on cloud nine. He appeared in Emiway Bantai's song named Bajo in the year 2019. He achieved the Dadasaheb Phalke IFF Award in Global Excellence Award for Dance Icon of the Year, and Influencer of the Year At India's International Excellence Award in 2019. He didn't take any training and he learned to dance on his own. The great legend also appreciated him for his moves.
9. Cherry Bomb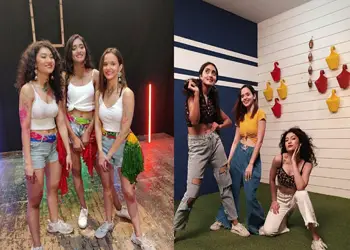 Cherry Bomb was started by three girls Jahnvi, Smrithi, and Santana. They have a YouTube channel named 'Hattke' with 988K subscribers. They have collaborated with Aparshakti Khurana Aparshakti Khurana was born in Chandigarh to a ver >> Read More... . They choreograph so well, and the dance moves are amazing. Their videos cross more than 500K views.
 10.   Downtown Bhangra by Balwinder Singh  Dhillon
Downtown Bhangra is a Surat-based Bhangra Class. It is one and only Bhangra class in Surat and it is owned by Balwinder Singh Dhillon. They also have a YouTube channel named Downtown Bhangra with 4.89K subscribers. The owner and the team have performed in the live concerts of Punjabi singers such as Guru Randhawa, Milind Gaba, and Diljit Singh Dosanjh. His bhangra moves, the unmatchable energy, and the confident smile add a little more to his dance. He choreographed a YouTube video on the 'Peed' song by Diljit. Diljit is his inspiration, and he is living his dream life.