1. Rannvijay Singh Ranvijay Singh is the prolific television host of >> Read More...
Rannvijay, the star of Mtv Roadies series. Rannvijay always wanted to join the army, but his destiny decided something else for him. He participated in ' Mtv Roadies 1 MTV Roadies 1 was an Indian Reality Television sho >> Read More... ' to win the bike, but then he became an overnight star after winning the first season. Rannvijay became a host for many shows, and then he started his acting career with the movie "Toss: A Flip of Destiny". He did many movies and is currently hosting ' MTV Splitsvilla 9 MTV Splitsvilla is an Indian Reality TV Show, that >> Read More... '.
...
2. Ayushmann Khurrana This Vicky donor worked as radio jockey, Video joc >> Read More...
This talented actor Ayushmann Khurrana started his career at the age of 17. He was first seen in "Channel V PopStars" in 2002 and then in 2004 he appeared in ' Mtv Roadies 2 MTV Roadies 2 was telecasted right after the huge >> Read More... ', and he won that season and became popular. Ayushmann has hosted many shows. His debut movie was ' Vicky Donor Click to look into! >> Read More... ' which was one of the most successful movies in 2012.
...
3. Prince Narula Prince Narula is a famous Television celebrity and >> Read More...
...
Prince Narula or we can say "Prince of Reality shows". Prince's career was started with the reality show " Mtv Roadies X4 Roadies X4 is an adventurous game show broadcasted >> Read More... ". He then appeared in " Mtv Splitsvilla 8 MTV Splitsvilla is a reality television show which >> Read More... " and won the title of "The Ultimate King Of Splitsvilla". He then appeared in the " Bigg Boss Season 9 Bigg Boss has been ruling over the other Indian Re >> Read More... " and shocked everyone by winning the show. He gained immense popularity by winning three reality shows back to back, and now he is trying his luck in acting by doing the lead in &tv's show " Badho Bahu Badho Bahu is a new television drama which airs on >> Read More... ".
4. Mohit Gaur Mohit Gaur is an Indian Singer and Television Acto >> Read More...
...
Mohit Gaur is a singer turned actor. He was first shown as the contestant of the Star Plus reality show "India's Raw Star" where he won everyone's hearts with his songs and became the second runner-up. Later in 2016 he acted as a lead in a show of Channel V called " Ishq Unplugged It is a show broadcast on V channel and produced b >> Read More... " but the show didn't go well and ended within six months.
5. Rithvik Dhanjani Rithvik Dhanjani is a popular television actor, da >> Read More...
...
Rithvik Dhanjani, one of the hottest hunks in the television industry, is a full package of entertainment. He came into limelight after playing a werewolf in the show "Pyaar Ki Yeh Ek Kahani" and after that he gained immense popularity from his role of Arjun Click to look into! >> Read More... Kirloskar in " Pavitra Rishta One of the popular Hindi serial, Pavitra Rishta Te >> Read More... ". But only a few people know that he the faced camera first time in the first season of "Dance India Dance".
...
6. Ayaz Ahmed Ayaz Ahmed rose to fame after his appearance on MT >> Read More...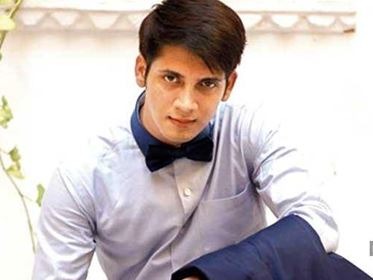 ...
Ayaz Ahmed is popularly known as Cabir from 'Kaisi Yeh Yaariyaan'. Ayaz started his career from ' Mtv Roadies 5 MTV Roadies 5 began with a bang! The show took its >> Read More... '. He was one of the strongest contestants of that season. He made his acting debut from the serial 'Kitni Mohabbat Hai' and currently he is playing the lead in " Santoshi Maa Mythology has always endeared the Indian masses. W >> Read More... ".
7. Divyanka Tripathi Divyanka Tripathi was born in Bhopal India. She is >> Read More...
Divyanka Tripathi is the beloved bahu of the television industry. 'Ye Hai Mohabbatein' actor Divyanka proved herself and won everyone's hearts and became a household name. Divyanka became popular from her show "Banoo Mein Teri Dulhann" but it was not the first time that she had faced the camera. The first time she faced the camera was in 2003 where she did her first show "Pantene Zee Teen Queen" and won the title of "Miss Beautiful Skin".
8. Shakti Mohan Shakti Mohan is an Indian actress who predominantl >> Read More...
Shakti Mohan is a well-known name in the television industry. She is a versatile dancer as well as a great actor. Shakti becomes very famous when she won a dance reality show. After that, she tried her luck in acting, and she was the main lead in one of the popular youth show of Indian television " Dil Dosti Dance Haritha is a TV actress. She started her acting ca >> Read More... ". She gained immense popularity among youth and currently she is one of the judges in ' Dance Plus Season 2 After the huge success of the first edition of thi >> Read More... '.
9. Charlie Chauhan The beautiful and pretty Charlie Chauhan known for >> Read More...
Charlie Chauhan is another Roadies contestant who turned into an actor. Charlie had always wanted to be an actor. Even when she went for the auditions, Charlie mentioned that she wished to become an actor and it was a 'Dream Come True' moment for her when she got selected to play the lead in the show "BFF-Best Friends Forever?", but she is remembered for her role of Mukti in MTV's Kaisi Yeh Yaariyan.
10.
Indian VJ Shaleen Malhotra was one of the contestants on ' Mtv Roadies 4 MTV Roadies 4 is a reality television show. This s >> Read More... '. Shaleen has done various shows on television, but he became popular when he played the lead in the Star Plus show "Arjun". He also got a nomination for the Best Fresh New Face in the Twelfth Indian Telly Awards.