1. Dangal
"Gold to gold hota hai chora laaye ya chori."
...
Dangal is about a father's unrelenting belief in the capabilities of his daughters. It is about Mahavir Singh Phogat ( Aamir Khan Aamir Khan or Mohammed Aamir Hussain Khan is Bolly >> Read More... ), a wrestler past his prime, who trains his daughters Geeta ( Fatima Sana Shaikh Fatima Sana Shaikh is an actress of Andhra origin. >> Read More... ) and Babita ( Sanya Malhotra Sanya Malhotra is an actress and choreographer and >> Read More... ) to become world-class grapplers. Set in the state of Haryana where female foeticide is widespread, this movie comes across with the message of equal opportunities and acceptance in sports.
2. Pink
...
Starring Taapsee Pannu, Kirti Kulhari She is an India film star Born May 30, 1985 in Mum >> Read More... , Andrea Tariang Andrea Tariang is an Indian Actress, Model, Singer >> Read More... and in the lead roles, Pink is one of the boldest movies made in Bollywood about a woman's freedom of her sexuality. This movie highlights the mindset prevailing in India which judges a woman's character based on chauvinist parameters. It sends the message that a woman's "no" means a definite 'no' and should not be interpreted otherwise.
3. No One Killed Jessica
...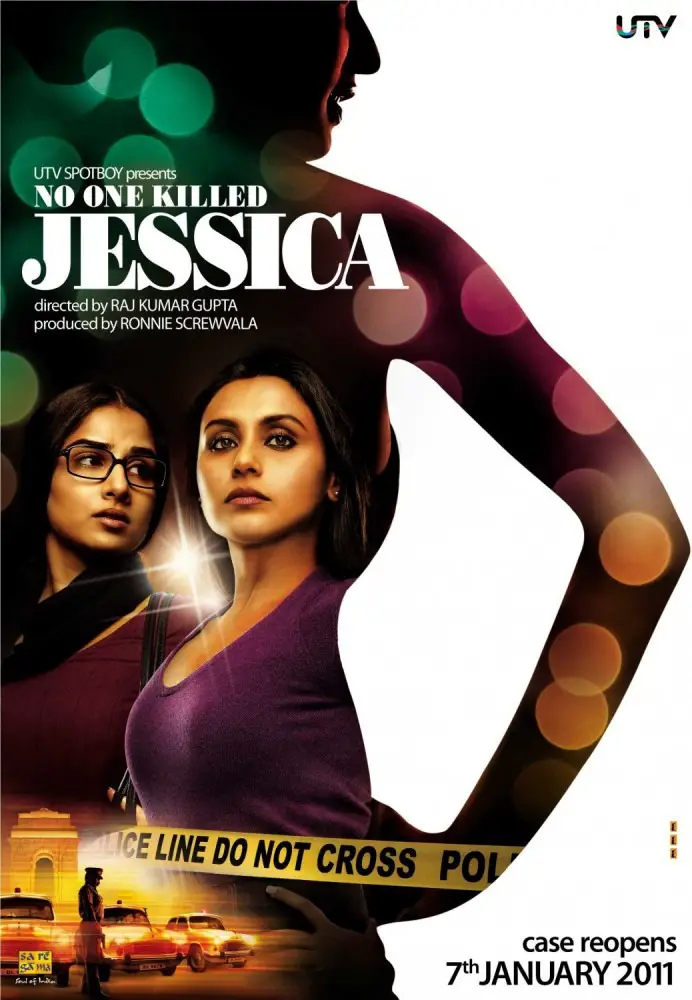 Starring Vidya Balan Vidya Balan is an award winning Bollywood actress >> Read More... and Rani Mukherji in the lead roles, No One Killed Jessica is based on the murder of model Jessica Lal Jessica Lal was an Indian model, whose brutal murd >> Read More... (in 1999) in a posh eatery in Delhi. The movie revolves around the fight for justice by her sister Sabrina Lal Bio coming soon... >> Read More... (Vidya Balan) and the feisty news reporter following the story Meera Gaity ( Rani Mukerji Rani Mukerji is one of the most celebrated Indian >> Read More... ). The loopholes in the road to justice in the Indian legal system are shown in the movie, along with two women's struggle for justice.
4. Dor
...
Dor Gul Panag as Zeenat, whose husband has been arrested for the murder of Meera's ( Ayesha Takia Ayesha is a Bollywood film actress, born on 10th A >> Read More... ) husband in Saudi Arabia. Meera is a Rajput bride who is distraught after the death of her husband. It revolves around women's emancipation, friendships and Meera's journey from being a timid widow to a strong woman who isn't afraid of living life on her own terms.
...
5. Angry Indian Goddesses Click to look into! >> Read More...
...
Angry Indian Goddesses is a Bollywood movie on women friendships. It revolves around the lives of seven women whose lives are completely different from one another. When one of them decides to get married in Goa, the entire bunch of college friends gathers for a bachelorette, which is when the conversations start flowing. The movie reflects the deep-rooted misogyny instilled in the Indian society and the women's fight against gender inequality through various stages in their lives.
6. Piku
...
"Marriage without purpose is low IQ."
It is the story of Piku ( Deepika Padukone Deepika Padukone is an Indian actress and model. S >> Read More... ), who balances her personal and professional life while taking care of her aging (and sometimes irritable) father Bhashkor Banerjee (Amitabh Bachchan). The movie explores the father-daughter relationship in a refreshing way and subtly depicts the modern Indian woman who is emotionally and financially independent.
7. Neerja
It is the biopic of Neerja Bhanot Neerja Bhanot was a senior flight attendant for th >> Read More... (played by Sonam Kapoor Sonam Kapoor, Daughter of Anil Kapoor and model Su >> Read More... ), the courageous flight attendant of a Pan Am flight which was hijacked by terrorists in September 1986. Sonam Kapoor delivers one of her best performances in this movie. Neerja is heartbreaking and endearing at the same time.
8. Nil Battey Sannata Click to look into! >> Read More...
Chanda ( Swara Bhaskar Swara Bhaskar is a talented Indian actress who is >> Read More... ) is a maid who works four jobs to provide for her daughter Apu ( Ria Shukla Actress Ria Shukla played the lead role in the muc >> Read More... ). Her only dream in life is to see her daughter educated. Seeing Apu's reluctance to go to school, Chanda comes up with a plan to convince her. This movie takes on the mother-daughter relationship and depicts a mother's dreams about providing a proper education to her daughter.
9. Margarita, with a Straw
Starring Kalki Koechlin in the lead role, Margarita with a Straw is the story of an aspiring writer with cerebral palsy who discovers that she is bisexual. It is a movie which bravely takes on the sensitive subject of sexual desires of the disabled. It encompasses the journey of self-discovery of Kalki's character and societal change in general.
10. Highway
A young girl Veera ( Alia Bhatt Alia Bhatt is a trendsetting actress from Mumbai, >> Read More... ) is kidnapped by Mahavir ( Randeep Hooda The strong macho image of Randeep Hooda graces the >> Read More... ). What happens next is the journey Veera takes on while she finds peace during her time in captivity. She gathers up the courage to confront the person who abused her as a child and questions the society which suppresses the voices of women who speak up against the injustices they face.