Getting bored of today's TV shows? Want to relive the 2000s? We have got some of the finest TV series aired in the 2000s. This list contains shows of different genres ranging from drama to horror and from history to comedy. So take a pen and paper and get ready to have a glance of what TV "looked" like in that era. It does not contain reality TV shows.
10. Sapna Babul Ka… Bidaai
...
Skin color can have huge social impacts, and that is what is the concept of this serial. Making a TV show on racial discrimination would be a tough job, but the show never lost its viewers. The show is a total package; it shows the relationship between father and her daughters, racial discrimination, and emphasizes on many other problems. The twists in the plot are sudden and unpredictable which makes it anticipating for the viewers. Despite the show has a three-year run, less than other shows on this list, the serial stands as one of the best works of the 2000s. So if you are a newbie, this one shall be good enough for you.
9. ' Hatim Indian television industry is famous for its contr >> Read More... '
...
If you were a kid in the 2000s, then it is natural for you too to love Hatim more than any superhero you know. The story revolves around Hatim who has to answer seven questions to defeat evil sorcerer Lord Dajjal aided by Najumi. It had sword fighting, sorcery, romance, comedy which engulfed all the sections of the society, adults and kids. The episodes ended in a great suspense and were always a topic of heated discussions, which made it more anticipating. The questions were based on proverbs which were a lesson for the kids. There was always a mysterious aura surrounding the protagonist which made the serial even more exciting. So if you love adventures and you want to have it real good, then you've got a big thing ready for you.
8. Ssshhhh…..Koi Hai
...
If you are alone, feeling lonely then this is a perfect show to remove the feeling of loneliness. A thriller/horror show with ghost busting triad. Mayakal, who was the most powerful wizard has captured our hero Vikraal. Guru Satyacharya understood that Vikraal could not handle the situation alone, and therefore he called Bijli and Captain Kishan in to help Vikraal. These ghost-busters' mission in life is to get rid of all the ghosts & evil spirits that are there in the world and were called Trikal. This was one of the most successful horror shows of 2000s and had three seasons. Another show based on it Vikraal and Gabraal was also aired. There were total 393 episodes. So, get ready for some spine chilling and entertaining episodes featuring many "ghosts." Enjoy.
7. " Dharti Ka Veer Yodha Prithviraj Chauhan Dharti Ka Veer Yodha Prithviraj Chauhan is a histo >> Read More... "
...
About a time ago in the mid-2000's when serials were all about family relations, Dharti Ka Veer Yodha Prithviraj Chauhan was something new and did not follow the trend of that time. The story emphasizes on Prithviraj Chauhan, one of the greatest kings to be born in India. The series was an excellent effort to make the new generation learn about the glorious past of our country. The work done was perfect, and was expected from the makers of the epic ' Ramayana Ramayana is a mythology based drama TV show which >> Read More... '. The shooting, camera effects, characters and everything is perfect and adding to its quality is the lead character played by Rajat Tokas Rajat Tokas is a prominent Indian television actor >> Read More... . It's a show that is enjoyable for all, from kids to the old and has an IMDB rating of 8.1 which makes it a must watch.
...
6. ' Khichdi Instant Khichdi is a SitCom based on the lives of >> Read More... '
...
Have you ever eaten Gujarati Khichdi ? Well, if you haven't then something is really wrong and you should go for it, same goes for the show. The story revolves around a joint Gujarati family facing typical Indian problems but tackling them in a very un-typical manner. Each family member adds their own flavor to the Khichdi and makes it special. Remarkable acting, direction, and strong and original dialogues elevates this show to our top ten list. It does not uses high laugh tracks, instead depends upon the witty lines and deadpan humor. It is produced by UTV software communications. It has won many awards and was so loved that even a movie was made, "Khichdi". Grab some popcorn, make yourself comfortable and don't go for some foreign Sitcom, we have got desi khichdi for you.
5. ' CID Crimes happens to anybody in this world. You canno >> Read More... '
...
The show says "if there's a door, then there is Daya". Being a detective TV series, the show beats all other shows in the same genre and is a work of art. The show revolves around a CID team which solves cases like a normal CID team does. But everything is not normal in the show as criminals usually targets the CID team instead. The dialogues are so repetitive, that it has memes and people acting like them. Daya, a character is quite famous for breaking into houses via doors and so is the head of the team for the Dialogue "Kuch Toh Gadbad Hai" (Something is wrong).There are many parodies of the show which add to its fame, and stories are unpredictable and are like the "Scooby Doo" of Indian TV because of its intense nature. It has bagged several awards, and is still running and let's hope it doesn't end soon.
4.
A great plot is what beats the brands; the show is what made colors a successful channel and itself a legend in the Indian TV. The show was originally based on the theme of child marriage but has several love triangles and affairs. The major twists are results of gunfire and violence; even the protagonist is shot twice in the series! The acting done by star cast is superb as they're known as their names in the show. There are a series of conflicts which may seem meaningless, but that are what adds spice to the content. The popularity can be estimated by the fact that it has another season based on the protagonist's daughter which was also a success like it and has left its mark on the viewer.
3. " Kasautii Zindagii Kay Now this is something very BIG. Here we are talkin >> Read More... "
This show introduced many popular faces like Shweta Tiwari Shweta Tiwari is the well known face of Indian Tel >> Read More... , Urvashi Dholakia Urvashi Dholakia is an Indian Film & Television pe >> Read More... and Ronit Roy Ronit Roy (Ronit Bose Roy) was born on 11th Octobe >> Read More... . Yes, you read it right, they all were part of this popular TV show. The story revolves around Anurag Basu Anurag Basu is a jack of all trade Indian film/tel >> Read More... and Prerana who are deeply in love with each other but are unable to unite because of conspiracies, hatred, and other negative factors. The negative role of Komolika is considered one of the best in the history of Indian television. There are marriages then deaths, more marriages, and then more deaths but the story is so gripping, and the acting is so good that it ran for almost seven years and recorded one of the highest TRPs. It has won many awards which include Sansui Awards of 2008 which awarded it as the Most Popular Show of the Decade. This show is also the production of Balaji Telefilms. If you are looking for lesser family drama and more character-oriented show, then go for it.
2. " Kahaani Ghar Ghar Kii Kahaani Ghar Ghar Kii is like an all time favorite >> Read More... "
As the title depicts, this is a story of every house. The story revolves around Aggarwal family which consists of Om Aggarwal, son of powerful businessman, three brothers, and the lead role, his wife Parvati (Sakshi Tanvar), who is polite as lamb. But as the time passes, she has to hold together her family and take strong decisions. She is considered as ideal Bahu and dream of many Indian mothers-in-laws. This is the second longest running TV serial, ran for almost 8 years and was also dubbed in Sinhala (a Sri Lankan language). It has won many awards which includes ITA Milestone Award in 2010. It also comes from the production house of Balaji Telefilms. So, fasten your seat belts to go through a ride of Story of every house, you wouldn't need any seat belt though. Still it would be a good ride, a good non-bumpy, beautiful ride.
Honourable mentions:
Well, some of the shows were very good but couldn't find place in our top 10 list.
""
' Kumkum Story soon >> Read More... '
" Taarak Mehta Ka Ooltah Chashmah Taarak Mehta Ka Ooltah Chashmah is a television se >> Read More... "
"", " Baa Bahoo Aur Baby Season 2 It is a cult serial which used to air on Star Plus >> Read More... "
1. ""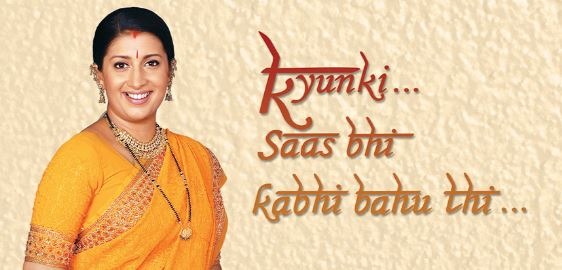 If there is any serial which defines the Indian television, here it is, featuring former HRD minister Smriti Irani. Premiered on 3 July 2000 on Star Plus, the show can be called the undoubted best of all shows you see today. The show revolves around Tulsi Virani, a pundit's daughter married to Govardhan Virani, the grandson of rich business tycoon, and is loaded with thrilling twists and chilling suspense. The show ran eight years straight, comprises of 1833 episodes in Total, and has the highest rated episode in the history of Indian TV with a rating of 22.4. The show also won Best Continuing Series at Indian Telly Awards for six consecutive years (2002-2007), won Best Serial for five consecutive years (2001-2005) at Indian Television Academy Awards. People loved it, and some hated it, but every Indian TV fan has seen it.