Some stars in Bollywood have never worked together, but we think that if they are paired opposite each other, it would be a good change in the industry. Here, check out some pairs which we think should team up great with each other!
1. Shah Rukh Khan Shah Rukh Khan or also known as SRK is a prominent >> Read More... and Sonakshi Sinha Sonakshi Sinha is a well-known Indian Actress. She >> Read More...
SRK, the Badshah of Bollywood is the most sought after actor with whom actresses want to add at least one film to the list of their Filmography. What if the ' Dabangg Click to look into! >> Read More... ' girl, Sonakshi Sinha is cast opposite SRK? It will surely be a spicy pairing. Sona, as she is lovingly called, has already proved her action skills in " Akira Click to look into! >> Read More...
...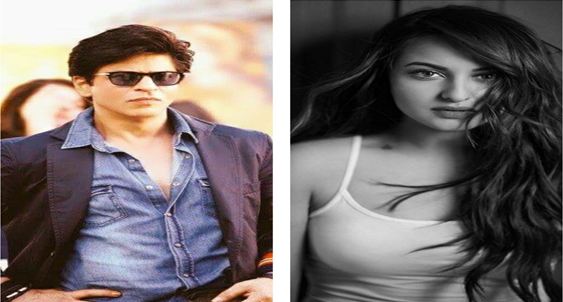 2. Emraan Hashmi Emraan Hashmi is one of the most successful & cont >> Read More... and Aishwarya Rai Bachchan Aishwarya Rai Bachchan is a popular Indian actress >> Read More...
It is definitely going to be interesting to see this quirky couple on screen. The serial kisser of Bollywood has a peculiar charisma that makes any lady who shares the screen with him look as if the couple were destined in heaven! It will be a movie worth watching. A virtuous woman falls for a bad guy. Now that is a theme all of us love watching and in this couple's case, this theme will be a hit for sure.
...
3. Shahid Kapoor Shahid Kapoor also identifies as the name Shahid K >> Read More... and Deepika Padukone Deepika Padukone is an Indian actress and model. S >> Read More...
...
Both of them have cute dimpled smiles that everyone fancies. It will be great to see the magic of their smiles put together, won't it? Both of them share amazing chemistry with their co-stars, so it's an obvious fact that they will gel well. To top that, both Shahid and Deepika are expert dancers. Their movie together will break the buzz meter of films because it is likely that the director will bring out their dance skills to its best and the movie will contain some jaw-dropping dance moves. The two recently worked together in Padmavaat, but we need to see only the two of them together in a movie.
4. Parineeti Chopra The bubbly actress, born on 22nd October 1988, lan >> Read More... and Shahid Kapoor
...
Love stories have always been a favorite of Bollywood. How totally adorable it will be to witness Shahid romancing the bubbly doll Parineeti. Shahid, being the gentleman he is, has always made women swoon as a romantic hero. He is the ideal lover a woman hopes to find one day, and Parineeti is the reflection of how a cheerful, fun-loving girl is in real life. We hope some director catches hold of this article and pays heed to the casting of this couple!
...
5. and Huma Qureshi Huma Qureshi is a model-turned-actress in Bollywoo >> Read More...
Huma, the sizzling, bold beauty of Bollywood proved in the film Gangs of Wasseypur that she is not just a pretty face that is cast in a movie as the hero's arm candy. She is a woman of substance and fits in bold roles seamlessly. Akshay Kumar needs no introduction as to what he is capable of doing. The man does his action scenes without the aid of a body-double. Need we say more? It will be a treat for action lovers to see this feisty pair together in an action-thriller. We love seeing Akshay romance his leading ladies in the midst of all the action going on. Let's see what wonders this pair can accomplish.
...
6. Arjun Kapoor Arjun Kapoor is a Bollywood star. He was born on 2 >> Read More... and
...
The Barbie doll of Bollywood has looks even women do not fail to admire. On the other hand, the Ishaqzaade hero Arjun's persona, a blend of cuteness and masculinity is hard to ignore. In my opinion, this couple would give a blockbuster if the genre of the movie is of obsessive love. Katrina apparently has looks one would go crazy over at first sight. Imagine the storyline of love brewing between this scintillating couple. Considering that Katrina and Arjun were recently spotted at a party hand-in-hand, their chemistry will not be hard to digest.
7. Hrithik Roshan Hrithik Roshan with his unimaginable dance moves i >> Read More... and Deepika Padukone
If Hrithik Roshan, with looks of a Greek hunk and dancing style out of this world is starred opposite the gorgeous dancing diva of Bollywood, the screen is bound to be set on fire. It will be amazingly spell-binding to see them in a historical movie: Hrithik, in a regal role as in ' Jodha Akbar Jodha Akbar is a very popular epic historical tele >> Read More... ' and Deepika in a queenly role as in 'Bajirao Mastani.' They would also look perfect in a movie in which her character resembles that in the movie Cocktail with Hrithik, a business tycoon falling for her carefree spirit.
8. Aamir Khan Aamir Khan or Mohammed Aamir Hussain Khan is Bolly >> Read More... and Vidya Balan Vidya Balan is an award winning Bollywood actress >> Read More...
We know what a versatile actress Vidya Balan is. She has done justice to every role that has come her way. Be it the sexy siren in Dirty Picture movie or a simple woman in Hamari Adhuri Kahani Click to look into! >> Read More... , she performs all the roles effortlessly. Aamir Khan, the perfectionist, does not need anything to be said about him. The name says it all. Each time his movie comes out with a unique story which makes the audience fall in love with him even deeper. Let's hope that the two of them team up soon for a movie and surprise us yet again with their superb acting.
9. Parineeti Chopra and Ranbir Kapoor Ranbir Kapoor is a noted Indian film actor. He was >> Read More...
Now, who wouldn't want to see these two charming personalities paired opposite one another? This crazy couple will send the crowd into fits of laughter if paired in a romantic comedy. We are all aware of Parineeti's brilliance when it comes to comic timing and Ranbir's ability to do full justice to a comic role, as steadily as flowing water. We have witnessed his funny side in the movie Ajab Prem Ki Ghazab Kahani. This couple will steal hearts and will also make other on-screen hit couples envious.
10. Vidya Balan and Salman Khan Salman Khan is a very famous Indian actor and a pr >> Read More...
Salman Khan is the star each actress wants to work with, in at least one film. Vidya Balan and Salman Khan are two iconic stars of Bollywood who we desire to see together, perhaps in a film whose storyline involves love happening twice. This story can become one of the most memorable ones of Bollywood and to top that, it will be interesting to watch how well the chemistry between them will work. Fingers crossed! Now let's hope and pray that some director is working on a script with couples we have listed above on his mind.