In recent times, the idea of the Bollywood hero and heroine has changed. Previously, there used to be a clear distinction between the hero and the other actors. However, now we see that more and more leading actors agree to do supporting roles in movies if the role is worth it. Often, they end up overshadowing the main leads by their performance. Let us look at ten such actors who shined in supporting roles and gave a memorable performance.
1. Priyanka Chopra Born on 18 July 1982, Priyanka Chopra is an establ >> Read More... in Bajirao Mastani Click to look into! >> Read More...
Sanjay Leela Bhansali's historical romance, Bajirao Mastani, had Ranveer Singh Ranveer Singh Bhavnani is an Indian movie actor wh >> Read More... and Deepika Padukone Deepika Padukone is an Indian actress and model. S >> Read More... in the titular roles. In this film, Priyanka Chopra played Kashi Bai's role. Kashi Bai was the first wife of Peshwa Bajirao who was shattered when Bajirao fell in love with Mastani and married her. The pain and helplessness of the character were portrayed perfectly by Priyanka. Her performance was highly praised by the critics and viewers.
2. Aishwarya Rai Bachchan Aishwarya Rai Bachchan is a popular Indian actress >> Read More... in Ae Dil Hai Mushkil
Karan Johar's recent movie Ae Dil Hai Mushkil was a saga of friendship and one-sided love. Though Ranbir Kapoor and Anushka Sharma Born in an army family to Col. Ajay Kumar and Ashi >> Read More... played the central roles, Aishwarya shined in her appearance as an Urdu poetess, Saba. She falls in love and has an affair with Ranbir Kapoor's character. Aishwarya's beauty and grace lent the proper elegance to such a character. Her performance and beauty were praised a lot.
3. Nawazuddin Siddiqui Nawazuddin Siddiqui was born in Budhana in Muzaffa >> Read More... in Bajrangi Bhaijaan Click to look into! >> Read More...
Bajrangi Bhaijaan became an audience favorite due to Salman Khan Salman Khan is a very famous Indian actor and a pr >> Read More... 's performance as Pawan Kumar Chaturvedi and the cuteness of the child actor Harshaali Malhotra Harshaali Malhotra is a model and a child actress >> Read More... who played the role of Munni. In the film, Nawazuddin Siddiqui has a meaty role as Chand Nawab, a Pakistani reporter, who finds about Pawan's quest of finding Munni's home and helps them until the end of their search. Being an exceptionally brilliant actor, Nawazuddin did complete justice to his role.
4. Randeep Hooda The strong macho image of Randeep Hooda graces the >> Read More... in Sultan
Another of Salman Khan's movie, Sultan was an immense success at the box office due to its inspiring story about a wrestler and his love. Salman Khan played the title role of Sultan and Anushka Sharma played the role of his lady love. The character of Sultan's freestyle coach is played by Randeep Hooda. The character is a strict disciplinarian who trains Sultan to compete in a national championship. Hooda's intensity helped take the character to a whole new level.
5. Irrfan Khan Irrfan Khan is a noted Bollywood actor who started >> Read More... in Piku
Shoojit Sircar's Piku was a heartfelt film about the relationship between a father and his young daughter. The characters were played by Amitabh Bachchan Amitabh Bachchan was conceived on October 11, 1942 >> Read More... and Deepika Padukone respectively. Irrfan Khan played the role of Rana who owns a taxi business. At the unavailability of any other driver, Rana is compelled to take the father-daughter duo to Kolkata via road. His character constantly loses patience with the eccentricities of the duo but later learns to understand their deeply rooted affection for each other. Irrfan Khan was brilliant in this role and got a lot of praises for it.
6. Anushka Sharma in Dil Dhadakne Do Click to look into! >> Read More...
Zoya Akhtar's film about a dysfunctional family starred Ranveer Singh and Priyanka Chopra as siblings dealing with their personal issues. The film was shot on a cruise ship, and Anushka played the role of a fiery and spirited dancer working on the cruise. Her character falls in love with Ranveer's character. Though her role was not very long, she made an impact on the viewers with her performance. Her character was vital for the plot and affected the lives of the central characters.
7. Rajkummar Rao Raj Kumar Yadav, also known as Rajkummar Rao, star >> Read More... in Hamari Adhuri Kahani Click to look into! >> Read More...
Hamari Adhuri Kahani was a romantic movie starring and Vidya Balan Vidya Balan is an award winning Bollywood actress >> Read More... . Rajkummar Rao played the role of Vidya's abusive husband who is jailed for murder. His role was very intense and quite unlike the genial actor's real personality. But, Rao delivered a great performance and made the critics and viewers take a note of his acting skills. He changed his look and mannerisms for the role. It must be said that all his efforts were worth it.
8. Richa Chadha in Sarbjit
Sarbjit was based on a real story of a man called Sarabjit Singh who mistakenly crosses the border into Pakistan and is kept in jail for 22 years. The struggle of his sister, Dalbir Kaur, to free her brother from prison forms the crux of the movie. The role of Sarbjit and Dalbir were played by Randeep Hooda and Aishwarya Rai Bachchan respectively. Richa Chadha played the role of Sarabjit's wife. Her pain at losing her husband and being overshadowed by his sister are well portrayed by Richa. This was one of her career-best performances.
9. Kirti Kulhari She is an India film star Born May 30, 1985 in Mum >> Read More... in Pink
Pink was the story of three girls being molested by rich brats and their fight to prove the truth in a court against allegations of prostitution and bad character. Taapsee Pannu Taapsee Pannu is an actress and model of Indian or >> Read More... and Amitabh Bachchan were the major stars of the movie. Kirti Kulhari played Tapsee's Muslim roommate who is abandoned by her lover in the time of need. She brought out the pathos of her character perfectly through her powerful performance. Her work was praised singularly by critics and viewers.
10. Jimmy Shergill Jimmy Shergill is a renowned Indian actor and prod >> Read More... in Tanu Weds Manu Click to look into! >> Read More... Returns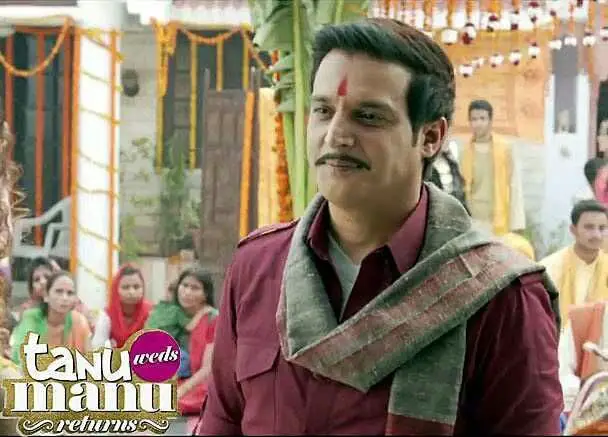 Jimmy Shergill plays the role of Raja Awasthi in this comedy movie starring Kangana Ranaut National award winner Kangana Ranaut... >> Read More... and R. Madhavan. Shergill's character is the hot-headed ex-boyfriend of Tanu who she left at the altar for Manu. In this movie, Raja is about to get married to Datto, but Mannu intervenes again. The funny circumstances that arise from this situation provide the entertainment factor of the movie. Shergill is great in his role and his character has been appreciated a lot.