1. Arjun Kapoor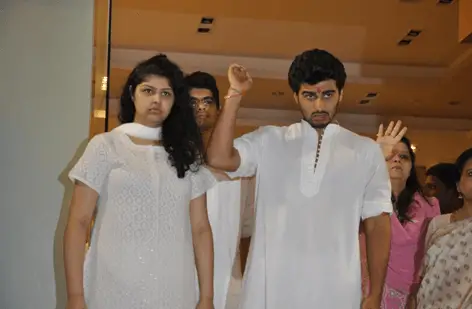 Arjun Kapoor is an Indian Bollywood actor. He is the first cousin of Sonam Kapoor. The actor made his debut role in a romantic movie Ishaqzaade. His debut was quite an eye-catching role for the viewers and became popular. The actor lost his mother in 2012. Mona Shourie Kapoor was the first wife of Boney Kapoor. Arjun was close to his mother, so it was hard and emotional for him to lose his mother. He was an assistant director and directed Wanted, No Entry, etc.  
Prateik Babbar is an Indian actor. His mother Smita Patil died after her childbirth. After a few weeks, Prateik was born, she was no more. It was hard for the actor to grow up without a mother. Smita Patil is an Indian actress who also does Hindi and Marathi movies. Prateik Babbar made his entry towards the cinema Industry and showed his talent. Some of his movies are Dobhi Ghat, Dum Maaro Dum, etc. He has won awards for the best male debut and supporting actor in Jaane Tu Ya Jaane Na.
Sushant Singh Rajput is a Bollywood actor. He made his entry towards acting with his role in TV series, Pavitra Rishta. Sushant had little time to stay with his mother as she died when he was in 12th standard in 2002. He was close to his mother and after her death; his relation with his father became quite a formal one. Sushant studies Engineering, but he felt out of place and decide to take up acting as it has been his dream. He made his debut film role in Kai Po Che, a novel adaptation of Chetan Bhagat's novel.  
Amitabh Bachchan is a Bollywood actor. He lost his mother in 2007. She died due to old age. His mother was an English teacher and an actress. She stars in Kabhi Kabhie. Amitabh made his debut in Zanjeer. He faced a lot of obstacles during his journey in the film Industry. Due to his hard work, he is now one of the best Indian actors. He is the legendary of the Bollywood Industry.  
5. Abhay Deol
Abhay Deol is an Indian actor and producer. He lost his father due to a health issue. Ajit Deol was the brother of Dharmendra. He was also an active participant in politics. Abhay made his debut in Socha Na Tha. Some of his hit movies are Dev D, Raanjhanaa, Shanghai, etc.  
Twinkle Khanna is an Indian actress, interior designer, columnist, etc. She is a multi-talented person. People know her for her bold and outspoken character. She lost her father in 2012. He was an actor and a politician and has won many awards for his roles. Twinkle Khanna is married to Akshay Kumar.  
Priyanka Chopra is a Bollywood actress. She started her acting career after her win in the Miss World pageant. Priyanka is also stepping into the Hollywood Film Industry. She lost her father in 2012to cancer. It was a sad moment for her as she was very close to her father. She has a tattoo on her wrist as Daddy's little princess. Even though her father died, she took up her guts and continues to surprise us with every move. Baywatch is an awaiting film in 2017.  
8. Sanjay Dutt
Sanjay Dutt is an Indian actor. He had gone through many difficulties and changes when he lost his mother in 1981. Sanjay had only started his film career. Due to her mother's death, he started using drugs. Nargis was one of the best actors in the film Industry. It was an emotional moment for Sanjay. In 2005, he lost his father to a heart attack. Some of his movies are Vidhaata, Taaqatwar, etc.  
Shah Rukh Khan is an Indian Bollywood actor. The childhood of Shah Rukh is a sad one as he lost his parents early. He had to take care of his sister as she was suffering mentally due to their parent's death. Shah Rukh lost his father due to cancer and his mother due to diabetes. Now, Shah Rukh is one of the best actors of Bollywood and is popular worldwide. He made his debut in Deewana.  
10. Kajol Devgan
Kajol is an Indian actress. People also know her as Kajol Devgan. She is a Padma Shri awardee, the fourth highest award of India. Kajol lost her father in 2008 due to a heart attack. Shomu Mukherjee was an Indian director, producer, etc. Some of his movies are Chhailla Babu, Ek Bar Mooskura Do, etc. Kajol made her debut in Bekhudi.