1) Alia Bhatt Alia Bhatt is a trendsetting actress from Mumbai, >> Read More...
...
The 23-year-old superstar Alia Bhatt is a cat person. She owns two cats- one is Pica, and the other is Sheeba. Her cats are all on her Instagram account, and the pictures are adorable. The cats, themselves, are excessively cute and Alia seems to love them immensely.
2) Zarine Khan Born on 14 May 1987, Zarine Khan is one of the adm >> Read More...
...
The newcomer of Bollywood, Zarine Khan is as beautiful at heart as is the appearance. She rescued a malnourished street cat and got her treated by a veterinarian. Zarine adopted the cat and called her Softy. She is also a member of PETA and has the 'Hero to Animals' award to honor her kindness towards animals.
3) Jacqueline Fernandez Jacqueline Fernandez is one of the top actresses i >> Read More...
...
The ' Kick Click to look into! >> Read More... ' actress, the Sri Lankan beauty, Jacqueline Fernandez is an absolute animal lover. She owns a furry white cat whose named Miu Miu. Jacqueline posted photos of her with her cat. She recently posted a Dubsmash of Miu Miu dancing to 'Prem Ratan Dhan Paayo' title track.
4) Pooja Bhatt This chubby star of Bollywood had a different styl >> Read More...
Like her little sister Alia, Pooja Bhatt, the actor and producer, is also fond of animals. She has several pets at home, four of them being cats. She has posted numerous pictures with her pet cats on Twitter and Instagram which make the viewers go 'aww.'
5) Manisha Koirala Manisha Koirala, is a Bollywood actress of Nepales >> Read More...
Manisha Koirala, the gorgeous actress of Hindi film industry, who got cured of cancer a few years ago, owns two Persian cats, whom she loves them dearly.
6) Shilpa Shetty A model turned actress, producer, entrepreneur and >> Read More...
The actress, the fitness freak, producer and businesswoman has a thing for animals as well. She owns a furry little white cat, who she calls Queenie. She rescued the little creature on a rainy day, when the cat was all wet and shivering. She introduced us to her through her social media account. Shilpa earlier had a Persian cat Simba, who passed away.
7) Sana Saeed This beautiful Virgo lady was born on 22nd Septemb >> Read More...
The ' Kuch Kuch Hota Hai Click to look into! >> Read More... ' child star Sana Saeed, re-entered Bollywood through 'Student of the Year' as a gorgeous lady. She has two pet cats- Honey and Godiva- who rule her world and are so lovable.
8) Sunny Leone Sunny Leone, a famous porn star, has recently ente >> Read More...
Sunny Leone, the woman with a contagious smile on her face, is also a member of PETA. She encourages people to 'adopt pets and not buy them.' The kind-hearted actress recently rescued a stray cat from the streets of Mumbai.
9) Kalki Koechlin Kalki Koechlin is a famous film actress, model and >> Read More...
Kali Koechlin is an adventurous and talented actress in Bollywood. She has been in the limelight due to the skin color and her relationship with Anurag Kashyap Born on 10th September 1972, Anurag Kashyap has es >> Read More... . The actress is also an animal lover and has adopted a cat who has rescued and is called Dosa.
10) Nimrat Kaur Bollywood actress Nimrat Kaur was born on 13th Mar >> Read More...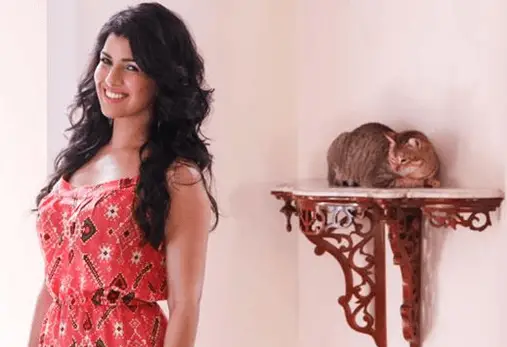 Nimrat Kaur gained fame in Bollywood through ' Airlift Click to look into! >> Read More... ,' a 2015 release. She adopted two stray cats. She named one cat as Kitcat and its baby as Karamchand. Nimrat adores the two cats, even their purring. She believes that the two cats keep her full of love and make her feel better during her times of blues. She emphasizes the importance of having pet animals at home and thinks that they complete one's life.