Sonakshi Sinha Sonakshi Sinha is a well-known Indian Actress. She >> Read More... is a renowned and famous actress in the Bollywood film industry. She has delivered numerous blockbuster hits, such as Lootera, Akira, and Dabangg, which have earned her a massive fan following. In this article, we have compiled a list of her top 10 movies that showcase her remarkable acting abilities and versatility.
1. Lootera
Lootera is set in the era of the 1950s when India was newly independent and had the Zamindari Abolition Act. The film is a period romantic drama film. It is directed by Vikramaditya Motwane Vikramaditya Motwane is a film producer, writer, a >> Read More... . Lootera is somewhat based on the short story The Last Leaf by O. Henry. The story is about a conman posing as an archaeologist, played by Ranveer Singh Ranveer Singh Bhavnani is an Indian movie actor wh >> Read More... , and his lover was the daughter of a Bengali zamindar, portrayed by Sonakshi Sinha. The film was released in 2013. It was written by Amitabh Bhattacharya Amitabh Bhattacharya is a popular Bollywood singer >> Read More... .
Rowdy Rathore is a work of Bhansali Productions and director Prabhu Deva Story soon >> Read More... . It is an action movie initially released in Hindi language. Rowdy Rathore is a copy of a Telugu movie film, Vikramarkudu, which was based on an original story and was written by V. Vijayendra Prasad. has done brilliant work in this movie, portraying the double role of a cop and a thief. Also, this movie has Sonakshi Sinha, Yashpal Sharma Yashpal Sharma is that actor who has performed his >> Read More... , Gurdeep Kohli Gurdeep Kohli is a stunning Indian TV actress. She >> Read More... , and Paresh Ganatra Paresh Ganatra is a TV, film and also a stage acto >> Read More... in supporting roles, and Nassar portrays the central part of the main villain. It was released in 2012 with a budget of 60 crores. It grossed over 200 crores, becoming a massive hit.
3. Dabangg
Dabangg was the debut movie of Sonakshi Sinha. The movie was directed by Abhinav Kashyap Abhinav Singh Kashyap is an actor, director, and s >> Read More... . The movie stars Salman Khan Salman Khan is a very famous Indian actor and a pr >> Read More... and Sonakshi Sinha in lead roles. Dabangg is produced by Salman's own brother Arbaaz khan and . Also, this movie is a debut movie for Arbaaz as a producer and Abhinav as a director. The film had a budget of only 30 crores but managed to earn over 220 crores worldwide. Dabangg is set in Uttar Pradesh. The movie tells the story of Chulbul Pandey, a fearless cop, played by Salman Khan, and his trouble with his half-brother and his stepfather.
...
4. Holiday: A Soldier Is Never Off Duty
Holidays are not for soldiers, and this film perfectly shows it. This movie stars Akshay Kumar in the role of a soldier. He has arrived in Mumbai for vacation but gets into trouble when he catches a terrorist. After that, he sets a mission to destroy the sleeper cell network and the group's leader. The movie also showcases Sonakshi Sinha, Sumeet Raghavan He is a TV and film actor. He was born in Mumbai, >> Read More... , Freddy Daruwala Freddy Daruwala was born in the year 1984 in Surat >> Read More... , and a cameo of Govinda. It is an official remake of the Tamil movie Thuppakki. The film grossed over 178 crores worldwide and was among the highest-grossing Hindi movies in 2014.
...
Mission Mangal is a drama film and a huge commercially successful movie with a total box office collection of 220 crores. It is a drama film released in the Hindi language. It is somewhat based on the life of scientists of ISRO (Indian Space Research Organization). These scientists gave their everything for India's 1st interplanetary expedition to Mars. This movie features several big stars like Akshay Kumar, Sonakshi Sinha, Vidya Balan Vidya Balan is an award winning Bollywood actress >> Read More... , Taapsee Pannu Taapsee Pannu is an actress and model of Indian or >> Read More... , Kirti Kulhar, Nithya Menen Born on April 8, 1988 Nithya Menen is indeed a sta >> Read More... , and Sharman Joshi Sharman Joshi was born in Mumbai, Maharashtra to a >> Read More... in lead roles, and H. G. Dattatreya, Dalip Tahil Dalip Tahil is one of the most renowned evergreen >> Read More... , Sanjay Kapoor Sanjay Kapoor is a Bollywood actor. He had acted a >> Read More... , Vikram Gokhale Vikram Gokhale is one of the very promising actors >> Read More... , and Mohammed Zeeshan Ayyub Mohammed Zeeshan Ayyub was born in the year 1984 i >> Read More... amongst others in supporting roles.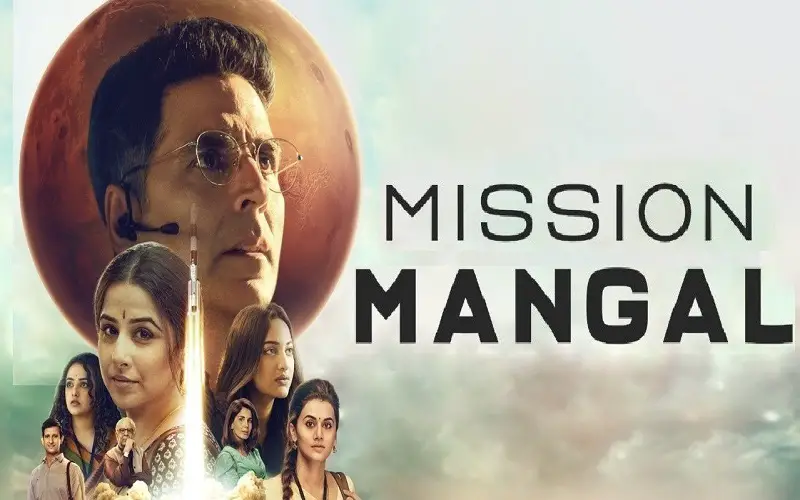 ...
6. Force 2
Force 2 is a sequel to the movie Force and 2nd instalment of the Force film series. The movie is an action thriller movie released in the Hindi language starring John Abraham Like some of our sexy stars, John Abraham has had >> Read More... , Sonakshi Sinha, and Tahir Raj Bhasin Tahir Raj Bhasin Is an Indian actor. He is a good >> Read More... in lead roles. The film opens with shots of China, where RAW agents are being murdered like flies. One of them was Harish, Additional Commissioner of Police and best friend of Officer Yashwardhan Singh or Yash. Harish sends a mail to Yash, which has a critical coded message before being killed. The movie collected 60 crores worldwide.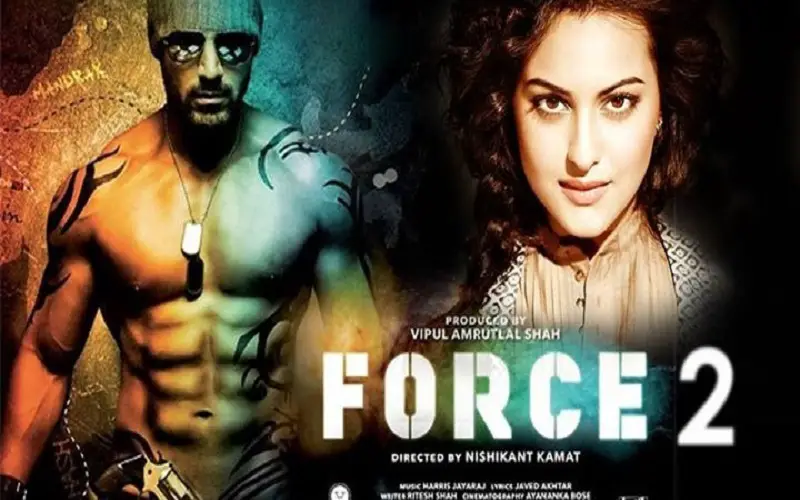 ...
7. Boss
Boss is a film by Akshay Kumar in which he plays the character Boss, a suave who fights for justice and a transport businessman. The film is an action-comedy movie by director Anthony D. Souza. Alongside Akshay Kumar, this movie also stars Mithun Chakraborty When we talk about the few legends in the Indian f >> Read More... , Sonakshi Sinha, Shiv Pandit Shiv Pandit was born on 21 June 1984. He is an ext >> Read More... , Ronit Roy Ronit Roy (Ronit Bose Roy) was born on 11th Octobe >> Read More... , and Aditi Rao Hydari As her title may be suggesting, Aditi the talente >> Read More... . The film collected 85 crores and was a hit. The film shows the journey of two brothers, Surya and Shiv, and their father, Satyakant Acharya Shastri. After getting into a fight multiple times with another child, Satyakant removes his son Surya from his life and disowns him. After some years Surya becomes boss.
...
8. R Rajkumar
R Rajkumar, despite having negative reviews upon release, became a commercial success with a total collection of 100 crores worldwide at the box office. The film tells the story of Romeo Rajkumar, who arrives in Dhartipur. Dhartipur is a small town controlled by two drug lords, Shivraj Grujar and his enemy, Manik Parmar. And they are controlled by a mafia boss named Ajit Taaka. Initially, Rajkumar starts working for Shivraj, but when he sees Chanda, his life changes forever. Chanda and Rajkumar fall in love, but they face troubles when they realize Shivraj is also behind Chanda. The film features Shahid Kapoor Shahid Kapoor also identifies as the name Shahid K >> Read More... , Sonakshi Sinha, and Sonu Sood Sonu Sood is a famous Indian Cinema actor, model w >> Read More... in the important roles, with Ashish Vidyarthi Ashish Vidyarthi is a renowned Indian film perform >> Read More... , Mukul Dev Mukul Dev was born in Khatri Punjabi family. His f >> Read More... , Asrani, and Srihari.
...
9. Akira
Akira was a commercial success with a total gross collection of 153 crores at the box office. The film is an action thriller directed, produced, and co-written by A. R. Murugadoss. It is a remake of the Tamil film Mouna Guru. Akira movie features Sonakshi Sinha, Anurag Kashyap Born on 10th September 1972, Anurag Kashyap has es >> Read More... , and Konkana Sen Sharma in lead roles. The film tells the story of Akira Sharma, a young girl who witnesses an acid attack by a group of men on the face of a woman. After that, her life changed. The film was released in 2016, and the music was composed by Vishal Shekhar.
Son of Sardar is a comedy action movie by the director Ashwini Dhir. It was released in 2012 and is a remake of the Telugu movie Maryada Ramanna Click to look into! >> Read More... by S.S. Rajamouli. It stars Ajay Devgan Ajay Devgn is an Indian film actor. He is perhaps >> Read More... , Sonakshi Sinha, Sanjay Dutt July 29, 1959, was the day when the two legends of >> Read More... , and Juhi Chawla Juhi Chawla is a renowned Indian actress and produ >> Read More... in lead roles. It has a total collection of 150 crores worldwide and was declared a hit in India. Son of Sardar also has a cameo of Salman Khan. The movie shows the massive rivalry between two families, Randhawa and Sandhus.