Bollywood caters to the masses when it produces masala films. But it also caters to individual groups when it produces artistic movies. Some movies are a must watch, especially for the groups it is focused towards and for others who need to watch them to understand that particular group. Here are 20 such films that are must watch, at least for the women so they can get fueled up for the battles that they are forced to fight each day of their lives.
1. ' Pink Pink is an American Songwriter, Singer, and Actres >> Read More... '
...
The movie is a recent release and has at his best. Ever since the movie released, people have been saying that watch this movie once if you respect women, and if you don't respect women, watch the movie at least 4 times. It portrays the struggles of women who are being repeatedly threatened and have been molested twice by a group of boys who have political connections and believe that since the girls wear skirts and have liberal thinking, they have the right to sleep with them.
2. ' Lipstick Under My Burkha Click to look into! >> Read More... '
...
The film is still to be released in Bollywood, but its trailer is out and people are astounded just by a peep into it. The film is about four women, who all wear a burka over themselves, but underneath are different women with different lives.
3. ' Dor Click to look into! >> Read More... '
...
The film begins with its focus on love, since Zeenat takes a long journey for the sake of her husband Shankar, who accidentally becomes the cause of the death of his roommate, and Meera's husband. However, as the story progresses, an even better theme of friendship and exploring the inner self is brought to light as they develop a bond that none of them expected to form.
4. ' Queen Click to look into! >> Read More... '
...
There is nothing we can say that has not already been said about the brilliance of this film. The very choice to go through her honeymoon without her husband needs to be appreciated for how daring it is. Rather than choosing to drown herself in misery and self-pity, she moves forward and realizes that her life is more than that one guy who chose to abandon her on the day she had been looking forward to for years.
...
5. ' Tanu Weds Manu Returns Click to look into! >> Read More... '
...
Tanu Weds Manu Click to look into! >> Read More... was already a big hit. And the second installment turned out to be an even bigger hit with dialogues and scenes that stole our hearts. But did you see how both the characters that played were so unashamed of being themselves, loved themselves and were proud? Tanu goes to great lengths to win back her love and the two unite, not because the hero wanted his heroine, but because the heroine took charge.
6. 'Chak De India'
...
Granted, that the film had Shah Rukh Khan Shah Rukh Khan or also known as SRK is a prominent >> Read More... as its central character. But the girls too played significant roles. The first thing that movie taught us was to let go of girl on girl hate. That together as a team, we can do what we individually could not. And secondly, the strength with which the girls proved every person who doubted them wrong is truly inspiring.
7. ' Jab We Met Click to look into! >> Read More... '
Geet loves herself. The essence of the movie is self-love. A lot of the people who watched the film have learned to love themselves, to accept themselves and to stop criticizing themselves for things that are beyond their control. Decision taken impulsively may not always be in your control when it comes to their outcome, but that does not mean you stop believing in yourself, or stop loving yourself. Life will eventually give you a second chance.
8. ' Fashion Click to look into! >> Read More... '
The movie shows not just the ugly reality of the fashion world, but also how when one rises, they need to be careful or be prepared to take the fall. Priyanka Chopra Born on 18 July 1982, Priyanka Chopra is an establ >> Read More... 's character loses herself in her fame. She barely sees the fall coming, so when it does come, it comes as a huge shock. On a superficial level, it warns us that the fashion world is not half as glittery as it looks and on a deeper level, it is a lesson for life in general. To rise to the top is much easier than staying on the top.
9. ' English Vinglish Click to look into! >> Read More... '
As Indians, English is not our first language. In fact, language is a very debated and controversial topic in our country, so a lot of people in the country do not know English and it is perfectly acceptable. Even though it is slowly gaining prominence in the country, there are people in our families who do not know English and it is perfectly alright. How a woman rises, fights for the respect she deserves and becomes a more enlightened self and knows what she deserves is truly inspiring.
10. ' Margarita With A Straw Click to look into! >> Read More... '
Being a homosexual is not a choice. It is a huge part of your identity and you need to claim it. Coming out is a long, hard journey, and acceptance starts from within. First you understand what you want, then you must make your parents, your friends and your loved ones understand. But this journey is important, because you cannot live your whole life being someone you are not.
11. 'Bandit Queen'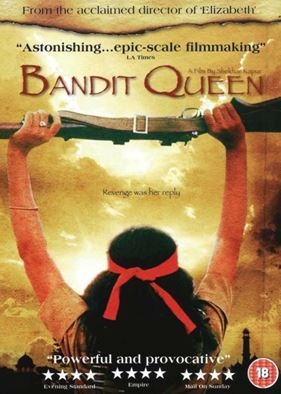 There are few who do not know Phoolan Devi. The woman put aside her poverty and rose nevertheless. She fought evils like only a woman can and the men who dared to rape her were killed from the bullets that she shot from her gun. The movie Bandit Queen is her story, and provokes millions of women to take inspiration from her.
12. ' Kya Kehna Click to look into! >> Read More... '
A woman falls in love and is unashamed. Then she gets pregnant, and is still unashamed. Then the father of her child rejects her and the child, but she still remains unashamed, even after her family rejects her. They eventually come around, accept her, and the family becomes her support system. Together, they take care of the mother and when she makes tough decisions for herself and her child, they support her, because her self-respect and individuality is her top priority, so they make it theirs too.
13. ' Gippi Click to look into! >> Read More... '
Not all of us have perfect zero size figures like the heroines we see on television and it is alright. The actresses get paid to stay that way, while we must go through our life, its trials and tribulations, for which we need to have food in our bodies. We cannot spend hours in the gym because our battles are different. Gippi is the story of one such girl, who is overweight, and is considered to be nothing. But she makes something of herself, and learns to love herself even when the world keeps telling her she is overweight.
14. 'Mother India'
The film is on the top of the films that deal with empowerment, simply because it really was the first of its kind in Bollywood. It deals with the post-independence era and with a woman who recognizes her inner self and her inner strength.
15. ''
The film was released in 1957, but was banned by the ruling government. Later, when it premiered on television, it became a massive hit. The film was based on the life of Indira Gandhi, our country's first female Prime Minister, and dealt with her life and how she changes as a person when the circumstances changed and required her to take tough decisions.
16. 'Bhumika: The Role'
The film was released in 1977 and dealt with the life of a child actress, who grows up to become a successful actress. The role required a lot from Smita Patil This versatile actress was born on the 17th of Oct >> Read More... , and she gave it all. The film was the first film of the New Indian Cinema movement and was also the first to receive a significant release.
17. ' Arth Click to look into! >> Read More... '
This 1982 film was another empowering film about a woman whose husband betrays her for an actress. Shabana Azmi Shabana Azmi is a film actress of Indian origin an >> Read More... plays the woman who must fight in order to end with a successful life. The film also touched on various other issues, including that of domestic violence that the lower sector of the country accepts as a part of the duties of being a good wife.
18. ' Mirch Masala Mirch Masala was a very popular cooking show which >> Read More... '
The film has some of the greatest actors of the industry and deals with empowerment like it had never been done before. The film was a part of Smita Patil's fight for the women of her world. All the actors, true to their self, give performances that leave you in awe of them, and the scene that ends the movie has women throwing spices at their boss, and it stays in your heart for quite a while after you have seen the movie.
19. ' Damini Damini is an Indian Television serial broadcasted >> Read More... '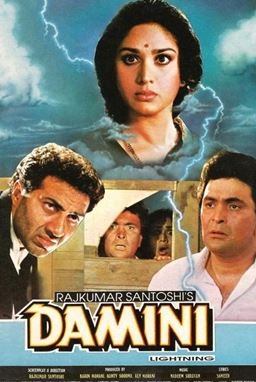 So many times, so many of us will choose a stable life for ourselves over justice for someone who does not mean much to us. But Damini is the story of a different woman. A woman, who is considered unstable because she fights for her maid who is gang raped by her brother-in-law, proves to the world that there is much more to her than the services she does for her husband's family and emerges victorious.
20. 'Chandni Bar'
' Tabu Tabu is a wonderful gift to the Indian cinema. She >> Read More... ' was awarded the best actress and given a national award for this film. The film was about a woman who was a prostitute, but a mother before that and fought to keep her children away from the world that she was a part of, so they could lead a better life. It may be the story of a sex worker, but it is more heart-warming than a lot of stories we have read, seen or heard of. The national award to Tabu comes as no big surprise, considering how good of an actress she has proved herself to be.