Hindi cinema saw its golden era thanks to the legend, Guru Dutt Born on 9th July 1925, Guru Dutt was an Indian act >> Read More... . His films were not like today's films, majority of which are made to feed the hero's already inflated ego. These films were artistic, they had dimension, depth and were lyrical. His every film was a super hit except Phool Aur Kaante Click to look into! >> Read More... , which later became a cult classic. His films continue to be great hits even today when they are re-released in other countries like France, Japan, Germany and so on. He is mentioned is every class that deals with world cinema and his film 'Pyaasa' was included by the time magazine in the 100 best films of all time.
Today, we will discuss 20 facts about the actor, director and producer which are fascinating and throw insight into his life which was rich in emotions and ups and downs.
1. His Parents
...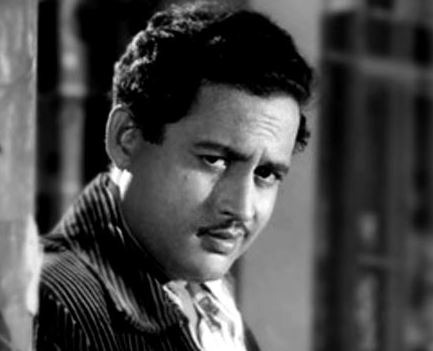 Guru Dutt was born to a headmaster, who then turned into an employee at a bank. His mother started off as a housewife but took up teaching in a school later on, along with giving tuitions, and writing stories. She also translated into Kannad Bengali novels. At the age of just 16, she was blessed with a a son, who later went on to be known as Guru Dutt.
2. His Childhood
...
Guru Dutt's childhood was not an ideal one. Apart from the financial troubles, his parents' relationship with each other was also not the best. His maternal uncle was insane and along with a lot of hostility, also gave Guru Dutt a frightening encounter to remember for the rest of his life. Guru Dutt also had to live through the death of his younger brother who was barely seven months old.
...
3. His Name
Guru Dutt's maternal uncle suggested his name to be Vasanth Kumar Vasanth Kumar is a renowned actor in the Canadian >> Read More... , but when he went through an accident as a child, he was given what was considered a more auspicious name, Guru Dutt. He had a young sister and three younger brothers. , the film director, is his only sister's daughter.
...
4. His Bengali Connections
...
Guru Dutt is actually from the South India, but his father had to move to Bhawanipore due to his job, which is near Kolkata. Here, Guru Dutt finished his school education. This accounted for his fluent Bengali and the Bengali influence in his work. Also, since Dutt is a common name among Bengalis, it was frequently assumed that Guru Dutt was Bengali by descent.
5. His Education
...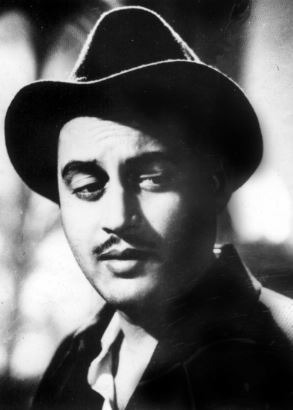 Although Guru Dutt finished his education with good marks and was over all a good student, he did not finish his education. He completed his school, but because of the financial troubles at home, he could never attend college.
...
6. His Stay At Culture Center
In Almora, there was the India Culture Center that taught music, drama and dance, in a way that presented an amalgamation of the modern universities with the prestigious Gurukul system. This center was known to produce incredibly talented children, and Guru Dutt joined it in the year 1941, when he was all of 16, on a scholarship of 5 years. He had to leave in 1994 as the second World War had come knocking at their door and shut down the center.
7. His First Few Jobs
Guru Dutt first found job in Kolkata, at a factory of Lever Brothers as a telephone operator. Unsatisfied with the job, he left for home to his parents, who were now in Mumbai. Then, he signed a three year contract in Pune with Prabhat Film Company at the behest of his uncle.
8. His First Jobs in the Film Industry
Guru Dutt then became an assistant director to Vishram Bedekar in 'Lakhrani', where he also acted. This was in the year 1945, and in the next year, for the film Hum Ek Hain, he was again the Assistant Director and Choreographer. When this contract terminated in 1947, he became a Freelance Assistant thanks to his mother, at Prabhat Film Company and Studios.
9. Unemployment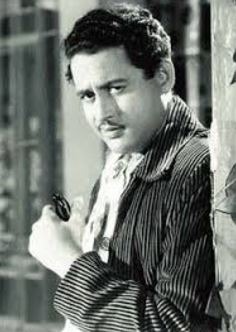 After working as a Freelance Assistant, he found no job for the next 10 months, during which he stayed with his family in Mumbai. He started to write during this time and a local weekly magazine called The Illustrated Weekly which printed his short stories.
10. When He Started To Write Films
While still unemployed, the actor wrote the film Pyaasa, which is the closest thing to an autobiography that he has left behind. It was originally named Kashmakash, which he later changed. During this time, Guru Dutt got married almost twice, the first time when he ran away with Vijaya, a girl from Pune, and the second time when his parents forced him to get married to Suvarna, who was his maternal niece. Both the times, the marriage did not happen.
11. His Journey To Mumbai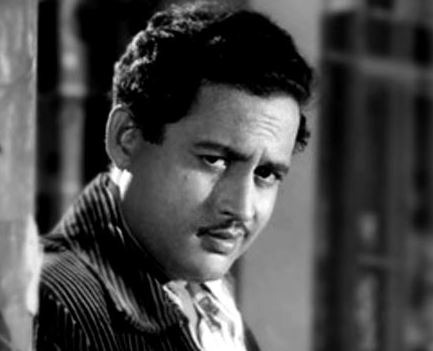 When he worked for Prabhat Film Company as a choreographer, he soon found himself assisting the director and acting in films. There, he also met two of his closest friends of the future, Rehman and Dev Anand Dev Anand would be nostalgically remembered by fil >> Read More... , who were soon to become big stars. After the failure of Prabhat in the year 1947, he came to Mumbai where he worked for Gyan Mukherjee and Amiya Chakravarty Amiya Chakravarty is an Indian Director. He primar >> Read More... , who were the best directors of those times.
12. The Fruits of Friendship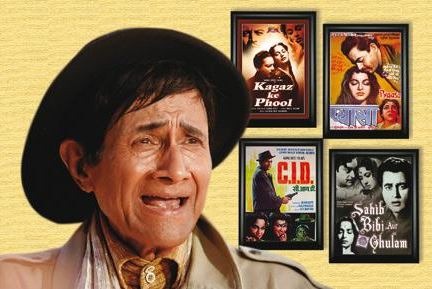 Due to his friendship with Dev Anand, he offered him a job in his company as a director. This company had already developed a film, which had flopped before they hired Guru Dutt. In 1959, Guru Dutt's 'Navketan's 'Baazi' was released, which was also his first film.
13. The Story
Behind The Friendship Dev Anand and Guru Dutt shared a great friend all through their lives. This friendship began when Guru Dutt and Dev Anand, whose laundry man was the same, received each other's shirts. When Dev Anand came on set to find the young choreographer wearing his shirt. When questioned, Guru Dutt admitted to it and explained that he had no other shirt. Since then, the two became close friends. So much so, that they made a pact, that when Dev would start producing films, he would hire Guru Dutt as his director and when Guru Dutt became a director, he would direct Dev Anand.
14. The Bargain's Fulfillment
Dev Anand produced Baazi, which Guru Dutt directed, but till this day continues to regret that his friend never directed him. Although Guru Dutt did fulfill his promise, it was fulfilled indirectly. Guru Dutt's studio, Guru Dutt Movies Pvt. Ltd. Produced a film called C.I.D which had Dev Anand as the lead hero but was directed by Raj Khosla Raj Khosla was a director in the Indian film indus >> Read More... , who had been an assistant director to Guru Dutt. Unfortunately, Guru Dutt never technically directed his friend.
15. Their Lack of Future Collaborations
Guru Dutt and Dev Anand worked on two films together, both were superhits, called 'Jaal' and Baazi. However, creative differences arose between Chetan Anand Chetan Anand (from 3 January 1921 to 6 July 1997) >> Read More... , Dev's elder brother and Guru Dutt, so any future collaboration between the two friends became a tough task.
16. Filmfare Nomination for Best Actor
As soon as Baazi became an astounding success, two more successful films followed, which were named 'Baaz' and Jaal. Then in 1962, he starred in the film Sahib Bibi Aur Ghulam, where he starred opposite Meena Kumari Meena Kumari is a popular TV and film actress. She >> Read More... and Waheeda Rehman She took birth in a Tamil Urdu speaking Muslim fam >> Read More... . This was the film that earned him the only nomination for best actor in the Filmfare Awards.
17. His Death
Guru Dutt's death remains a mystery till date. The cause of his death was alcohol mixed with sleeping pills. Now, if the overdose was accidental or a suicide attempt remains a mystery. If it was a suicide attempt, it would have been his third attempt. Arun Dutt, his son, believes it was an accident, while Abrar Alvi Abrar Alvi was born on 1st July, 1927. He was a di >> Read More... , who was with him before he died believes it was a suicide attempt due to his morbid behavior on December 10, 1964's night.
18. The Projects He Left Hanging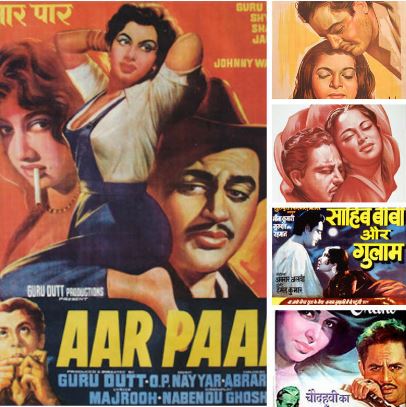 The day after he died, he had scheduled meetings with , an actress for an upcoming movie, Baharen Phir Bhi Aayengi, and with Raj Kapoor Raj Kapoor was a renowned actor, director, and pro >> Read More... to talk about finally getting into color films. At this time, he was also working on 'Picnic' and an epic, "Love And God". Picnic never saw the light of the day, while Love And God came on screen twenty years later where Sanjeev Kumar Sanjeev Kumar was born on July 9th, 1938 in Mumbai >> Read More... replaced Guru Dutt.
19. Marriage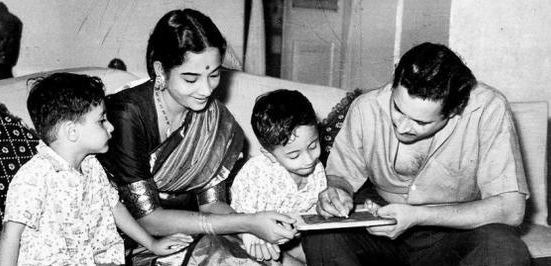 After two attempts with different women, Guru Dutt finally married Geeta Roy in 1953. She was a playback singer and both celebrities had to face extreme opposition from their families in order to finally marry. Together, they gave birth to three children, Nina, Arun and Tarun.
20. Waheeda Rehman
Guru Dutt was involved in a relationship with Waheeda Rehman, which caused a lot of problem for their marriage. When he died, he was already living separately from Geeta and lived alone in a rented apartment. His wife too died at the age of 41, in the year 1972, due to excessive drinking which damaged her liver.