These days celebrities, through their witty replies to interviewers, fans and haters in magazines, television interviews and social networks are proving wrong a deeply engraved stereotype about them. Most people believe that celebrities only have a pretty exterior, inside they are just plain dumb because their job only requires them to memorize dialogues and deliver them. However, celebrities these days are not only highly qualified, but also quick with their tongue. The following are twenty such celebrities who have proved to the world that they are just as smart as they are beautiful.
1. ' Rishi Kapoor'
The actor has acted in more films than we can count and was honored with the National Film Award for his very first film, 'Mera Naam Joker', that released in 1970. He is the father to one of the most good looking and talented actors in Bollywood, Ranbir Kapoor. His age and experience have contributed greatly to his sense of humour, as can frequently be seen in his tweets.
2. Uday Chopra
Although hailing from the Yash Raj clan, the actor never really tasted success, except perhaps for the ' Dhoom' series, but the thunder there is always stolen by the lead actor, like Hrithik Roshan in the second film, John Abraham in the first and double of Aamir Khan in the last one. However, he has been active on Twitter and is often seen poking fun at himself, which never fails to crack up his followers.
The actor has not been as hugely successful as his father and remains in his shadow. However, his Twitter account is under no one's shadow, and he is often seen tweeting hilarious one liners and frequently replies to his fans and critics.
4. Akshay Kumar
He has been on the Kapil Sharma show so frequently, it is almost a second home to him. He is frank and comfortable with both, the host, and his team. Recently he walked in for promoting his film ' Rustom' and it was hard to tell the difference between the host and the guest, so comfortable were they with each other. His replies to reporters' answers are always amusing.
The Marathi star very smoothly made his way into Bollywood. He will next be seen in ' Banjo', but his movies in the recent past have mostly been adult comedies that gain an audience due to the adult content and the actor's impeccable humour, which he frequently displays in his replies to his fans and paparazzi.
6. Manish Paul
Most of the trends in hosting were brought in by him. Whether it is to flirt with the female judge or fool around with the contestants. His tongue in cheek replies never let him keep steady, and no one can ever win an argument with him. In the show that he hosts, 'Jhalak Dikhla Jaa', he makes sure he flirts with not just the female judge, but also messes around with Karan Johar, which never fails to entertain.
Another marvelous anchor, he will soon be seen anchoring Shilpa Shetty 's new show, ' Super Dancer'. His past performances have been highly appreciated, be it his work on ' Nach Baliye', or his last, ' So You Think You Can Dance' that have been particularly remarkable. One of his recent posts, where he buries his 'treasure', his girlfriend, in the sand on a beach also garnered a lot of laughs.
8. Karan Wahi
Not only is he a daily soap actor but has worked with Yash Raj Films in 'Dawat-E-Ishq'. He has hosted shows and won awards for his talents as an actor. Moreover, he was also a national level cricket player for the under 19 team. His sense of humor shone forth through all his other talents when he started working in ' Comedy Nights Bachao'. He always has witty replies ready to throw at his colleagues when they mock him for being fit and fair.
9. Kapil Sharma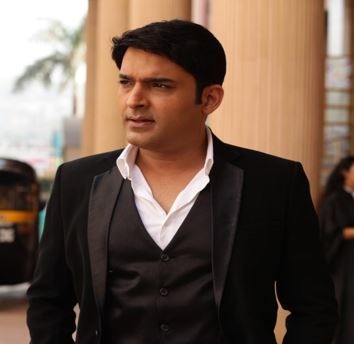 The list would be incomplete without the mention of the funniest man in the country. Almost every one of his dialogues have humour in them and he himself writes most of his dialogues. He also wrote the dialogues of his movie and has, through his talent alone won himself a brand value like none other.
10. Ali Asgar
There is a reason why he has in the recent past played only comic roles. His comic timing is too glorious to be ignored and his roles, first of Dadi and then of Nani, along with many other characters for Kapil's shows are not only extremely famous among the audience but have also contributed greatly to the show's popularity.
11. Shah Rukh Khan
The Badshah himself, who has played various characters, including iconic roles of a villain in ' Darr', a lover in 'Dilwale Dulhaniya Le Jayenge', a teacher in ' Mohabbatein', a criminal in ' Don', and so on. In the many conferences, award shows, interviews and lectures that he has given and attended, his remarkable humor is never missed and he is always more than ready to present it to his fans.
12. Gaurav Gera
He has been in movies, daily soaps, reality shows and performs regularly at Kingdom of Dreams in the Bollywood musical 'Jhumroo'. His real talent, however, was presented to his audience with the now world famous character Chutki, who has appeared alongside several Bollywood actors and actresses, including the likes of Ranveer Singh and Shah Rukh Khan.
Although now a very experienced actor, Shabbir is currently working in ' Kumkum Bhagya'. The show has been going on for quite a while now and from its very beginning enjoys a high TRP as the audience has always been in love with the show. The show comes under Balaji Telefilms and therefore moves at a snail-like pace. The audience is always eager to know what the future episodes will bring, and that is what almost all the media that visits the sets of his show ask him. Here he tries his best not to divulge and instead gives strange and witty replies to reporters, which even crack up his co-stars.
14. Sunil Grover
This actor has appeared in several movies and daily soaps. He still has a lot of offers and is continuously working. This business makes perfect sense as the audience mostly believes him to be the life of the 'Kapil Sharma Show'. He plays a couple of women and a doctor and never has such an actor been seen before, who is so brilliant with such a wonderful sense of humor.
15. Ranveer Singh
He is one actor who has never even dreamt of hiding his true self from his fans. He loves his stunning girlfriend, and the entire world knows it. The many antiques that he plays to express this love, like looking perpetually at her as she talks, has made the girls laugh at his cuteness and cry at the fact that there is only one Ranveer Singh in the world, and he is also off the market.
16. Ravi Dubey
His personality on television is a tell-tale sign. He has hosted a few television shows, like the second season of India's Best Dramebaaz and his chemistry and sense of humor with his co-host Rithvik Dhanjani was not only loved by the children and judges but was also appreciated by the audience.
17. Raghav Juyal
He is more of a dancer, and has been seen in shows like Dance India Dance. But now, in the new and improved Dance Plus Season 2, he is shown proving to all other hosts that they need not be formal. He is extremely impulsive, frank, grounded and welcoming to all the guests and the judges, having made the audience fall in love with him in the very first season.
18. Bharti Singh
Definitely the queen of Indian comedy, Bharti can currently be seen in two shows, ' Comedy Nights Live' and 'Comedy Nights Bachao'. She has appeared in a few films, and various award shows where she successfully manages to refresh the audience with her various antiques.
19. Krushna Abhishek
He was placed in a tough spot due to his having taken over the show that the audience once loved so much, that is the show ' Comedy Nights With Kapil' which he converted to 'Comedy Nights Live'. He is criticized for mocking actors in an insensitive manner, but he has always held his ground and continues to make his audience laugh, no matter what spot he finds himself in. It cannot be denied that he has cleverly handled and replied to all the criticism that he was once under and lived up to his image of being a funny man in the process.
20. Karan Johar
He is one man who is not afraid to show who he is. Although his sexuality is always put into question, he makes it clear that he does not care what others think of him personally. He is friends with more than half of the film industry, all his friends love him dearly and accept him irrespective of who he is. He is a great example for the world, and every actor dreams of working with him. Almost every movie he does is immensely successful, and his audience has great expectations from him. Despite his struggles, he has sustained a great sense of humor, which can be seen in the many reality shows he judges, in his social networks and in his replies to reporters and fans.