Bollywood makes movies that are surreal, and have almost no connection with reality. The movies are too good for a common man and we cannot expect such things to happen. The directors to make the movie go high, sometimes decides to kill the hero of the movie. This has to be a really cruel act. But, these heroes, when die leave a hole in our hearts, and we cry our eyes out. Such are times when we see our beloved King Khan die in a movie.
1. Om Shanti Om Click to look into! >> Read More...
In this romantic drama, the actor plays the role of a junior artist who is in love with a big super star Shanti Priya Shanti Priya is a popular and glamorous yesteryear >> Read More... . This hard core lover dies trying to save his one-sided love. He was caught in the fire, ignited by Mukesh. But, there is a plot twist, and SRK is reborn in a fame house of Bollywood. This was Deepika's debut movie, and was a super hit but surely made us well up when we saw SRK in the fire.
...
2. Dil Se
Here, a simple program executive working for the All India Radio falls in love with Meghna. They both are in love, but Amarkant Verma (played by SRK) was unaware of what Meghna was. She was a suicide bomber, and when the attack was decided, and ready to be executed, SRK hugged her tightly, and the bomb killed them both.
...
3. Duplicate
...
This is a comedy movie which had three leads, SRK, Juhi Chawla Juhi Chawla is a renowned Indian actress and produ >> Read More... , and Sonali Bendre Sonali Bendre, the epitome of beauty and grace was >> Read More... . It was the first time SRK tried a double role. One was of an innocent person, Bablu, and the other one was evil, Manu Dada. Manu dada was killed in the end by his girlfriend, Sonali, but even if it was the evil role, we all felt our hearts break.
4. Ram Jaane
...
Here, SRK tried the negative role, and the movie came out in 1995. The movie also had Juhi Chawla, and Vivek Mushran Vivek Mushran is an Indian television actor who >> Read More... as leads. Ram Jaane was a gangster, and at the end of the movie was sentenced to death by the court. We could not see SRK in those ropes, and thus our eyes welled up.
...
5. Karan Arjun Click to look into! >> Read More...
This was another reborn series of SRK. Here SRK was with Salman Khan Salman Khan is a very famous Indian actor and a pr >> Read More... as his brother, and they both were killed by Amrish Puri Amrish Lal Puri was born on 22nd June, 1932 in Pun >> Read More... who was the villain. They both were reborn, and united again to bring an end to the evil.
...
6. Anjaam
...
Here too SRK could be seen in a negative role, but we all know how much we love him. Ajay (played by SRK) was obsessed with Shivani (Madhuri) but could not handle her rejection well. He then decided to ruin her life, and in the end, was killed by Shivani herself.
7. Darr
This was a full package movie having thriller as its main element. There were three leads, SRK, Sunny Deol Sunny Deol is a film actor, director and producer. >> Read More... , and Juhi Chawla. SRK was in love with Juhi, and Juhi was in love with Sunny. SRK's obsession later resulted in his death by Sunny.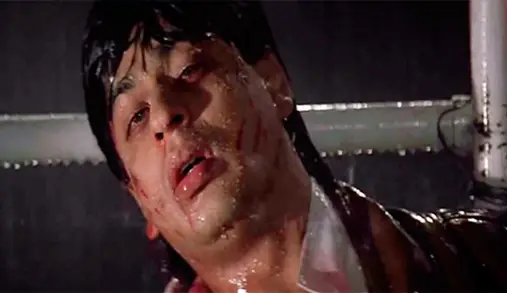 8. Baazigar
This was SRK's debut movie, but in a negative role, yet he gained much name and fame from this. The movie also had Kajol and Shilpa Shetty A model turned actress, producer, entrepreneur and >> Read More... . Here we could also see his romantic side with Kajol, and his death dialogue "Ab main jee bar ke sona chahta hoon ma" was the one who made us cry our eyes out.
9. Kal Ho Na Ho
This movie is touching, and makes us cry no matter how many times we see it. Aman (played by SRK) is in love with Naina ( Preity Zinta Preity, also known as Preity Zinta is a famous Act >> Read More... ). He knows he does not have much time left because of his heart condition, and so decides to leave Naina for her happy life.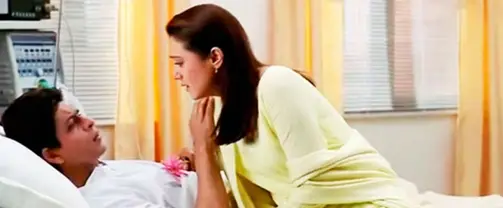 10. Devdas
This has to be the movie where we all cried the most. Dev (played by SRK) is madly in love with Paro but because of family issues could not marry her, and becomes a drunkard. Then he searches her in every woman but gets tired and falls in a deep sleep.