1. Kapil Sharma Kapil Sharma was born in a small town of Amritsa >> Read More...
The comedian turned actor who has always created a buzz in media, knowingly or unknowingly, missed 'Deep' a lot when she was not around. Well Deepu is the nick name of Deepika Padukone Deepika Padukone is an Indian actress and model. S >> Read More... whom Kapil adores. He has confessed his love for Deepika Padukone on the most famous show Koffee with Karan as well as on his own show.
...
2. Chris Gayle Chris Gayle is a famous cricket player for the Wes >> Read More...
When Chris was at Kapil Sharma's comedy show, he was asked to choose a Bollywood actor, with whom he would love to go on a date Without any hesitation, he replied "Deepika Padukone." Though it did sound romantic but Kapil wasn't happy to hear about it, since he has a big crush on Deepika..
...
3. Sidharth Malhotra Sidharth Malhotra is an Indian actor who was born >> Read More...
...
In the last two seasons of Koffee with Karan, Sidharth has confessed about his liking for Deepika. Adding to it he said that he would love to work with her and he finds her too hot!
4. Raj Kundra Raj Kundra, a business magnet from London, United >> Read More...
...
Once again on Kapil Sharma's show, the famous businessman and husband of popular beauty Shilpa Shetty A model turned actress, producer, entrepreneur and >> Read More... , Raj Kundra admitted that if he ever got a chance to act with any bollywood personality, it would be Deepika Padukone! The charming and gorgeous looks of Deepika Padkone even mesmerized Raj Kundra, who already seems to have a beautiful wife,
5. Armaan Malik On 22 July, 1995, Armaan Malik was born in the cit >> Read More...
...
The most talented young singer in Bollywood and son of famous singer Anu Mallik, Armaan Malik tweeted on Deepika's birthday that he has always dedicated his songs to her.He tweeted her birthday wishes along with his confession about how much he adores her!
...
6. Aditya Roy Kapur Aditya Roy Kapur, a young and successful actor wa >> Read More...
...
Aditya Roy Kapur, one of the famous personality in bollywood, has a deep crush on Deepika Padukone. He has worked with Deepika Padukone in the movie Yeh Jawani Hai Deewani.On Koffee with Karan, he said that he wanted her to be his real life heroine.He also confessed his love infront of the media by jokingly asking about when will she marry him.
7. Russell Brand Russell Brand was born in Essex, England on 4th Ju >> Read More...
Russell Edward Brand is a famous multitalented Hollywood comedian. On his visit to India, when he was asked about his crush, he asserted that he has a big crush on Deepika Padukone.He also asked the media to give him her phone number!
8. Dwayne Bravo Dwayne Bravo is a West Indian cricketer, actor, an >> Read More...
Dwayne Bravo, a cricketer as well as a singer,recently seen on Jhalak, shaking his legs on the dance floor,also admitted that his bollywood celebrity crushis is none other than Deepika Padukone
9. Ranveer Singh Ranveer Singh Bhavnani is an Indian movie actor wh >> Read More...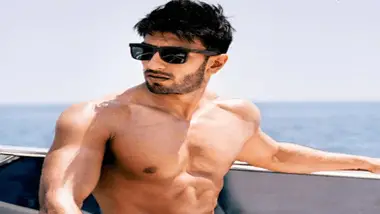 . As far as love for Deepika is concerned,Ranveer can never be left behind! Ranveer Singh, who is the boyfriend of the hottest beauty Deepika Padukone, has never directly admitted this in media.He has been seen flirting with her a number of times. Be it in his movie character, in open media or on social media, he never misses a chance to flirt with her.
10. Tiger Shroff Jai Shroff or popularly known as Tiger Shroff is a >> Read More...
The Bollywood hunk, Tiger Shroff, when asked,"What would you do if one day you woke up as Ranveer Singh?" On Koffee with Karanhe replied,"I would kiss Deepika very passionately." This was enough to understand his admiration for Deepika..