Not every love story every time has a happy ending. Though marriages are made in heaven, but certain hurdles can always appear. Let us see some of the famous celebrities who were once happily married but eventually parted ways.
1. Aamir Khan and Reena Dutta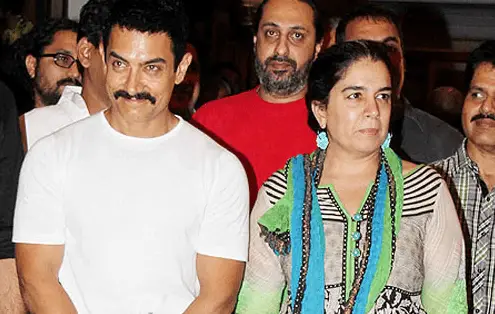 The perfectionist at work may not have been the same in his own life, which led him to divorce Reena Dutta. Aamir and Reena were dating each other since they were 21, but since Reena being an non-Muslim, they did not get any support from Aamir's family whatsoever. Hence they took their relationship to another level and got married without their family's approval. Since Reena was not related to the film industry, she did not interfere in his professional life. During the filming of the movie Lagaan, Aamir got close to Kiran Rao. It is also said that he was close his co-star Priety Zinta during the shoot of Dil Chahta Hai. This may have been one of the many reasons for them to part ways. Hence, they took a divorce on mutual consent in December 2002, by ending their 15 years of marriage. Reena and Aamir had two children together: Junaid and Ira and their custody were given to Reena. Aamir was allowed to meet them only thrice a week with timings fixed. Now Aamir is married to Kiran Rao since 2005 and have a son named Azad Rao.
2. Kamal Haasan
Kamal Hassan's decision to part ways with his partner Gautami Tadimalla, is the talk of the town these days. Before Gautami he had already divorced twice. He married Vani Ganapathy, a dancer by profession in 1978. They fell in love, but Kamal never believed in marriage, but wanted to get married for Vani's sake. Soon Kamal got close to Sarika, a fantastic national award winning actress. Kamal and Sarika had a daughter, Shruti Hassan even before he was divorced to Vani. Hence, he divorced Vani to marry Sarika. Soon they had another daughter named Akshara in 1991. Still it is said that Kamal's closeness to another actress made their marital life difficult to handle. Therefore they finally called an end to itand ended their 18 years of marriage in 2004. Then, it is said that Kamal had a short affair with co-star Simran Baaga who was 22 years younger to him but that did not long. Then Gautami came into picture, she was his partner until recently, when they announced to part ways.
3. Sussanne Khan and Hrithik Roshan
Very much in love Susanne and Hrithik Roshan, left everyone in shock when they announced that they had filed for their divorce, just a week before their 13th wedding anniversary and four years of courtship. It broke the hearts of their fans who wanted to see them together forever. They have two children Hreehan and Hridaan and both of them share joint custody of their kids. It is said that Hrithik's alleged affairs with his co-stars had led them to part ways.
4. Amrita Singh and Saif Ali Khan
They say everything is fair in love and Saif Ali Khan definitely proved it right, by marrying Amrita Singh who was 13 years elder to him, in 1991 who eventually converted to Islam. They were much in love which led them to take such a fearless step and have two attractive children together. But after 13 years of marriage they decided to part ways. It is said that Saif being close to model Rosa Catalano led to the separation. In 2012, Saif married Kareena Kapoor Khan and both of them are expecting their first baby soon.
5. Adhuna Akthar and Farhan Khan
Farhan and Adhuna called their 15 year old marriage to an end in 2000. They both were having a troubled marriage life anyways. They have two daughters Shakiya and Akira together. Their decision left their fans in shock, but they requested them to give them privacy and not to involve their children in all the controversy.
6. Anurag Kashyap and Kalki Koechlin
Anurag is a well know film-maker, who is known for his unique style of making films. Anurag was married and divorced twice, first time being with notable Bollywood film editor Aarti Bajaj whom he met during his early days in Bombay. They were very much in love and had a daughter Aaliyah, together in 2001, after which they got married in 2003. But the marriage did not last long and they both got divorced in 2007. It is said that the sturdy phase in their career was one of the reasons for their divorce. Kalki and Anurag met on the sets of Dev D and eventually Anurag fell for Kalki and they fell madly in love with each other. They got married in 2011. But, even this did not last long enough and it had to end in a divorce in 2015.
Siddharth Roy Kapur was married and divorced twice before being hitched to Vidya Balan. His first wife, Aarti Bajaj and he were childhood sweethearts but eventually had to part ways. He then married television producer Kavita but got separated from her in 2008, the divorce was finalised in 2011. Right now, he is happily married to the gorgeous Vidya Balan since 2012.
8. Ranvir Shorey and Konkona Sen Sharma
The cute couple fell in love in 2007 during the Mixed Doubles shooting. They got ringed in 2008 and started living together, finally getting married in 2010. They have a boy together named Haroon Shorey. There were many gossips about their troubled marriage, but they both denied it. Having said that, they took onto twitter to announce their separation in 2015 and both of them took joint custody of their child.
9. Chitrangada Singh and Jyoti Randhawa
This beautiful couple were in love before they ended their 12 years of marriage. Chitrangda married the golfer way before she got her fame in Bollywood. They had a son together and both currently possess joint custody of their son.
10. Aditya Chopra and Payal Khanna
Aditya Chopra is well known as the owner of Yash Raj Films. He was married to the interior designer Payal Khanna in 2001 but then things did not work out between them due to his alleged relationship with Rani Mukerji. Hence, they divorced each other in 2009. He then married his long-time girlfriend, Rani Mukerji in 2014 in Italy.