1. Shah Rukh Khan Shah Rukh Khan or also known as SRK is a prominent >> Read More... And Gauri Chhibber
In 1984, Shah Rukh's eyes fell upon Gauri Chhibber in their friend's party. Shah Rukh saw her dancing with a boy but couldn't request for a dance as he was very shy. Finally, he managed to approach Gauri for a dance but she responded by saying that her boyfriend was going to be there soon. His dreams were shattered but later he found out that Gauri had lied to him. She was waiting for her brother, not her boyfriend. Their relationship began when SRK jokingly asked her to consider him as her brother, too.
...
2. Ayushmann Khurana And Tahira
The teenage lovers Ayushman and Tahira got attracted to each other at first meeting but were not ready to confess it. The duo is from Chandigarh. They were in the same tuition for class 12th. Tahira told in an interview that she and her friend had a crush on him but didn't take it seriously, and after some days she came to know that even Ayushman had a crush on her. One day Tahira's father invited her to meet his old friend, and his son, for dinner. Tahira was excited as her father told that his friend's son is an astrologer, so she decided to ask her how she should go on with her exam, as she was preparing for it. While reaching there, she realized that the residence was of Ayushman's. This was an obvious fact that they are perfect for each other, and the duo did not let the time pass by and finally spoke to one another.
...
3. Hrithik Roshan And Sussanne Roshan
Hrithik and Sussanne's love story is quite similar to Hrithik's debut film: Kaho Na PyaarHai. In reel life, Rohit met Sonia at a traffic signal. In real life, Hrithik met Sussanne the same way.
...
4. Jackie Shroff And Ayesha Dhatt
Ayesha belonged to a wealthy family who got connected to a local boy. Ayesha was thirteen years old who was hanging out of a bus, and suddenly Jackie's eye met her and heintroduced himself. After then, they met in a record shop where Jackie helped Ayesha; she then realized that he is a down-to-earth person. Ayesha at the age of thirteen only decided to marry him. Earlier Jackie affronted Ayesha; he had a girlfriend who went abroad for further studies; he spoke to Ayesha about it. Shroff thought that Ayesha was besotted with him, but after spending time with her, he realized that she truly was in love with him.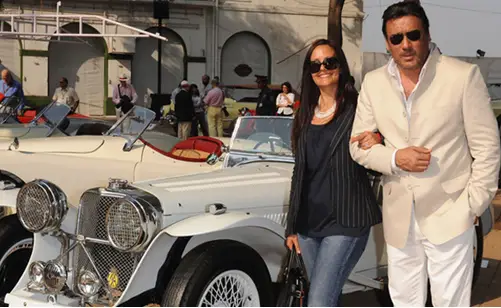 5. Genelia D'souza And Ritesh Deshmukh
In 2002, Genelia at the age of 16 and Ritesh at the age of 24 came across each other and fell in love after nine years of relationship. They finally got married on 3rd February 2012. The pride of the marriage is that; they started with being friends and then tied the knot.
6. Imran Khan Imran Khan is an Indian film actor, who is famous >> Read More... And Avantika Malik
Imran at the age of nineteen dated Avantika. They lived together in Los Angeles. Imran Khan was pursuing a course for acting. Imran did not take tension about his career like Shahrukh Khan, Anil Kapoor Anil Kapoor was born on 24th December 1956 in Mumb >> Read More... , and others in the industry; he was determined to propose Avantika. He gavea romantic proposal in a Bollywood style which stunned Avantika and every guest present on the event day.
7. Fardeen Khan And Natasha Madhvani
After seven-years of the industry Fardeen moved on to the next level. He decided to marry Natasha Madhvani, daughter of famous actress Mumtaz. Fardeen's father took an initiative to make sure his son settles down in life. Fardeen and Natasha pronounced their marriage on 14th December 2005.
8. Zayed Khan And Malaika Parekh
The love story began as all other teenagers do in their college days. Zayed and Malaika had a crush and ended up getting married. After a couple of years of dating, both of them had to face the world. Zayed proposed Malaika with a ring and requested her to wait for him; as MalaIka trusted him and waited for him. After some days, he knew that the time has arrived to ask for her hand, they tied the knot on 20th November 2005. The wedding was celebrated in front of their family members, which were celebrated magnificently.
9. Sunil Shetty And Mana
The romantic fairy tale of Sunil and Mana startedata party in 1982. After a few meetings, Sunil shared his feelings for her. The relationship gradually became closer, and from then on in 1991, he decided to get married to her.
10. Bobby Deol Bobby Deol was a treat to watch when he walks to t >> Read More... And Tanya
Many people may not know about Bobby Deol and his wife Tanya's love story, which was no less than a romantic film. Bobby's first meeting with Tanya was in an Italian restaurant; Bobby built courage and took a step to propose Tanya, and her answer was yes.