Here are women who work in serials as well as look after their little ones. It is difficult to manage family and work space, but mothers are someone who has supernatural powers as they happily do their duties even when they are tired or sick. There are many couples who work for Television serials, who have been committed in the form of marriage. The couples who have cute babies are too attractive to watch as they have a charming face. The celebrities post the child picture on social media which is adorable viewing the images.
1. Roshni Chopra Roshni Chopra, an actress, TV presenter and a mode >> Read More... and Siddharth Kumar
Roshni, a TV anchor,an artist as well as an actress, who belongs to Yash Chopra's family. Chopra marries a Film-maker name Siddharth Kumar and also gave birth to two sons, Jaiveer and Reeyan, and twins Ayaan and Ananya.
...
2. Bakhtiyaar Irani Bhakhtiyar Irani is an Indian actor. By origin he >> Read More... and Tanaz Currim
Tanaz Circum is the actress in movies as well as in serials. Tanaz married at an early age with Farid Currim Farid Currim is an Indian film actor, popularly kn >> Read More... , where they received a beautiful child Zianne, then they got a divorce. Bakhiyaar got a chance to make Tanaz his life partner, so they met on TV sets and fell for each other, both of them married in the year 2007 and were blessed with the first child Zeus.
...
3. Juhi Parmar Juhi Parmar is a popular Indian TV personality and >> Read More... and Sachin Shroff Sachin Shroff is a popular Indian television actor >> Read More...
...
Juhi Parmar is brought up in a Gujarati family. Juhi was dating her boyfriend Sachin Shroff for five months, then later got married to the businessman, Sachin Shroff on 15 February 2009. On 27 January, they were blessed with a baby girl Samara.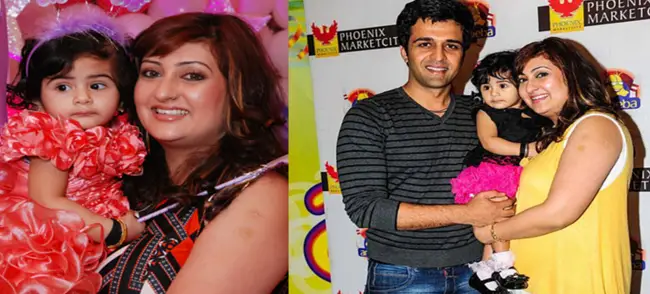 4. Gurdeep Kohli Gurdeep Kohli is a stunning Indian TV actress. She >> Read More... and Arjun Punj Arjun Punj has acted in many films and TV serials. >> Read More...
...
Gurdeep Kohli is a Television actress, who belongs to a Sikh family; she got married to Arjun Punj, a well-known TV actor, on 10 December 2006. The duo is fortunate to have a baby girl, Meher, on March 24, 2010, and also exalted to have a newborn boy, Meher, on 21 August 2015,
...
5. Gauri Pradhan and Hiten Tejwani Born to a Sindhi family in Mumbai on 5th March 197 >> Read More...
Gauri and Hiten are TV acting stars, who met in Hyderabad, while shooting on a commercial advertisement. The couple got married after two years of the court judgment, on 29 April 2004. On 11 November 2009, they received cute twins, Neevan and Katya.
...
6. Archana Singh Archana Singh is the latest addition to the list o >> Read More... and Parmeet Sethi Parmeet Sethi came to limelight as Kuljeet in the >> Read More...
...
Archana is the TV actor as well as has done many comedy movies and reality shows. Archana Singh marries her boyfriend Parmeet Sethi on 30 June 1992. The duo has two sons Aryaman Sethi and Ayushman Sethi.
7. Supriya Pathak Supriya Pathak is an Indian actress who has been r >> Read More... and Pankaj Kapoor
Supriya Pathak is a famous TV actress and received lots of awards like Indian Telly Awards and Filmfare Awards. Supriya weeded Pankaj and were blessed with two children Sanah and Ruhaan Kapoor, and one stepson Shahid Kapoor Shahid Kapoor also identifies as the name Shahid K >> Read More... .
8. Shweta Tiwari Shweta Tiwari is the well known face of Indian Tel >> Read More... and Abhinav Kohli Abhinav Kohli is an Indian TV actor. He was born i >> Read More...
Film and TV set actress Shweta Tiwari first marriage was with Raja Chaudhary Raja Chaudhary was born on 23 rd July 1975, in Mee >> Read More... in 1998 and give him a divorce in 2007. In 2013, 13 July she associates with Abhinav Kohli as very truly in love for each other. On 27 November 2016, they were blessed with a baby boy Reyansh.
9. and Yash Sinha Yash Sinha is an Indian television actor who was b >> Read More...
Amrapali started her career in serials and she is famous for portraying negative character in serials. On 28 November 2012, she married Yash Singh, and on 25 March they were overwhelmed to have a baby boy.
10. Barkha Bisht and
A host of Comedy Circus and an actor Barkha Bisht, got married to Irdra Neil on 2 March 2008. They met at the serial set and fell in love andgot married. The duo got a child, in October 2011, and named her Miera.