They haven't done any movies yet, but they already look B-town ready. Well, these are the perks when you're a star kid. From inheriting the good looks to having a huge fan following on social media such as Instagram, Facebook, and Twitter these star kids are everywhere. We won't be shocked if they continue the legacy and rule Bollywood.
1. Aryan Khan Aryan Khan is the first child of the King of Roman >> Read More...
King of Bollywood's son Aryan Khan tops the list with around 150k followers on Instagram. Aryan Khan has a charismatic personality. He is irresistible and is often seen surrounded with girls. This 20-year old has recently completed his graduation from a very prestigious school in London and is often seeing partying with his friends. He has also won several medals in Taekwondo. He's into martial arts and sports, and therefore there were rumors that Aryan will make his debut with Dhoom 5.
...
2. Jhanvi Kapoor and Khushi Kapoor Khushi Kapoor needs no introduction in Bollywood. >> Read More...
Boney Kapoor Achal Kapoor or Boney Kapoor is a very famous Indi >> Read More... and Sridevi's daughters are super stylish and head turners. Jhanvi and Khushi were recently spotted partying with Coldplay singer Chris Martin. They were often seen accompanying their mom at various events. Their social media accounts reveal that they love being clicked and are ready to step into Bollywood. Jhanvi recently made her Bollywood debut with Karan Johar's film, Dhadak opposite Ishaan Khattar Born on 1st November 1995 in Bombay, Ishaan Khatta >> Read More... .
...
3. Navya Naveli Nanda Navya Naveli Nanda is the granddaughter of Amitabh >> Read More...
...
Navya is the granddaughter of the legendary actor Amitabh Bachchan and daughter of Shweta Bachchan Shweta Bachchan was born in Mumbai, India on 17th >> Read More... and Nikhil Nanda Nikhil Nanda is an Indian Industrialist and a busi >> Read More... . Amitabh Bachchan appreciates her piano playing skills. She is the Snap chat and Instagram queen. She was in the news when her pictures with SRK's Son Aryan Khan were leaked. The two are very close friends. With her intense looks, we cannot wait to watch her in movies.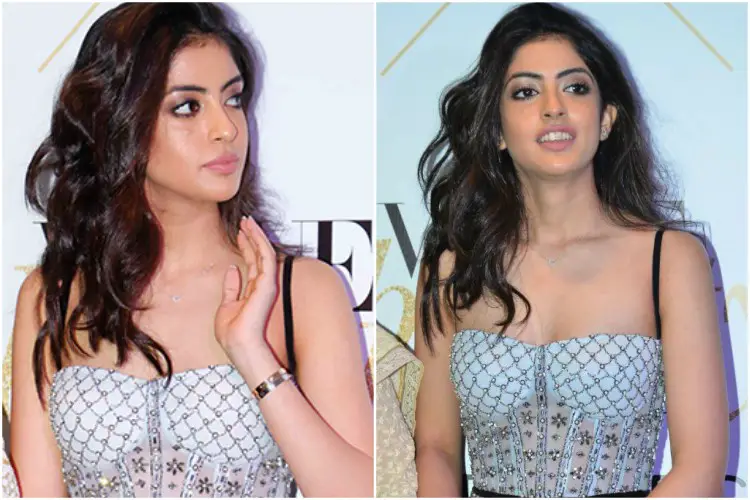 4. Ibrahim Ali Khan Yet another B-Town star kid whose face is quite fa >> Read More...
...
Ibrahim also known as Nawab Junior is the grandson of Sharmila Tagore Sharmila Tagore is a Bengali actress, who later sh >> Read More... . This 17 year old made his Bollywood debut in 2007 in the movie Tashan where he played the role of young Jimmy. Ibrahim, Aaliyah Kashyap Expecting upcoming Bollywood Actress and the most >> Read More... , and Khushi Kapoor are the best of friends and are often seen partying together. With his nawab looks, he will surely make it big in the industry.
...
5. Suhana Khan Daughter of the Bollywood Badshah (Shah Rukh Khan) >> Read More...
SRK has always been a very caring father but his little princess in no more little. Suhana Khan recently posted a picture of her in a crimson red dress with a plunging neckline which showed that she is all grown up and she can give tough competition to ladies. She is surely a teenage fashionista. So everyone out there watch out for this little one.
...
6. Aarav Kumar Though not a Bollywood or Hollywood actor, he has >> Read More...
...
and Twinkle Khanna's son Aarav is daddy's good boy. Following the footsteps of his father, he's also a fitness freak and participates in all kinds of sports. He attends martial arts classes regularly and also loves to cook. This blue-eyed 15-year old is a package and will take Bollywood by storm.
7. Sara Ali Khan Sara Ali Khan is the daughter of the Bollywood act >> Read More...
Sara Ali Khan is the elder sister of Ibrahim Ali Khan and the daughter of , and his ex wife Amrita Singh Amrita Singh is an Indian film and TV actress. She >> Read More... . She is also expected to enter the industry soon. Sara is all set to seize Bollywood with her chiseled body and toned abs; she's quite a show stealer.
8. Yashwardhan Ahuja
Govinda's son is totally the next chocolate boy in the making. With his dapper looks and resemblance to Ranbir Kapoor Ranbir Kapoor is a noted Indian film actor. He was >> Read More... , girls are drooling over his pictures. We would love to see him dancing and doing comedy movies just like his dad.
9. Krishna Shroff The adorable dame Krishna Shroff is the daughter o >> Read More...
Jackie and Ayesha Shroff's younger kid, Krishna could give even the leading actresses a very tough competition. Tiger Shroff's sister was in the news when she posted a topless picture of her on Instagram. She is drop dead gorgeous and hot. With her bold and brave attitude, she will rule the male dominated industry.
10. Aaliyah Kashyap
Aaliyah is the daughter of the famous screenwriter Anurag Kashyap Born on 10th September 1972, Anurag Kashyap has es >> Read More... and his first wife, Aarti. Her Instagram pictures reveal that she is daddy's little girl. Khushi Kapoor and Aaliyah are inseparable. She is also the fresh face of designer Babita Malkani's new campaign. She is already the brand ambassador; you have a long way to go girl!