Samantha Ruth Prabhu Born on April 28 1987 Samantha is a model and actr >> Read More... is one of the most popular actresses in Tollywood. She started out as a model, but owing to her good looks and excellent acting skills, Samantha started acting. She debuted in 2010 and stole the hearts of the viewers. Here are ten of Samantha's most famous films to watch.
1. A Aa
Written and directed by Trivikram Srinivas Trivikram Srinivas, a Telugu director and writer, >> Read More... and produced by S. Radha Krishna Click to look into! >> Read More... , A Aa is a romantic comedy film. It stars Nithin, Samantha, and Anupama Parameswaran along, with Ananya, Rao Ramesh Rao Ramesh is a Telugu actor and son of Rao Gopal >> Read More... , Srinivas Avasarala Srinivas Avasarala is a Telugu film celebrity, who >> Read More... , Naresh, Nadhiya, Jayaprakash, and Easwari Rao Easwari Rao can easily take a credit in south Indi >> Read More... playing the supporting roles. In this movie, Samantha plays the role of Anasuya Ramalingam, the daughter of a wealthy and strict businesswoman who falls in love with Anand, an ex-chef which creates never-ending drama. For this movie, Samantha received the Best Actress award at the 64th Filmfare Awards South and the Best Performance in a Leading Role at the 2nd IIFA Utsavam Awards.
2. S/O of Satyamurthy
Another hit, S/O of Satyamurthy, stars Samantha opposite Allu Arjun The actor was born to producer Allu Arvind and Nir >> Read More... . This film's focus is on three characters who are pretty different from each other but the main focus of the story is Viraj, who aims to live up to his father's name. This film is full of action and comedy, making it ideal for a movie night. In this film, Samantha plays the role of a diabetic person, which she portrays with ease since she has been diagnosed with the disease herself.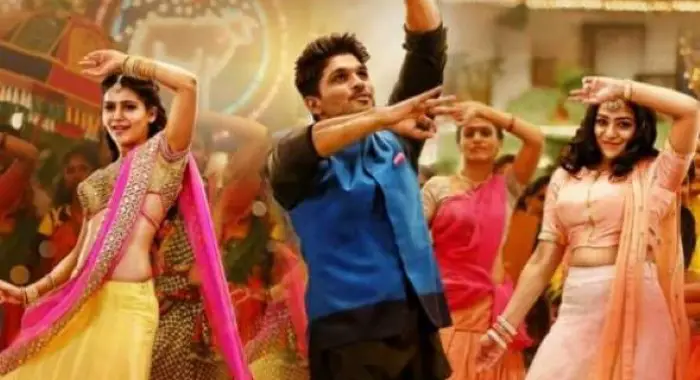 3. Yashoda
One of Samantha's upcoming works, Yashoda, has created a lot of noise even before it releases, so naturally, we had to add it to our list. It is a science fiction thriller film. Its release date is scheduled for 12 August 2022, coinciding with Independence Day Click to look into! >> Read More... and Raksha Bandhan. It is planned to release in Telugu and Tamil and dubbed versions of Hindi, Malayalam, and Kannada languages. Directed and written by the Hari-Harish duo, it is one of the most awaited movies of 2022.
...
Janatha garage revolves around Sathyam and Anand, who fight injustice by taking the law into their hands and killing goons, and making it look like an accident since the law enforcement is useless in their area. Samantha plays the part of Bujji, Anand's love interest, but the two part ways; hence their love is left incomplete. Written and directed by Koratala Siva Koratala Siva is a screenwriter and film director >> Read More... , the film was a massive hit and received many awards.
...
5. Eega
Written and directed by SS Rajamouli, Makkhi was a major hit in 2012. It revolves around Nani, who is killed by a wealthy businessman, Sudeep, but he incarnates as a fly( hence the name Makkhi) to protect his love Bindu (played by Samantha) from Sudeep and ruin Sudeep's life. Samantha's character Bindu is a micro artist and creates various gears and weapons for Eega to fight Sudeep. Bindu's character is very well written and shows a lot of intelligence. Her character proves that even the sweet girls can beat goons which is fun and refreshing to watch.
...
6. Theri
One of the most popular movies of Samantha and Vijay, Theri, is an emotional action thriller. Written and directed by Atlee, the story revolves around a police officer and his struggles to protect his loved ones. Here, Samantha plays the part of Mithra, Vijaykumar's wife, and Nivi's mother. The movie was appreciated for the cast's stellar performance and received many awards.
...
7. Pushpa: The Rise
The film shows the rise of a poor coolie in the smuggling association of red sandalwood, a rare wood that grows only in the Seshachalam Hills of Andhra Pradesh state. Though Samantha does not have a significant role in The Pushpa: The Rise, she plays the part of a bar dancer in the song Ooo Antava Oo Oo Antava, which was a complete hit. She has shot for this item song alongside Allu Arjun and others. On working on the song, it was reported that she felt that being hot was a next level hard.
...
8. Oh! Baby
Oh! Baby is a fantasy comedy film directed by B. V. Nandini Reddy. The film stars Samantha Akkineni and Lakshmi. A remake of the 2014 South Korean film Miss Granny. The story revolves around a woman in her 70s (played by Lakshmi) who magically wakes up in the body of her 24-year-old self (played by Samantha) after having her picture taken at a mysterious photo studio. Naga Shaurya, Rajendra Prasad Rajendra Prasad is a famous actor in Telugu. He is >> Read More... , Rao Ramesh, Sajja Teja , Pragathi, and Urvashi play supporting roles. The film was released on 5 July 2019 and received positive reviews, praising Samantha's performance.
...
9. Brahmotsavam
Written and directed by Srikanth Addala Srikanth Addala is a popular film director, who is >> Read More... and co-produced by Prasad V. Potluri, Brahmosatvam stars Mahesh Babu Born on 9 August 1975 in Chennai, Mahesh Ghattaman >> Read More... , Kajal Aggarwal Kajal Aggarwal is a modern Indian model and film a >> Read More... , and Samantha Ruth Prabhu, and . The film's story was based on Addala's previous directorial Seethamma Vakitlo Sirimalle Chettu, which also featured Mahesh Babu and Samantha Ruth Prabhu. The film's plot is about Babu, the son of a reputed entrepreneur and a well-respected person in the family, who was engaged to his cross-cousin but falls in love with an NRI. However, after his cousin's father learns this, it leads to tension in the family, while Babu hopes to bring peace. Samantha plays the part of the unnamed NRI who is Babu's love interest.
10. Jaanu
Written and directed by C. Prem Kumar Prem Kumar is an Indian actor working in Kannada f >> Read More... , Jaanu is a remake of his own Tamil film '96. It was produced by and stars Sharwanand and Samantha Ruth Prabhu. The film depicts the reunion of former students from a 2004 batch class fifteen years after graduation. The reunion also serves as an opportunity for two former lovers, Ram and Janu, to meet again and resolve issues surrounding their breakup. Samantha plays the part of Janaki aka Janu, who was separated from her lover and then marries someone else.