If you've stumbled across this page by chance, you probably can just scroll down to see the contents and prepare a wishlist; also if you wanted to desperately have a list of movies to see when you have a family meeting at your place, we've got you covered.So, here's a fine list of some movies worthy of claiming the title "Family Friendly".
It is a 2012 action-comedy film directed by
Trivikram Srinivas
and stars
Allu Arjun
and Ileana D'Cruz in the lead roles.Overall, it makes up for a good watch, with all the goodness you would naturally expect from a Trivikram Srinivas's movie. So, clap along and give it a chance.
A 2014 drama film by
Surender Reddy
with a good cast. Allu Arjun plays the lead role.It has a pretty decent story with impeccable comedy timing and strong presence of mass dialogues which will keep you entertained for the most of its run time. You will very much appreciate the dramatic entrance made by Dr. Brahmanandam.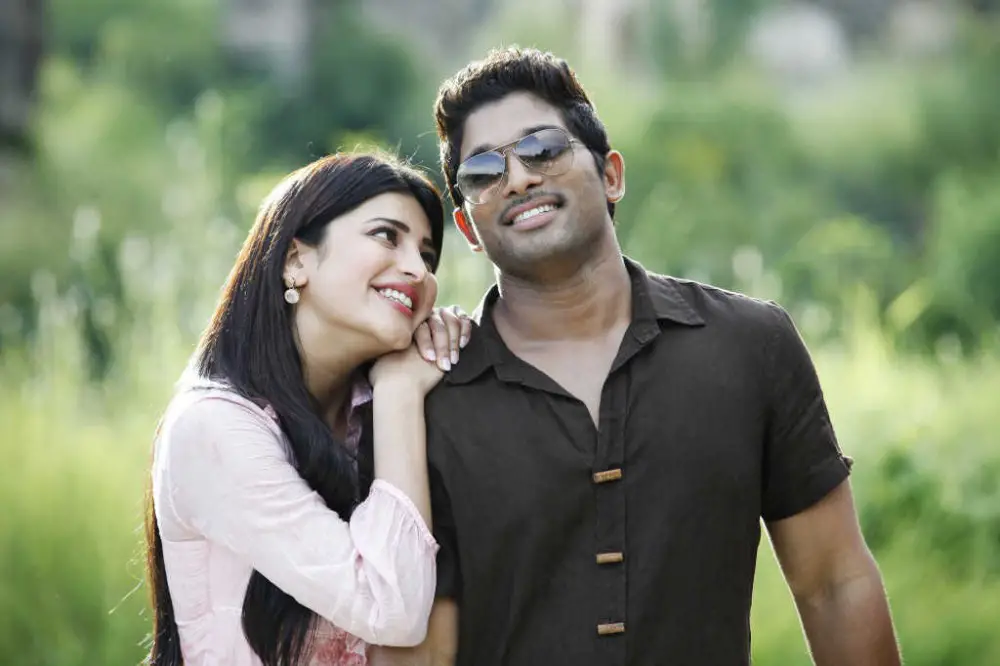 It is a classy take from a very common perspective and has all the melodrama and emotions you would expect but at a higher gradient. It takes cues from some other films and mixes them savagely enough that you might not notice, which however makes up for a good watch.
'S/O Satyamurthy':
Another directorial by Trivikram, which came out in 2015 which had Allu Arjun and Samantha Ruth Prabhu playing the lead roles.It wasn't applauded to the extent his previous movies were, but it was satisfactory in terms of its appeal but it lacked the punch we expected from the director.Overall, it is a good film where you'll be having fun all along, but it doesn't make it so compelling to watch it again.
This film marked the directorial debut of the actor and comedian,
Srinivas Avasarala
and has a pretty amateur cast who deliver astonishingly good performances and a great story and a smooth storyline which makes it perfect for family audiences. It is categorized as a romantic movie showcasing the basic stuff between a couple.
'Baahubali':
Considered S.S.Rajamouli's magnum opus, this is one film which no one should miss, whatsoever the cost. It has a remarkable story, an extremely dedicated cast, and an out-of-this-world cinematic experience with staff recruited from all over the world who were best in their respective departments.You would definitely whistle and go crazy after it ends; it's got so much hype that people kept talking about it for months. It has changed the way people look at the Telugu industry. Could you even imagine a cast devoting three years of their career just to make this movie possible? Wait for it; it had to go through one year of pre-production work just to get things going. I mean, how freaking crazy is that? 
'Pataas':
It is a 2015 film made by debutant
Anil Ravipudi
and stars Kalyan Ram and
Shruti Sodhi
doing the heavy lifting to convey the content being enacted.It is a different take on the police-mafia story with a grippy storyline and punch packed action and of course, random romantic and comedy scenes. It's got good reviews and was the first blockbuster of the year 2015. So, there lies enough reason just to give it a shot.
It is a
Vikram Kumar
directorial with a heavy star cast and the last movie of Late. . It covers three generations of the Akkineni family in this interestingly twisted tale and has a quite modern take on love and tensions which exist between couples. It's got a good storyline and bids a tearful adieu to one of the pillars of Telugu Industry who stood up for a separate industry just for the Telugu community during the days of Madras Regime.
'Drushyam':
It is a 2015 mystery drama film directed by Sripriya and stars Daggubati Venkatesh and Meena in the lead roles. It is a remake of a Malayalam film of the same name.It's got an acclaimed story and shifted the perception of the industry to move away from making baseless repetitive stories and encourage the development of such incredible scripts and story writers. It gave a boost to Venkatesh's career by establishing his comeback after so many disappointing films through this venture.
It is a 2015 drama film by
Koratala Siva
and stars Mahesh Babu and
Shruti Haasan
in the lead roles.It marks the debut of Mahesh Babu as a producer. It has spacious amount of action and a shoutout can be given to the cast for their performances and is about a millionaire saving his village after his girl criticizes him of being ignorant of his ancestral village.
'Pokiri':
A 2006 film by
Puri Jagannadh
and stars Mahesh Babu and Ileana D'Cruz in the lead roles. It got some rave reviews from audiences and critics alike with Mahesh Babu on a roll with his commercial films. It is an emotional / parley side of an undercover police guy who runs down criminals by infiltrating their gangs.You can watch it if you've experienced Puri's film before. If not. Watch it.
Some other notable films include:
Adhurs
Temper
Malli Malli Idi Rani Roju
Karthikeya
Jalsa
Oopiri