After the everyday stress of our lives and facing real-world problems, we need Comedy that will make us forget all the tension and pressure and make us and our hearts happy. As they say, Laughter is the best medicine. Everyone loves good Comedy, so here are the Top 10 Marathi movies to binge from the year 2020-22.
1. Benwad
This movie stars Sandeep Pathak Sandeep Pathak is an Indian theatre-artist, popula >> Read More... and Bhau Kadam The real name of Bhau Kadam is Bhalchandra Kadam. >> Read More... ; what else do you expect from this movie, if not Comedy? Sandeep and Bhau are known for their comic timings, and Benwad is not only a Comedy but a horror comedy. Benwad is a village haunted by a witch, and two brothers, Sanjya and Ranjya, who do nothing but foolishness, take the job of guarding the town on the insistence of their love interests. Everything changes when Ranjya's girlfriend Aarti is possessed by the witch! This movie is sure to make you laugh.
...
2. Zombivali
If you are someone who enjoys Comedy and also Zombie movies, Zombivali is for you. It is available to watch on OTT platform Zee5. It has Amay Wagh, Vaidehi Parshurami, and in lead roles. Everyone has done a fabulous job, and the zombie apocalypse shown is pretty believable. You will laugh several times during this movie, and the humor comes from the writing itself. Excellent story and fantastic direction. You are missing out if you haven't watched this movie.
3. Lochya Zala re
This, Ankush Chaudhari, Siddhart Jadhav, and  Vaidehi Parshurami starring movie 'Lochya zala re' is 1hr 49 minutes long and full of romance and Comedy. Who doesn't love Rom-Coms? Adi, who lives in Birmingham, tricks his uncle living in Satara into giving him extra pocket money by lying that he is married, but it soon turns into a comedy of errors when his uncle visits him in London. You can watch this movie free on YouTube and also on Prime Video.
...
4. Pandu
This 2021 movie is directed by Viju Mane Bio coming soon... >> Read More... and produced by Zee studious. It has a star cast that includes Bhau Kadam, Kushal Badrike Kushal Badrike Is A Popular Marathi Actor, A Comed >> Read More... , Pavan Tarde, Prajakta Mali Prajakta Mali is an Indian film and TV actress who >> Read More... , Sonalee Kulkarni Sonalee Kulkarni is a well known Indian actress. S >> Read More... , etc. The song "Kelewalila" and "Bhurum Bhurum" that went viral on Instagram reels are from this movie and add to the comic element of this movie as you see men dancing, dressed up as scarecrows. It is a situational comedy, and the second half gets more intense and dramatic, which makes the movie intriguing.
...
5. Basta  
Basta is a ritual in Marathi weddings of buying gifts for the families from the groom's side and the brides. It helps you to know about the families, choices, behavior, and financial condition. This movie is fun and comic and revolves around the drama of giving the Basta. Also, it touches on some heartwarming topics like Farmers' conditions and the unconditional love of a father for his daughter who does everything to see his daughter happy.
...
6. Choricha Mamla
This film, directed by Priyadarshan Jadhav Born on 29 April 1980 in Kolhapur, Priyadarshan Ja >> Read More... , stars Amruta Khanvilkar Amruta was born on November 23, 1984 in Pune, Maha >> Read More... , Jitendra Joshi Jitendra Joshi is a renowned Marathi theater artis >> Read More... , and Hemant Dhome Hemant Dhome is an Indian actor, director, and scr >> Read More... in lead roles. It follows the story of a robber caught breaking into a house and getting into a hilarious situation with the house's owner, who is having an extramarital affair. Sounds entertaining, right?? This movie is sure going to make you laugh. It is available to watch on Prime Video.
...
7. Sweety Satarkar
Sweety is a free-spirited girl who falls in love with a guy, to be exact, her best friend's brother, Shekhar, and does everything to impress him, which is a fun adventure to see. But everything goes south when she learns that Shekhar's marriage is fixed with his childhood best friend, and from there, the movie gets interesting. Amruta Deshmukh Amruta Deshmukh is an Indian actress working in th >> Read More... has performed superbly and given justice to the fun-spirited and innocent Sweety. You can watch this movie on Zee5.
...
8. Vikun Tak
Vikun Tak is a usual slapstick comedy that is sure to entertain you. It follows the story of a mechanic in Dubai who comes to India to marry, but his marriage gets canceled as the bank confiscates his property. You can watch this movie for free on Mx player.
...
9. DoctorDoctor
is a Marathi adult comedy movie that follows the journey of two boys, Keshav and Pushkar, in medical college on a fun-filled, entertaining ride with Antara Patil Antara Patil is an Indian movie actress. She has w >> Read More... , Parth Bhalerao Parth Bhalerao is a child artist from Pune, Mahara >> Read More... , and Prathamesh Parab Prathamesh Parab is an Indian actor. He has been w >> Read More... in leading roles.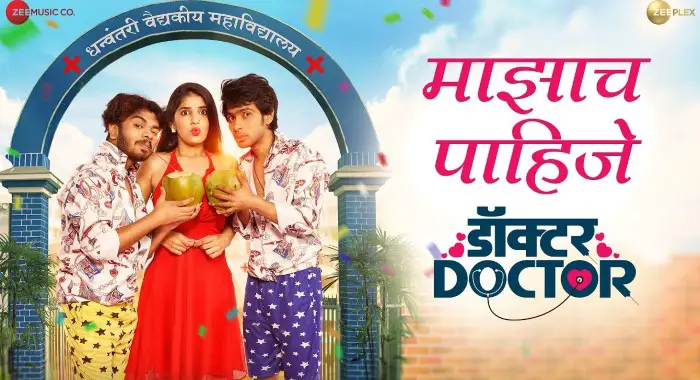 10. Vajuya Band Bajaa
Directed by Shivaji Lotan Patil Shivaji Lotan Patil is a motion picture director f >> Read More... , this movie follows the love story of three brothers, but everything gets complicated as the story moves forward. Lighthearted, this movie revolves around wedding Drama.