History defines who we are today, it's the past that will decide the future, and we must know and take pride in our history. Reading history might not be alluring to all, but watching those past lived moments coming live on the screen is fascinating to all. India has a rich history and cultural diversity. Various events have made India what it is today, and directors have always loved to showcase the stories of these people and highlight the glorious events in history. Regional films focus more on the history of that region and bring out those little unknown moments. Here are the top 10 must-watch latest historical movies in Marathi 
1. Pawankhind
All love this highest-grosser Marathi film of 2022 and a total must-watch. It follows the story of the battle of Pavankhind. In 1660, Shivaji Mahraj and his soldiers found themselves trapped in the Panhala Fort as the Jihadi army of Adilshah made a siege around them and successfully cut the vital supplies on the fort. The siege lasted for months. The Shivaji army finally makes a plan to escape. It is a story of the brave Maratha soldiers who risk their lives to save their commander. Fantastic acting by everyone, sure to make you feel several emotions, and very well directed by Digpal Lanjekar Digpal Lanjekar is an Indian Director and Actor. H >> Read More... . Pavankhind is an epic retelling of history.
...
2. Sarsenapati Hambirrao
Released on May 27, 2022, this film follows the story of the brave Maratha soldier Hansaji Mohite who became the commander in chief of Shivaji Maharaj's army and became known as Sarsenapati Hambirrao Mohite and was very close to Shivaji. Though the stories of Shivaji are well known among the Marathas, the suspense element is absent. Still, the visual representation is striking as there are good fight scenes, power-packed background scores, and impactful dialogues. Writer-director Pravin Tarde Bio coming soon... >> Read More... has captured the mainstream events of Hambirrao's life in this movie.
3. Sher Shivraj
The story of Shivaji and Wagh Nakha (tiger claws) is pretty famous in Maharashtra, and this movie shows the more deep version of the story. It shows the mastermind of Shivaji and how he plays mind games to kill Afzal Khan Afzal Khan is a stage cum film actor of Pakistan h >> Read More... , a ruthless general in the Adilshahi dynasty. It stars Chinmay Mandlekar Chinmay Mandlekar was born on 2nd February 1979 in >> Read More... , Mukesh Rishi Mukesh Rishi is one of the best actors who has don >> Read More... , Mrinal Kulkarni Bio coming soon... >> Read More... , and various talented actors. This historical action film is available on Prime Video to watch
...
4. Fatteshikasht
This movie follows the exciting encounter of Shivaji Maharaj and Shaista Khan Bio coming soon... >> Read More... at Lal Mahal in Pune. Shivaji Maharaj is known for his clever use of Guerilla warfare. Pune was under British rule then, and to end all the sufferings of the subjects, Shivaji Mahraj plans a brilliant attack on the heavily guarded Laal mahal. This movie stars Chinmay Mandlekar, Mrinal Kulkarni, and in leading roles. The famous anchor and Hindi actor Anup Soni Anup or Anoop Soni is an Indian TV and film actor, >> Read More... plays the role of Shaista Khan in this move.
...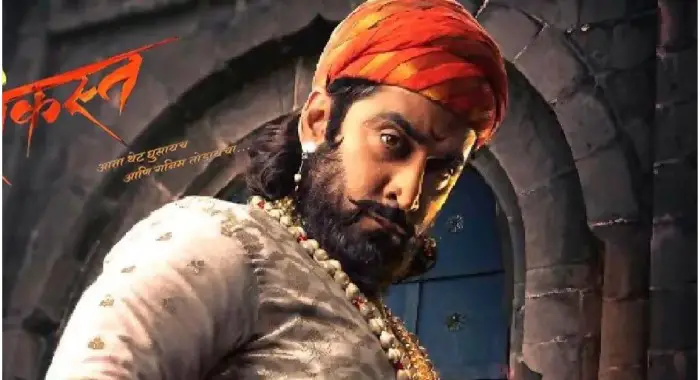 5. Hirkani
'Hirkani' is a story of a brave woman, which shows that a mother can do anything for her baby. Hirkani was a poor milkmaid living in Shivaji's kingdom and used to sell milk in Raigad fort. One day the gates of forts were closed, and she couldn't get back to her hungry crying baby so, she climbed off the cliff in the dead of night to get to her baby. Shivaji was impressed by her courage and built a wall in her name on this unprotected cliff and named it 'Hirkani Buruj.'  A story that touches your heart and is beautifully acted out and directed.
...
6. Farzand
Farzand is the first movie in the series of 8 films by writer-director Digpal Lanjekar on the Maratha empire. It is the story of Kondaji Farzand, who, with a large army, tries to recapture the fort of Panhala from Adil Shah. Fatteshikast, Pawankhind, and Sher Shivraj follow this movie, and four more movies are yet to be announced.
...
7. Rama Madhav
Rama was married at a very young age to Peshwa Madhav Rao, the second son of Peshwa Nana saheb and Gopika bai. Rama was a poor, simple village girl and was disliked by her mother-in-law for the same. This movie follows the journey of unconditional love between Rama and Madhav Rao.
...
8. Harishchandrachi factory
We know the first Indian film was Raja Harishchandra, and this film is a biopic of the man who made history by making the first Indian feature film, Dada Saheb Phalke. It showcases the struggle and the journey he faced while making Raja Harishchandra. No wars or enmity between emperors, but still a history we are proud of.
...
9. Ramabai Bhim Rao
This movie is about Dr. B.R.Ambedkars wife Ramabai, who helps her husband in the upliftment of society. Ramabai Bhim Rao is the first ever movie made about her. She is an underappreciated gem as she was the rock behind her husband's mission. It is available to watch free on Youtube and Mx player.
10. Rajmata Jijau
We all know the courageous stories of Shivaji, but this is the story of the women who made Shivaji an incredible ruler. The Rajmata and mother of Chatrapati Shivaji Maharaj, Jijabai, was a strong and clever woman and guided her son to be the founder of the Maratha empire.