Women in lead roles have often played significant roles in the development of the male protagonist, either as a love interest or mostly in song sequences that help display the male protagonist's charms. There has been a recent shift in the tide as more female leads are shown, from being the ideal plot fillers to being strong, ambitious, career-oriented, or simply not adhering to conventional expectations. Here are 10 Mollywood films with strong and inspiring female leads. 
1. 22 Female Kottayam – Tessa 
Tessa, from 22 Female Kottayam, is a ferocious fighter who will go to any extent to protect herself and exact her revenge. The movie, released in 2012, is directed by Aashiq Abu Aashiq Abu known for his work in Malayalam Cinema, >> Read More... and stars Rima Kallingal Rima is one of the gifted actors of the industry. >> Read More... and Fahadh Faasil Born in 1983, Fahadh Faasil is known for his works >> Read More... in lead roles. After going through traumatic life events, Tessa fights back against those who hurt her in this revenge-driven movie.
...
Another movie about a woman reclaiming her life and getting revenge, Puthiya Niyamam, follows the story of Vasuki, a dancer who is happily married and lives with her husband and daughter. Her perfect life is upturned when she is raped but what follows is a story of revenge and strength as she survives the ordeal and becomes stronger. The movie is directed and written by A.K.Sajan and stars Nayanthara and Mammootty.
 3. How Old Are You?- Nirupama
How Old Are You? is a 2014 movie produced by Listin Stephen Listin Stephen is an Indian film distributor and p >> Read More... and Directed by Rosshan Andrews. This commercial hit revolved around Nirupama, a working woman who fell into her mundane, boring life. After a series of embarrassing events, she decided to become a better version of herself. The movie is an inspiring story of a woman who fought alone to take back control of her life and left a deep impression on the audience that there is no age limit to following your dreams. The movie stars Manju Warrier Manju Warrier is a South-Indian film actress, born >> Read More... in the leading role.
...
4. Thira - Rohini
Thira is a 2013 thriller film starring Shobana Pillai and Dhyan Sreenivasan Dhyan Sreenivasan is the younger son of Malayalam >> Read More... in the lead roles. The movie is centered on Dr. Rohini, who is a cardiac surgeon and also a social worker who rescues girls from human trafficking rings. The story unfolds as the girls under her care are kidnapped, and she joins hands with Naveen, a brother who lost his sister to the trafficking rings, to rescue the abducted girls. Dr.Rohini is a fearless fighter, and that makes her one of the strongest female leads in Malayalam cinema.
...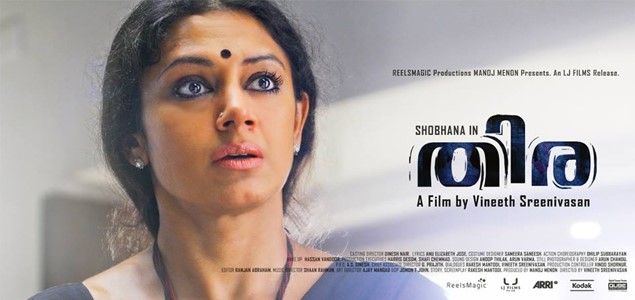 5. Trivandrum Lodge- Dhwani
Trivandrum Lodge is a black comedy movie directed by Anoop Menon Anoop Menon is an Indian film actor, script writer >> Read More... and Produced by P.A.Sebastian. The film revolves around the lives of the people living in a lodge and how they learn and continue to grow. The film doesn't shy away from topics that are often considered taboo, and the character of Dhwani, a writer who is recently divorced, is the main example. She moves into the lodge while being explicitly vocal about her intentions to explore her life and sexuality. Dhwani is a character who is liberated and strong in a society that doesn't look favorably on these traits of a woman.
...
6. Charlie- Tessa
This 2015 movie starring Parvathy and Dulquer Salmaan Dulquer Salmaan is a popular Malayalam actor, who >> Read More... was a super hit. The movie revolves around Tessa, an artist who runs away from her family and lives in a new city to pursue her artistic desires. In the process, she learns about the previous tenant, Charlie, and embarks on a journey to find him. Tessa is a bold and free woman with a spirit of adventure that makes her life interesting and exciting. Martin Prakkat Martin Prakkat is a movie director who works in th >> Read More... directed the movie.
...
7. ABCD- Madhumita
This 2013 dark humor film is directed by Martin Prakkat and produced by Shibu Thammens. The movie features two rich and spoiled college students who, under a turn of bizarre events, are forced to live a life devoid of their luxuries. The character of Madhumita is a social worker and a student. The active role she plays in seeking political justice inspires the two youths. The movie stars Dulquer Salmaan, Jacob Gregory Jacob Gregory has mainly worked in Malayalam films >> Read More... , and Aparna Gopinath Peering through her professional looking glasses a >> Read More... .
...
This 2015 travel-inspired film stars Manju Warrier and Rima Kallingal in the lead roles. The movie revolves around the journey of two women who meet at a bus stand. One is running from a criminal while the other is in search of her husband. The movie beautifully blended tones of feminism into its story and was praised by critics. It is also notable that the film, directed by Aashiq Abu, features no male leads.
...
9. Uyare- Pallavi 
Received with high appreciation, the movie tells the story of Pallavi, an acid attack survivor who fights against all odds to reclaim her life. After being attacked by her partner, she had to give up on her lifelong dream of becoming a pilot, but she slowly gets back on her feet and joins a cabin crew amidst unwavering support from her friends and family. Pallavi's story is one of bravery, survival, and unmatched strength. The character of Pallavi is played on the reel by actress .
10. Kannezhuthi Pottum Thottu- Bhadra
This 1999 revenge plot is directed and written by T K Rajeev Kumar Rajeev Kumar is an Indian visual effect artist who >> Read More... . The movie revolves around Bhadra, a young woman who has seen her parents murdered years ago and has vowed to avenge their deaths. She stops at nothing as she plans out her revenge. Bhadra uses her identity as a woman to her advantage and fights against all oppressions, making her a very powerful character. The character is played by Manju Warrier.