Throughout the past few years, the Malayalam film industry has experienced rapid growth. The top 10 Malayalam movies that you should watch before you die are listed below whether you have never seen one or if you are just looking for some nice ones.
1. Drishyam
According to IMDb's summary of the film, "A father takes desperate steps to save his family from the dark side of the law when they commit an unforeseen crime." A cable operator and his family surround the entire film. The audience was on the edge of their seats throughout this suspenseful thriller. The movie has also been translated into Tamil and Hindi, among other languages. Kalabhavan Shajon Kalabhavan Shajohn is one of the most well-known c >> Read More... received the Special Jury Award for his performance in Drishyam, which won the Kerala State Film Awards for Best Film with Popular Appeal and Aesthetic Value. Asha Sarath Asha Sarath, famous for her role in 'Kumkumap >> Read More... won Best Actor in a Supporting Role and Best Film at the Idea Filmfare Awards South (Female).
...
2. 1983
The tale of Rameshan, whose obsession with cricket caused him to lose his love and his life, and his final attempt to achieve his great desire. With this movie, Nivin Pauly Nivin Pauly is predominantly a Malayalam actor. Bo >> Read More... established himself as one of the Malayalam film industry's most adaptable actors. One of the key components of this film is cricket. It received favorable reviews and various honors. Abrid Shine, a fashion photographer turned director, received a lot of positive feedback for his first film. The National Film Awards' Best Background Score went to Gopi Sunder. Three Kerala State Film Awards were given to the movie, including one for Best Debut Director (Abride Shine), one for Best Actor (Nivin Pauly), and one for Second Best Actor ( Anoop Menon Anoop Menon is an Indian film actor, script writer >> Read More... ).
3. Vidheyan
Thommy is Bhaskar Patel's devoted assistant. But Patel is a brutal dictator. Thommy tries to balance his moral compass and his sense of propriety. He is finally saved without jeopardizing his obligation to serve Patel.
...
4. Thaniyavartanam
A rural schoolteacher who comes from a line of male lunatics eventually becomes prey while being normal because of how society interprets his acts.
...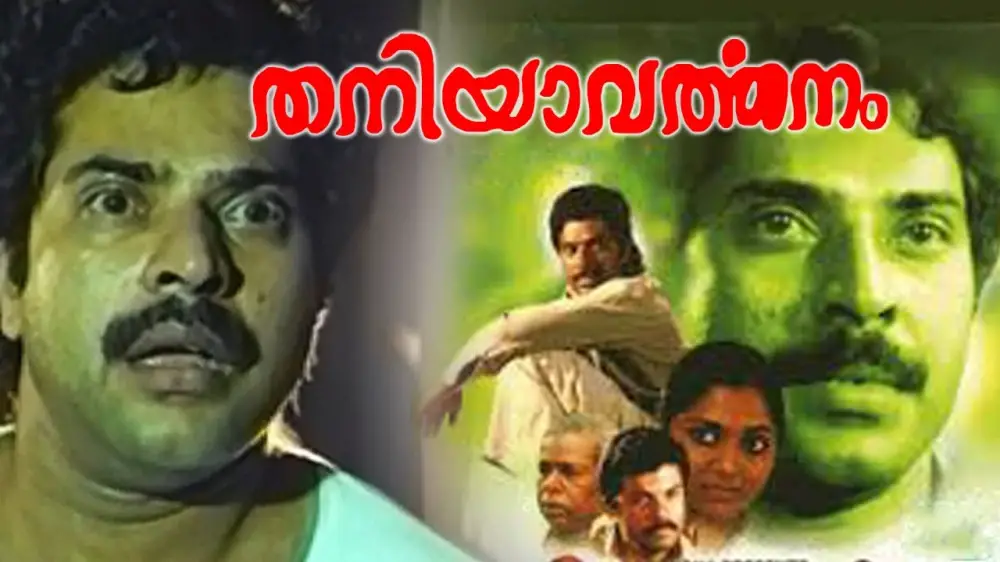 5. Dasharatham
The eccentric rich orphan Rajeev has a peculiar taste in everything. He works incredibly hard to fulfill his goal of becoming a father without getting married despite having no expertise in family dynamics.
...
6. Manichithrathazhu
A young couple moves into a supposedly haunted old mansion, and soon after, frightening things start to happen. A straightforward summary, but the way Fazil handled this 1993 cult classic psychological thriller makes it unquestionably "the" film to see before you pass away. Even if Manichitratazhu has been translated into every language imaginable, true film fans should still watch it. Manichitratazhu has a unique essence that cannot be replicated in translations in other languages.
...
7. Irakal
The 1985 Malayalam psychological thriller film Irakal, also known as The Victims, was written and directed by K. G. George and produced by Sukumaran, a well-known actor at the time. The psychological underpinnings of aggression are thoroughly examined in the movie. Ganesh Kumar performs the lead role in the movie.
...
8. Chidambaram
A farm worker named Muniyandi (Sreenivasan) appreciates and believes in Shivakami ( Smita Patil This versatile actress was born on the 17th of Oct >> Read More... ). After getting married to Shivakami, Muniyandi brings her to the farm. She quickly befriends Shankaran (Gopi). Muniyandi, however, one day discovers Shankaran having an affair with his wife Shivakami. Muniyandi kills himself because he is depressed. Shankaran is compelled to leave the area by a strong sense of shame. He tries everything to get away from this mental anguish, including booze, religion, and spirituality, but to no avail. He arrives in the temple town of Chidambaram at last. Shivakami is there, working as the temple's shopkeeper.

Despite being pushed into crime from a young age, Madhavan has a kind heart. However, when his animosity toward Bhageerathan Pillai grows, it pushes Sub-Inspector Eeppan Pappachi to enter.
...

10. Perumthachan
Madhavan has a good heart despite being forced into crime since he was a small child. But as his hatred for Bhageerathan Pillai intensifies, it forces Sub-Inspector Eeppan Pappachi to enter.