1. Lalithambika Antharjanam:
Lalithambika Antharjanam is rightly called the "Iron Lady in Malayalam literature". She showed the people the strength of literature with her writings. Reformed the minds of people with her social reformative writings, and gave the women power and confidence, especially the Brahmin women, to rise from their depressed and failed life to the infinite chances they are given in the outside world.
...
2. Madhavikutty:
She is also known by another name, "Kamala Surayya." She writes in both English and Malayalam. She is considered as the most popular Malayalam female writer. With her poem and autobiography, she showed the women community that there is nothing to be ashamed of due to their nature and life.
...
3. Sugathakumari: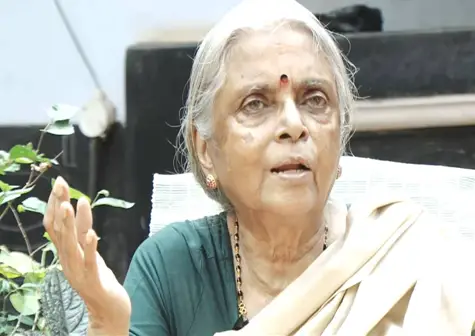 ...
She is a Malayalam poet for some, for others she is an environmentalist playing a dual role. With her nature inspiring writings, she told the masses about the threat they are facing by destroying the environment and spoiling the nature. Sheplays an active role in Kerala society as a humanitarian and environmentalist. Even though she has received many awards and called as the winning author,she takes the responsibility in spreading awareness about the importance of protecting the environment even to a common man. .
4. K R Meera:
...
Meera is a well-known novelist due to her many writings. Her novel "Aarachar", made her so famous all around India, and even has a nomination for the DSC Prize for South Asian Literature. It is quite some time since Malayalam literature comes back to prominence, and her writing had won many awards till date.
5. Balamani Amma:
...
Mother of one of the prominent writer in Malayalam, Kamala Surayya, Balamani Amma is also a well known Malayalam poet. Many of her works are closely associated with the topic, mother. She has a notable collection of highly recognised awards.
...
6. Sarah Joseph
...
Not only a well-known writer, but Sarah Joseph is also a well-known feminist. Along with Madhavikutty, she transformed the women community in Kerala. She even contested in Parliament elections. She also has a good number of short stories to her name other than her famous novel collections.
7. Arundhati Roy Arundhati is a multi-faceted Indian personality. S >> Read More... :
Although a Booker Prize winner, she made only seventh on this list, because she is not a Malayalam writer. But her writings which were then translated to Malayalam created a wave of impact. Her positive role in many social impacts in Kerala, is exhibited in her written works as well, and influenced the people of Kerala.
8. M Leelavathy:
M Leelavathy is a Malayalam writer,literary critic and an educationist.She has many awards to her name like Kerala Kendra Sahithya Academy Award, Padma Shri Award, Odakuzhal Award and so on.
9. Chandramathi
She is also a renowned writer in India, with her writing in the English language as well. Her role as a writer doesn't end simply as a novelist but also includes that of a short story writer, critic, and that of a translator among many.
10. P Valsala:
P Valsala was the Chairperson of the Kerala Sahithya Academy and a winner of Kerala Sahithya Academy Award. Her influence as a writer and a person is solely noted among the Kerala community making her one of the important women face in the Malayalam literature community.