Everyone knows how people were suffering from this pandemic and how many of the Bollywood stars lost their life. We always wanted to know what celebrities do when they are at their house, and this time, it was all gone, and very new things were known about the Bollywood stars. Here are some Top ten Bollywood stars and their work during the pandemic.
1. Twinkle Khanna Twinkle Khanna made herdebut in Indian film indust >> Read More...
...
The wife of and the elder daughter of Rajesh Khanna Born as Jatin Khanna on 29th December 1942, the ch >> Read More... is Twinkle Khanna. Akshay has said this many times that his wife is punctual at work and she schedules his work and which film to be done by him. Twinkle is the perfectionist of everything. During the lockdown, she loved to stay and spend more time with family members. She spent most of the time in her garden, seeding the plants and watering them. In her recent post on social media, we saw her cutting the curry leaves which she planted.
2. Madhuri Dixit Madhuri Dixit is not just known as the also a smil >> Read More...
...
The famous Bollywood dancer and actress Madhuri Dixit and her husband gave good advice to their fans on Social media. They gave the advice to maintain social distance and share the love during the lockdown. They had a couple of good selfies together. Madhuri also shared what she eats and how to keep healthy during the pandemic. She also taught some easy dance movements.
3. Preity Zinta Preity, also known as Preity Zinta is a famous Act >> Read More...
...
The young couple Preity Zinta and Gene Goodenough are having a good time during the lockdown. The post on her social media showed us how Preity was giving a new haircut to her husband. She named the haircut style, Goodenough haircut.
4.
...
The real Queen of the film industry is Kangana Ranaut. She gave her best in films like Tanu weds Manu, Queen, and many more. She also raised her voice to solve Sushant Singh Rajput Sushant Singh Rajput is one of the famous Indian t >> Read More... case, soon. She spent her time with her family in Uttrakhand during this lockdown. In her social media post, we have seen her getting oil champy from her mother, having time with her grandparents, neighbors and also doing some household works.
...
5.
...
The coolest dad cum stunning actor of Bollywood is Saif Ali Khan. We have seen him working in various roles and all fit him. He spent this lockdown with his children. He had a game with his son Taimur and has seen both of them planted in his balcony garden. He has also done some beautiful paintings in his free time and spent a lot of time with Taimur and Kareena Kapoor Khan Kareena Kapoor is a super hit actress working in I >> Read More... .
6. Bhumi Pednekar Bhumi Pednekar is Maharashtrian unconventional act >> Read More...
...
The super cool actress Bhumi Pednekar had a good start in Bollywood cinema. She started her career with the movie Dum Laga Kar Haeesha along with Ayushmann Khurrana This Vicky donor worked as radio jockey, Video joc >> Read More... . She had a chance to do something creative in this lockdown and she chose to plant saplings and maintain her garden. It was amazing to see her cultivating Brinjal and some other vegetable through her social media post.
7. Jacqueline Fernandez Jacqueline Fernandez is one of the top actresses i >> Read More...
The super gorgeous actress of Bollywood is Jacqueline Fernandez. She is a good friend of Salman Khan Salman Khan is a very famous Indian actor and a pr >> Read More... . She got a good physique. When the lockdown started, Salman's farmhouse with Salman's sister and both were stuck during the pandemic. They had some gardening there together, horse riding and a lot of other fun.
8. Hema Malini Hema Malini is perhaps the only dream girl of the >> Read More...
Hema Malini is known as the Dream Girl Dream Girl is a drama based Indian show that runs >> Read More... of Bollywood. Her stunning looks had always impressed the fans. During the lockdown, she shared some pictures of her, watering the plants. It was quite beautiful to know that she loves gardening so much. She also gave the message to her fans to water the plants during the summer season.
9. Juhi Chawla Juhi Chawla is a renowned Indian actress and produ >> Read More...
Juhi Chawla, the legendary actress of Bollywood, has also spent pandemic time in fun. She planted many flowers and vegetables in her huge garden. She seeded fenugreek, tomatoes, and coriander. She also mentioned this work as Naya Kaam on her social media post.
10. Vicky Kaushal Vicky Kaushal is a famous Indian movie actor. He w >> Read More...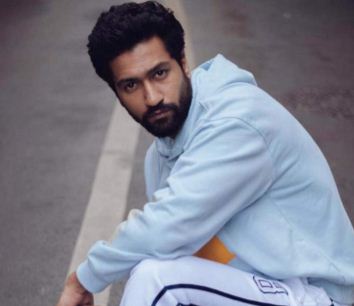 We all love Vicky Kaushal for his dashing looks. He did his best in " Raazi Click to look into! >> Read More... " along with Alia Bhatt Alia Bhatt is a trendsetting actress from Mumbai, >> Read More... . During the pandemic, Vicky has to work in the house and clean it by himself. In the recent picture, we found Vicky Kaushal dusting the house.