So lucky are those who grew up watching these TV shows. Each of them differs in their own unique aspects.These TV shows will always bring back those, slightly faded memories. Let's see the list of TV shows which will definitely make you nostalgic.
1. Vikram Aur Betaal Vikram-Aur-Betaal was a 1985 Hindi, mythological a >> Read More... :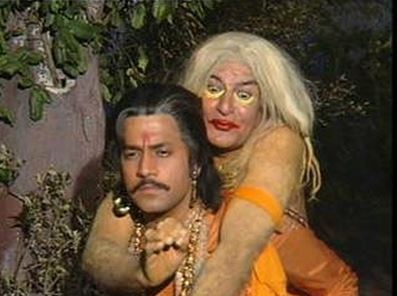 ...
The concept of this TV serial was way too different from others.It was telecasted on DD National.The storyline was adapted from Indian folklore which aimed at teaching life's lessons to kids while entertaining them at the same time. Vikram-Betaal is based on "Betaal Pachisi" which are fascinating stories told by the ghost "Betaal" to King Vikramaditya.
2. ' Sa Re Ga Ma Pa Sa re ga Ma pa is a singing reality show on Zee Te >> Read More... ':
...
A musical reality show which was aired on Zee TV,which became very popular among both masses and classes.The name Sa Re Ga Ma Pa was taken from the first notes in Indian solfège. Many sequels, sixteen to be precise, followed, like' Sa Re Ga Ma Pa L'il Champs','Sa Re Ga Ma Pa Challenge', etc. It is like a dream for every aspiring singer to perform on that stage.
3. ' Mahabharat Click to look into! >> Read More... ' :
...
Mahabharat series was based on the Hindu epic 'Mahabharata' itself. It was shown on DD National. The show gained unparalleled popularity among all age groups. It was the first show to be broadcasted on BBC Two. It was aired on many other channels and dubbed in South Indian language as well.
4. Boogie Woogie Click to look into! >> Read More... :
...
A concept of dance competition was shown through this TV show.It was aired on Sony Entertainment Television. Javed Jaffrey and Ravi Behl Ravi Behl is an actor, singer & producer, who work >> Read More... were the judges. It was hosted by Jaffrey's brother, Naved, who happened to be the director and producer of the show.. It was one of the oldest and intermittently longestt show on Indian television. Not only this, it was the first show to cater to different age groups. Formulation of special championships took place over the years for kids, teens, celebrities due to the increase in popularity of the show.
...
5. Shrimaan Shrimati Shrimaan Shrimati was a famous TV serial broadcast >> Read More... :
...
A fun filled sitcom, entertained the viewers to the fullest. It was first shown on Doordarshan .The show became extremely popular due to the comic theme and a good storyline with leading actors in it. The show "Bhabhi Ji Ghar Pe Hai" which was aired in 2015 on &TV, is an adaptation of this sitcom. The story revolves around two neighbours, both husbands trying to find out ways to flirt with each other's wife.
6. ' Shaktimaan Shaktiman is a famous Indian Fictional show with a >> Read More... ':
...
A fiction-based Indian TV series, telecasted on Doordarshan, was about a superhero. All kids used to thoroughly enjoy the series; it appealed not only to kids but even adults. The role of Shaktimaan was played by Mukesh Khanna Most children born in the 90s era would be familia >> Read More... . Shaktimaan was a human who had superpowers and strength achieved through meditation.This series attained a lot of fame and people continue to remember this serial.
7. Office Office Office- Office is a Hindi-language sitcom written >> Read More... :
Office Office, was an Indian serial, a pot-boiler of humour and drama aired on SAB TV. Pankaj Kapoor, who was the protagonist, enacted the role of Mussadilal. It has won the best comedy awards at 'RAPA Awards'. The story was based on corruption in public offices and how Mussadilal was treated by corrupt officials.
8. Just Mohabbat Just Mohabbat was a typical Indian Soap Opera/Roma >> Read More... :
This TV show was raging among the exclusively puberty-hit youngsters of that era. The show was first aired on Sony TV. The story revolves around teensand the milieu, their growing up and relationships with friends and family.
9. '' :
This TV show was one of the most viewed TV show among children. Every 90's kid somehow or the other remembers this show..It was aired on DD national first and then on Star Plus with a different production and cast. The story is about a boy ' Sanju Bio coming soon... >> Read More... ' who finds a magic pencil which has the ability to bring life to the things drawn. A trivial precursor to Harry Potter indeed!
10. :
One of the most loved Indian TV shows among children. It is the Indian remake of Small Wonder, an American sci-fi sitcom. It used to be aired on Star Plus. It was a story about Karishma (an android robot) who was designed by Vikram, a scientist.The neighbours keep interfering in their lives and try and find out about the 'peculiarity' of Karishma. Karishma helps and saves the family by solving day to day problems that never cease to arise.