"I will win not Immediately but Definitely". This is the super spirit, the sportsman spirit. While our Bollywood is buzzing with action, thrill, romance, love triangle, patriotism, sacrifice and what not, the every uncommon and unknown faces of our society. Amidst the high temper due to the hot, sizzling debut of new-born, new framed and newly energized actors/actresses. Our Bollywood never misses a second to appreciate the applause worth sport's spirits. There are collection of movies which intensifies our all enthusiasm. All the movies impacted well the perceptions of common people and their conceptions towards not only Sports but the Sportsman too.
We are all with you along with quick shots of the Best Sports Movies. Some ignited the Box-office and other created a rememberable scene in Indian Cinema History.
'Lagaan'
...
Kindling, the aurora with more essences, taking up a look at an epic movie directed by in 2001 "Lagaan- Once Upon A Time In India" and produced by the actor himself along with Mansoor Khan Mansoor Khan is an Indian film director and produc >> Read More... . On an unprecedented budget of that time, Rupees 250 million (equivalent to US$ 10 million in 2016) the shooting took place in an ancient village Bhuj, India. The story of the movie shows the exceptional dedication of the inhabitants of the village to play the alien game after accepting the wager to change the fate of the Village and the Villagers burdened with the pressurised stress of high British Taxes. The Movie bagged much fame and popularity winning National and International Awards.
Chain Kulii Ki Main Kulii
...
A Movie based on the Hollywood movie "Like Mike" is a 2007 release with below average collections. But, the movie is fantastic, full-on Entertainment especially for children fascinated by Magic as the film itself is about a thirteen-year-old boy who finds a Cricket Bat after which his life turned a new chapter dramatically, and he saw a complete infant experience.
...
Chak De India
Oh! The title song " Chak De! India Click to look into! >> Read More... " still gives us goosebumps. Salim Merchant Salim Merchant is a mesmerizing Music director, pl >> Read More... quoted the Song as-"The Sport's Anthem of the Country". Again a 2007 release and Shah Rukh Khan Shah Rukh Khan or also known as SRK is a prominent >> Read More... starring movie clicked on Box-office with Bang-Bang. The plot has been influenced by Indian Women's National Field Hockey Team and was inspired by the 2002 Commonwealth Games Victory.
' Jannat Jannat is an Indian family Hindi serial, which tel >> Read More... '
The Movie received praises worldwide in 2008, its release year for being a good crime-romance film. The movie is all about the street-smart young man who falls in love at first sight to a beautiful young, gorgeous lady at a mall. He dreams of providing all luxuries to her and tries all his best efforts to built a Jannat (Heaven) for her. Apart from the story and all the Soundtrack of the movie is appealing, composed by Pritam Chakraborty When it comes to Bollywood music, Pritam Chakrabor >> Read More... the songs are much catchy.
"Dil Bole Hadippa"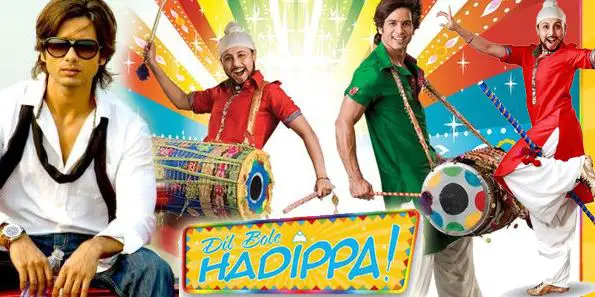 Dil Bole Hadippa (Sometimes It recites Indeed!) is a Shahid Kapoor Shahid Kapoor also identifies as the name Shahid K >> Read More... and Rani Mukerji Rani Mukerji is one of the most celebrated Indian >> Read More... starrer movie of 2009. It reflects the Orthodox and Oppressive thinking of our Society which compelled a young age Woman to pretend as a Man to be elected in International Cricket, play for the country in an all male Cricket team. Unfairly, there is no Women's Team there to be part of thus restraining the Evolution. Although the movie was an utter disappointment at the Box-office but it made the society to peep into the very common,neglected aspect of Society. Rani Mukerji won two Awards for her fabulously good acting.
Patiala House Click to look into! >> Read More...
, the Khiladi himself plays the role of a fast bowler, a bit relevant to Monty Panesar. This 2011 movie frames Akshay as a quite obedient son of his father. He fragmented immensely his expectations and dreams of his all nights Cricket as he is a great Cricketer of values and wants to be part of England Cricket Team. But the fact that his wishing will disgrace his father he pauses. Eventually, he gets an opportunity to shower his skills, and he accepted it under the rigid reminders of his siblings and Anuksha Sharma, his beloved in the film. The rest twist is curiously enchanting!
Kai Po Che
There are a good sum of released movies on ' Chetan Bhagat Chetan Bhagat is a renowned Indian author who was >> Read More... 's Novels. One of the many is Kai Po Che based on "3 Mistakes of My Life". Starring ' Sushant Singh Rajput Sushant Singh Rajput is one of the famous Indian t >> Read More... ' as his first film in 2013. Apart from the domestic one, the movie had an overseas collection of US$ 2.325 million. The story revolves around three friends. Directed by Abhishek Kapoor Abhishek Kapoor is a prominent Indian film actor-t >> Read More... , the Movie was a Blockbuster.
Bhaag Milkha Bhaag Click to look into! >> Read More...
A Superhit domestically and hit overseas, the movie released in 2013 is a biopic on Milkha Singh, an Indian Athlete who was the National Runner and an Olympian too. Farhan Akhtar One of the most recognized young director of India >> Read More... was in the lead role with Sonam Kapoor Sonam Kapoor, Daughter of Anil Kapoor and model Su >> Read More... as Biro.
' Azhar Click to look into! >> Read More... '
A 2016 release on-screened the life and story of former Indian Cricket Captain ' Mohammad Azharuddin Mohammad Azharuddin was born on 8th February 1963 >> Read More... '. The plot is regarding his popularity and moreover about all his struggles for his honesty and dedication towards his sport. The way he crushed all the allegations against him is indeed the spirit of a real Sportsmen.
M. S. Dhoni- The Untold Story
The journey from a Ticket Collector to a Trophy Collector is none other than the journey of the coolest captain of Indian Cricket ' Mahendra Singh Dhoni Mahendra Singh Dhoni Ak MS Dhoni or Dhoni was born >> Read More... '. Released in 2016 the Movie revealed all the sweat coming and sleep taking efforts of The Captain Cool to achieve the dream conceived by him, the dream for which he yearns. Cheers for All the Entertaining Movies full of Zest!!!