The ability to educate, create awareness, and spur change can be found in the film. In recent years, the Indian film industry has shifted its emphasis more and more toward producing films that provoke thought and are socially conscious to solve urgent environmental challenges. These films aim to educate audiences about the problems facing our world and inspire action. The top 10 Indian movies that successfully addressed environmental issues are listed below:
Nila Madhab Panda's moving drama "Kadvi Hawa" tackles the harsh realities of climate change and its effects on vulnerable populations. The film, set in rural India, depicts the tribulations of a bankrupt farmer and an elderly blind man dealing with the terrible consequences of severe weather. "Kadvi Hawa" promotes awareness of the injustices experienced by people most impacted by climate change and the urgent need for action. It acts as a wake-up call, reminding us of the value of practicing good environmental management and the human cost of climate change.
...
2. Peepli Live (2010)
Anusha Rizvi's satirical comedy "Peepli Live" examines the problem of farmer suicides in India. The movie reflects on media sensationalism and political indifference to farmer hardship.
3. Dhag (2014)
Kadhal," a touching Tamil romance drama directed by Balaji Sakthivel, explores the complexity of love. It examines two people's journeys as they deal with society's expectations and personal objectives as they come from quite different origins. "Kadhal" highlights the emotional rollercoaster of falling in love, underlining the difficulties and joys that come with it through its nuanced representation of relationships. The ability of love to overcome obstacles and promote personal development and self-discovery is emphasized in the movie. Its sensitive writing and likable characters make a lasting impact.
...
4. Paani (2021)
The film "Paani" raises important questions about the current state of water scarcity and its potential future effects. The film, directed by Shekhar Kapur Shekhar Kapur is a renowned Indian actor, director >> Read More... , offers a dystopian vision of a future divided by access to water and ruled by large companies. "Paani" promotes awareness of the value of water conservation, sustainable practices, and the potential social and environmental effects of water mismanagement through its compelling narrative. The movie acts as a wake-up call, challenging viewers to take action and increase their awareness of how much water they use. "Paani" makes a significant contribution to the discourse about the looming water catastrophe and leaves a deep impression on viewers everywhere.
...
5. Boomerang (2019)
The director Kannan's 2019 film also addresses issues including rural farming and access to water. Following a fire mishap and a face transplant, Shiva (Atharvaa) runs into difficulty with some individuals who are trying to kill him from behind. He gradually understands what happened to Shakthi (Atharvaa), whose face was transplanted onto Shiva after his death. As the movie rewinds and follows Shakthi's life, it becomes clear that he encountered significant resistance to his quest to connect two rivers and inspire the locals to start farming. Some influential people opposed him because they had other ideas. Shiva ultimately chooses to exact revenge for Shakthi's passing and attempts to carry out her mission to connect the two rivers and promote agriculture in the area.
...
Ashutosh Gowariker's gripping Bollywood drama "Swades" follows the tale of Mohan Bhargava, an Indian-American NASA scientist who returns to his native country. Mohan sets off on a transforming trip as he immerses himself in the rural heartlands of India, filled with a sense of longing for his roots. His realization of the complex realities and untapped possibilities of rural towns is expertly portrayed in the movie. Mohan works tirelessly to effect change for the better while highlighting the significance of social duty and personal responsibility. "Swades" is a stirring tribute to the ability of one person's will to change the world and a sincere celebration of the spirit of India.
...
7. Kaal (2005)
Soham Shah's "Kaal" is an exhilarating Bollywood movie that explores environmental issues. The film, which is set amid India's deep woods, explores the effects of human meddling and the imbalance it causes in the ecosystem. It examines the negative elements of exploitation and greed that cause the harmony of nature to be upset. "Kaal" serves as a wake-up call, highlighting the urgency of protecting our environment and the intricate web of life through magnificent sights and compelling narration. It prompts discussions about preserving and cherishing nature, making audiences aware of our activities' effects.
...
8. Manjhi: The Mountain Man (2015)
The awe-inspiring biographical drama "Manjhi: The Mountain Man" details Dashrath Manjhi's amazing existence. The movie, which is set in a rural village in Bihar, India, shows Manjhi's resolve to use just a hammer and chisel to cut a route through a massive mountain. Manjhi strives to break through social boundaries and provide essential services to his community through his unyielding attitude and unrelenting efforts. This inspiring true story demonstrates the strength of the human spirit, resiliency, and the ability of one person to transform their circumstances. "Manjhi: The Mountain Man" is a stirring story of triumph over hardship that imparts viewers a powerful message of bravery and hope.
...
9. Jal (2013)
The movie chronicles the search for water by two settlements in the Rann of Katch. A young man by the name of Bakka has the ability to locate water sources in dry areas. A Russian woman travels here to look for Kutch-native flamingos. She was shocked to find that there were fewer flamingos now that there was less water available. Thus, she headed out to find water with Bakka and a group of ecologists. With this background, the film shows how a lack of water causes people to join groups and put physical and mental burdens on themselves. Another thought-provoking Bollywood drama, this one is.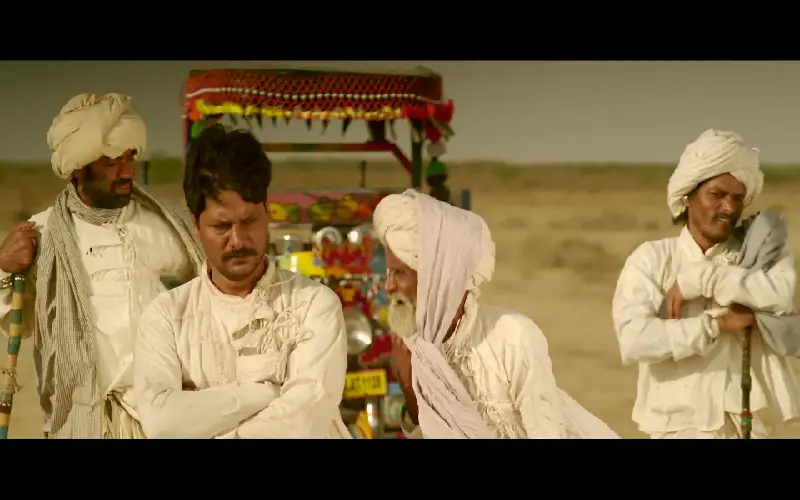 10. Bhopal: A Prayer for Rain (2014)
A moving and unsettling historical film called "Bhopal: A Prayer for Rain" explores the terrible Bhopal gas accident of 1984. The movie examines how corporate incompetence and human suffering contributed to one of the most significant industrial disasters in history. It realistically depicts the terrifying circumstances leading up to the disaster and its sad consequences through its compelling narrative. "Bhopal: A Prayer for Rain" serves as a devastating reminder of the value of accountability, corporate responsibility, and the human cost of negligence through its potent performances and riveting content. It serves as a memorial to the victims and a plea for awareness and justice.