1. 'Nayantara'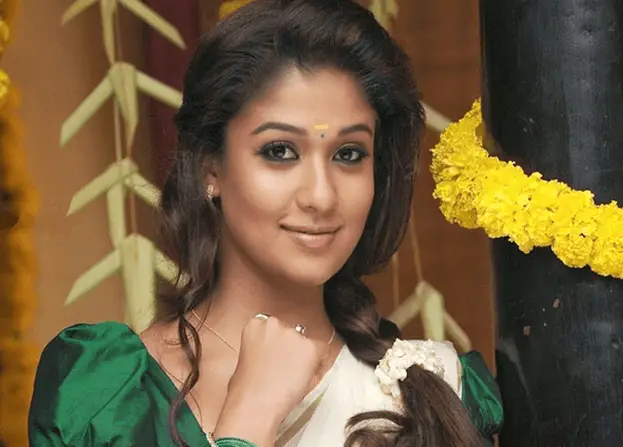 Diana Mariam Kurian, aka Nayanthara, an astonishing figure in South Indian film industry was born to Malayali Syrian Christian parents. She converted to Hinduism following her relationship with actor-director Prabhu Deva Prabhu Deva is one among the populous cinema perso >> Read More... . Although the couple broke up, he has remained in the religion and says that the decision was solely hers.
...
2. ' Khushboo Bio coming soon... >> Read More... '
Born as Nakhat Khan, Khusboo converted to Hinduism upon her marriage to actor Sundar. Khusboo is known for her roles in the South Indian films where she was the leading actress during her time. Although she has announced that she is a Muslim at heart, she has not reverted back to her former religion.
...
3. ' Jomol Jomol is a known name in Malayalam film industry. >> Read More... '
...
Jomol was a famous figure in the Malayalam film industry who is known for her incredible performances in movies such as Ennu Swantham Janakikutty,Mayilpeelikkavu, etc. She married Chandrasekhar Pillai in 2003 and converted to Hinduism and took ' Gouri Serial story coming soon... >> Read More... ' as her official name.
4. ' Nargis Dutt Nargis Dutt was indeed the first lady of Indian sc >> Read More... '
...
Nargis Dutt, considered as one among the greatest figures in Hindi cinema was born to Muslim parents as Fatima Rashid, is known for her roles in several films such as Mother India, Chori Chori etc. She took Hinduism as her religion when she married Sunil Dutt Sunil Dutt was a great actor, director, producer, >> Read More... , her co-star in Mother India.
5. Annie
...
Annie Jobbie was a Malayalam film actress of the 90's who rose to fame with Filmfare winning performance in Mazhayethum Munpe. Although her acting career was short with only 16 films under her name, she is still remembered by many. She married the Blockbuster director of the time Shaji Kailas Shaji Kailas is an Indian film director who direct >> Read More... and thereafter converted to Hinduism.
...
6. ' Lissy The ex-wife of Priyadarshan and a leading heroine >> Read More... '
...
Lissy is yet another actress who had renounced her religion for the sake of love. Although she was brought up as a Roman Catholic, she married director Priyadarshan whom she divorced in 2016 after 26 years of marriage. Although her career was short, Lissy was able to capture the hearts of the audience which accounted for her popularity.
7. Beena Antony Beena is a Malayalam Tele and Film Actress. Born i >> Read More...
Beena Antony is a famous name in Malayalam television. She captivated the hearts of the mini screen audience ever since her debut in 1991. Having played a number of supporting roles in many television serials, Beena Antony has also acted in numerous films. She converted to Hinduism after her marriage with actor Manoj.
8. Zubeida Begum Zubeida Begum was known for being an Indian actres >> Read More...
One among the oldest names in the Indian cinema, Zubeida Begum was a Muslim princess by birth. During a time when acting was not considered as a respectable profession for girls let alone for a princess, Zubeida captured the minds of the audience through her stellar performances. Her films include, Alam Ara, which is also the first talkie movie in India, Devdas, etc. She also converted to Hinduism upon marriage to Maharaj Narsingir Dhanrajgir Gyan Bahadur of Hyderabad.
9. Meera Jasmine Born on 15th February 1982, Meera Jasmine belongs >> Read More...
Meera Jasmine was one among the few Malayalam actresses to have got a star value similar to that of her male counterparts. From her first film, Sootradharan, Meera has worked her charm on the Malayalam audience and continued to do it with the Tamil audience as well. Recipient of many awards, this talented actress ran into controversy for entering a temple that was prohibited to non-Hindus and performing pooja there. Although she has not officially converted to Hinduism, Meera has continued her faith in the Hindu rituals and has often stated that Matha Amritananthamai was behind her success.
10. Samantha Ruth Prabhu
Samantha began her acting career with the super hit Telugu version of the movie, Vinnaithaandi Varuvaayaa Vinnaithaandi Varuvaayaa is an Indian-Tamil musica >> Read More... alongside Naga Chaitanya Naga Chaitanya is a Telugu actor and he is into th >> Read More... , the son of superstar Akkineni Nagarjuna Akkineni Nagarjuna is a veteran Indian actor, TV p >> Read More... . Having announced her relationship with Naga Chaitanya, speculations began to float when a photo of hers with Chaitanya attending a Hindu ceremony was leaked online. Although no official statement has yet been given by the actress, speculations claim that the marriage will be conducted as a Hindu ceremony.