1. Salman Khan Salman Khan is a very famous Indian actor and a pr >> Read More...
The 'Bhaijaan' of Bollywood is not only paid from his hit movies, but this famous personality is earning extremely well from TV as well. Yes!!! Salman Khan has broken the records of all highest paid TV hosts, let it be Bollywood host or non-Bollywood host. Being the highest paid TV presenter, Salman is getting 5 Crores for each episode of Bigg Boss Bigg Boss Tamil is the Tamil language version of t >> Read More... , known for his "Weekend Ka War", Salman on Saturday & Sunday brings another kind of energy on the show with different games & other necessary stuff. Also, concept states to evict one contestant from the show on weekend based on public votes, which Salman manages to do well with his own style & twists.
...
2. Kapil Sharma Kapil Sharma was born in a small town of Amritsa >> Read More...
This funny man is known for his standup comedy since "Great Indian Laughter Challenge", has reached altogether to next level of entertainment, his current show " The Kapil Sharma Show The Kapil Sharma Show is one of the popular Indian >> Read More... " is hitting the TRP meter well every weekend, One won't believe, when you're laughing at the jokes cracked by Kapil, he is actually earning more & more by that, according to the sources, Kapil earns 40 lakhs rupees per episode on "The Kapil Sharma Show". As audiences as well as Bollywood guests are enjoying Kapil's show, he is getting enough fruits of success!
...
3. Manish Paul Manish Paul is an Indian television actor, host an >> Read More...
...
The " Mickey Virus Click to look into! >> Read More... " actor Manish Paul is known for his flirting side on many reality shows. He has hosted few seasons of Jhalak Dikhlaa Jaa, India's Got Talent, as well as "Science Of Stupid". It seems like Colors channel is happy with the appearance of Manish as he is paid 2.5 crores for the whole season of JHALAK DIKHLA JAA. If sources are to believed, he is the most highest paid non-Bollywood TV anchor currently. The channel is providing this big amount to Manish due to his fun & charming factor which is making the show popular in one or other ways. His one-liners are entertaining for every judge as well as for audiences.
4. Karan Johar Karan Johar is one among the top ten celebrities i >> Read More...
...
The evergreen director, producer & infamous actor as well, known as KJO in Bollywood! Karan Johar is not only famous for his ravishing & romantic movies but also he has become the talk of the TV town, On Indian TV channels as well as on International TV channels, KJO has left his mark always. Karan in candid is known for his costumes, games & gossips, which he brings with an additional flavor on his talk show "Koffee with Karan." The bottom line is not only about his popularity but the actual thing is his popularity & talent makes Karan earn approx. 1 crore from the whole season of Koffee With Karan. People must realize that it's not that easy to make famous celebrities spill the infamous Beans on the show, it takes a lot & Karan does it extremely well, which in return is paying him off nicely!
5. Sunil Grover Sunil Grover is a stand-up comedian and a talented >> Read More...
...
Gutthi turned to Mashoor Gulati, Rinku Devi & many more, these are not just characters of Sunil in Kapil's show but the money generator as well. Making people laugh is not an easy job, but it seems like this actor has got the most greatest job in the world which not only makes him laugh people but also to earn well from that, well! It sounds like different get-ups & different efforts on the show has made Sunil successful enough to earn approx. 10 lakhs & even more sometimes per episode. Now, Dr. Mashoor would really feel Mashoor enough along with great earnings.
...
6. Krishna Abhishek Krishna Abhishek is a famous Indian actor, popular >> Read More...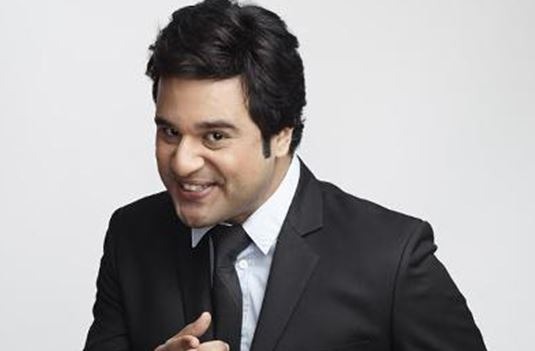 ...
Not only well known for his comedy but also for rivalry & controversies, Krishna is managing well to work in current comedy show "". The show is all about the title which actually makes Bollywood & other famous guests on the show scream 'Bachao". Krishna though from typical stand up to bold comedy along with Tadka of his dance moves has set up his position among popular TV presenters. From his comedy, this bold man is earning 5-6 lakhs per episode from Comedy Nights Bachao. Makers of the show are delightful to have krushna in their show due to him being an entertainer for audiences as well as for every Bollywood celebrity guest.
7. Bharti Singh Bharti Singh is a well known comedian and actress >> Read More...
Indian stand-up comedian known for his unique childlike giggles & bold comedy punches, Bharti Singh, is one of the top TV anchor & TV presenter. She has been spotted earlier in Jhalak Dikhla Jaa showcasing her dancing talent. Currently, she works as TV presenter in Comedy Nights Bachao on Colors. The show has the format of Roast Comedy. Guest celebrities face a lot of leg pulling and much more, once they are in front of Bharti! From her leg pulling and other various characters, she has managed to make 5 lakhs per episode from her current show. She also appears in movies & movie awards. Her multi-dimensional personality has made her top TV presenter on Indian TV.
8. Rithvik Dhanjani Rithvik Dhanjani is a popular television actor, da >> Read More...
The TV host & actor well known for his anchoring on many reality shows is one of the top paid anchors. He has hosted many reality talent shows. He has participated in " Nach Baliye 6 Nach Baliye 6 was aired on 9 November 2013 on Star >> Read More... " along with Asha Negi Asha Negis is Indian tv actress and model, she was >> Read More... . Currently, he was seen hosting the show "Super Dancer" on Sony TV. It seems like the talented man has learned well day by day to host the shows which have led his earning to be 2-3 lakhs per episode. Along with the entertainment & additional fun recipes, Rithvik has managed well to reach at the nicest position in the industry.
9. Anup Soni Anup or Anoop Soni is an Indian TV and film actor, >> Read More...
TV actor, movie actor & currently in a long run, very popular TV host, Anup Soni with his bold statements to be aware of crimes & stating that crime never pays, is doing an extremely noble job, that same job has made the actor earn in lakhs per week. The show, which is on air for long years, has throughout created an awareness among people, has made anup's carrier too. Anup from many years in this show has made fans by making them understand to be careful in each & every move of life.
10. ' Kamal Sidhu Born on February 24, 1968, in Canada, Kamal Sidhu, >> Read More... '
Indo-Canadian model, VJ, TV anchor, and actor, 'Kamal Sidhu' has done an extremely great job on Vogue Bffs show this year. Winner of Miss India–Canada in 1991, she has a successful career as presenter and show host. With a unique concept of bringing celebrity best friends on show to spill their infamous truth & candid moves along with various fun elements like iconic signature games; Colors Infinity channel managed it well with Vogue Bffs. In a very subtle way, Kamal Sidhu presented the show well which made her earn in lakhs for the whole season of Vogue Bffs.