Bollwood stars often end up spending time in these well-known cafes in Mumbai. They spend this time with their loved ones because they don't get enough time while they are shooting. If you're a die-hard Bollywood fan, this list is something you should check out to catch a glimpse of your favourite Bollywood star. And if you are lucky enough, you might also get a selfie with them.
...
1. SOHO House, Santacruz West
The restaurant is new in town, and has already created a lot of fame among celebrities. Its founder is . SOHO House is located in a 10-storeyed building close to Juhu beach and faces the Arabian Sea. It has everything comprising of a theatre, rooftop pool, and anything that a creative professional would ever need. You can bump into celebs like Deepika Padukone Deepika Padukone is an Indian actress and model. S >> Read More... , Lisa Mishra Lisa Mishra is an Indian-American playback singer. >> Read More... , Jonita Gandhi Jonita Gandhi is an exceptionally talented singer >> Read More... , Arjun Kapoor Arjun Kapoor is a Bollywood star. He was born on 2 >> Read More... , Priyanka Chopra Born on 18 July 1982, Priyanka Chopra is an establ >> Read More... , and the list goes on.
2. Hakkasan, Bandra West
Mumbai's best Cantonese restaurants. Some of the most common visitors of this restaurant are The Kapoor Sisters- Kareena and Karishma, Shilpa Shetty A model turned actress, producer, entrepreneur and >> Read More... , and her husband Raj Kundra Raj Kundra, a business magnet from London, United >> Read More... . This Is also the restaurant where Anushka Sharma Born in an army family to Col. Ajay Kumar and Ashi >> Read More... and Virat Kohli Virat is counted amongst the very best players, th >> Read More... were first seen publicly on a date. And the list goes on, but celebrities often have brunch and dinner here.
...
3. Oliver Bar and Kitchen,  Khar West
This restaurant offers Mumbai's best Mediterranean cuisine and European treats. It is an all-time favourite spot of Ranbir Kapoor Ranbir Kapoor is a noted Indian film actor. He was >> Read More... , Karan Johar Karan Johar is one among the top ten celebrities i >> Read More... , Deepika Padukone, and many others. But if you are a die-hard RK fan, this is the spot for you! It has outlets in Delhi and Mumbai.
...
4. Pali Village Cafe, Bandra West
The most popular cafe in Mumbai, is visited by a few famous stars, including Jacqueline Fernandez Jacqueline Fernandez is one of the top actresses i >> Read More... , Shahid and Mira, Aamir, and many others. Its rustic interior and delicious dishes have made itself a prominent place for many celebrities.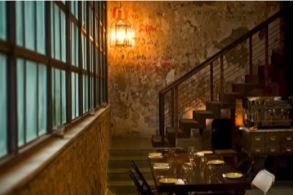 ...
5. Bayroute, Juhu
The restaurant offers yummy Egyptian, Turkish, Mediterranean, Arabian, and Greek cuisine on its menu, and is loved by all the crowd that comes in. You can bump into , Siddharth Malhotra, Varun Dhawan Varun Dhawan, a new comer entered Bollywood with h >> Read More... and his wife Natasha Dalal Bio coming soon... >> Read More... , and various other Bollywood celebs.
...
6. Bastian, Bandra
 Its outlets are in Bandra and Worli. This restaurant is famous for its luscious seafood, delicious cheesecakes, and crazy cocktails. Celebrities like Tiger Shroff Jai Shroff or popularly known as Tiger Shroff is a >> Read More... , Disha Patani Disha is an India based model turned actress. She >> Read More... , Shilpa Shetty could be found here.
...
7. Farmer's Cafe, Khar West
Their focus on Vegan, Gluten-free food, healthy and delicious has attracted many celebrities who like to check on calorie intake, keto etc. You could bump in to Shahid and Mira, Saara Ali Khan, and the list goes on! It is a must-go place for all the vegans out there!
...
8. Yauatcha, BKC
This restaurant serves Pan-Asian cuisine. You can often find Sanjay Dutt July 29, 1959, was the day when the two legends of >> Read More... with his wife Manyata and children enjoying the Chinese cuisine. If you are a fan of Bollywood, good food and loud music, this place is undoubtedly for you!
9. Wasabi by Morimoto, Colaba
This is one of the Top 50 Best Asian Restaurants serving Japanese dishes. It is quite expensive, but the ambiance and delicious food are a must-have. You may bump into celebrities like Sara Ali Khan Sara Ali Khan is the daughter of the Bollywood act >> Read More... , Kareena Kapoor, Akshay Kumar, and many others!
10. Masala Bay, Bandra West
If you love Indian zayka, this is the place you should definitely pay a visit to. It is also Aamir Khan Aamir Khan or Mohammed Aamir Hussain Khan is Bolly >> Read More... 's favorite restaurant. It is expensive and the ambience is classy. Celebrities are a fan of its hospitality. You might bump into Aamir Khan, Hritik Roshan, John Abraham Like some of our sexy stars, John Abraham has had >> Read More... , and many other celebrities.