1) Deepika Padukone To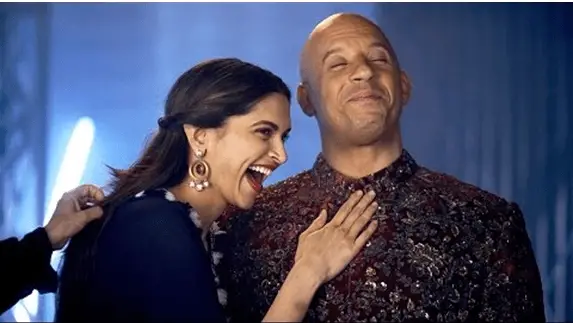 During the promotion of Deepika's Hollywood Debut movie, the stars left no stone unturned. Vin Diesel traveled all the way to India. He wore tradition Indian clothes designed by Sabyasachi. When he was in India, our adorable Deepika became this actor's host. Infact, Deepika's alleged boyfriend was happy with his arrival. He to welcome the Hollywood entertainer with open arms.
...
2) Anupam Kher Anupam Kher is a very popular actor, director, and >> Read More... To Robert De Niro A legendary actor and one of the most influential >> Read More...
He is a famous actor. He is an academy award winner. He came to attend a summit in Goa. He disclosed secrets about his past and how he achieved his goals. Anupam Kher welcomed him with open arms. He was his host.
...
3) Abhishek Bachchan Abhishek Bachchan, or Abhishek Srivastava, is a ve >> Read More... And Farah Khan Farah Khan is an Indian film actress, producer, di >> Read More... To Ed Sheeran In West Yorkshire, there lies a market town in Cal >> Read More...
...
He is currently in the news for his new song. Shape of You is a blockbuster. This brilliant singer was rumored to make a debut on the Silver screen. He attended a party. Abhishek Bachchan hosted the party. Farah Khan also partied with them. Hope to see Ed in B-Town flicks soon..!
4) ShahRukh Khan And Arjun Rampal To Lady Gaga Stefani Joan Angelina Germanotta or ostentatiously >> Read More...
She is a well-known pop singer. She has also written songs. We all are a huge fan of her talents. Even King Khan couldn't resist her charm. She came to India in 2011. Both Heroes partied with her. She performed at Arjun's night club. She was as usual sexy.
5) The Bachchans To
She is the host of a prestigious international chat show. Ash appeared twice on her show. She came to India related to some work. The Bachchans were a gracious host. They entertained her and provided her comfort. She also wore a saree. Ash gifted her a saree. She was grateful for it.
6) Abhishek Bachchan And Aishwarya Rai To Hillary Swank
She has won the prestigious Oscars two times. She came to India for a charity event. Abhi and Ash attended the event. The event raised funds for AIDS. Taj Mahal Palace conducted the event.
7) Anil Kapoor To
He came to India to attend the screening of his flick. He came for two days. Anil accompanied him everywhere. They both went to see the Taj Mahal.
8) Akshay Kumar And Twinkle Khanna To
He was invited as a special guest. The party was for the success of Rustom. The couple was a good party host. They comforted the stars. There were many delicious dishes. Akshay was very elated. Many other celebs also attended the celebration. His house was crawling with B-Town celebs.
9) Emraan Hashmi And Mahesh Bhatt To Tim Cook
Mahesh gave a personal tour of Mehboob Studios to the CEO. Later they headed to a party. SRK hosted the gala. Mahesh flooded his Twitter with photos.
10) Karan Johar To Christian Louboutin
He is a famous French Designer. He came to attend a Karan Johar's bash. Other stars also attended the affair.