Terrorism is a very sensitive topic in the history of India. Any terrorist attack is not only the issue of that state but for the whole country. But many a times, people do not know the real causes and depth of how deep is this issue is. Bollywood had been making films on this sensitive topic that helps the audience to understand the roots of terrorism. Here is the list of ten Bollywood movies based on Kashmir terrorism.
1. The Kashmir Files (2022)
A drama and historical movie, The Kashmir Files opens up the real truth of 1989-90 situation when the Kashmiri Pandits were asked either to convert to Islam or leave Kashmir by the militants. After receiving the brutal treatment, demand to remove Article 370 was made. The story is all about the horrific incidents that took place during that critical period, starring Anupam Kher Anupam Kher is a very popular actor, director, and >> Read More... , Mithun Chakraborty When we talk about the few legends in the Indian f >> Read More... , and Pallavi Joshi in lead roles.
...
2. Shershaah (2021)
Siddhartha Malhotra and Kiara Advani She is an Indian film star born on 31st July, 1992 >> Read More... starring film Shershaah is a real-life story of Captain Vikram Batra. Vikram always had a dream of joining Indian Armed Forces. During his college, he falls in love with Dimple. After joining the Army, he is sent on a mission of capturing Point 4875 at Kargil from the Pakistani terrorists, where he sacrificed his life and proved himself a true warrior. You will find yourself in tears after watching a heart-touching romantic story of Vikram and Dimple.
3. Notebook (2019)
A cute and beautiful love story film Notebook is an adaptation Teacher's Diary, starring Zaheer Iqbal Zaheer Iqbal is an Indian Actor/Model. He was born >> Read More... and Pranutan Bahl Pranutan Bahl is an Indian Actress/Model. She was >> Read More... . Kabir is an ex-soldier who retired from the army because of guilt that he could not save child from a landmine explosion and decided to teach at his father's school. He fall in love with the pervious teacher who left her diary before leaving the school.
...
4. Uri: The Surgical Strike (2019)
The movie is based on real incident when a group of militants attacked on the base camp in Uri, Kashmir. Starring Vicky Kaushal Vicky Kaushal is a famous Indian movie actor. He w >> Read More... , Yami Gautam Yami Gautam is a Hindi television and movie actres >> Read More... , and Paresh Rawal The Padma Shri award winner who shot to fame with >> Read More... , the film is about the operation on the militants i.e, Surgical Strike, who attacked on the Uri Base Camp. Major Vihaan Shergill leads the mission and the audience gets filled with energy and power after listening a roaring sound 'How's The Josh?'. The film will definitely wake up your patriotism.
...
5. Hamid (2018)
Hamid is an emotional story of a little boy who is trying to find his lost father. Starring Talha Arshad Reshi and Rasika Dugal Rasika Dugal is an Indian actress, who predominant >> Read More... , the takes us to world of terrorism. Hamid dials 786 thinking it as God's number to find his father. His life changes when the call was accepted in real by a soldier. The movie gets emotional when the little kid realizes that his father is dead. The film is about the how the families survive when their dear ones are killed in a terrorist attack which they do not deserve.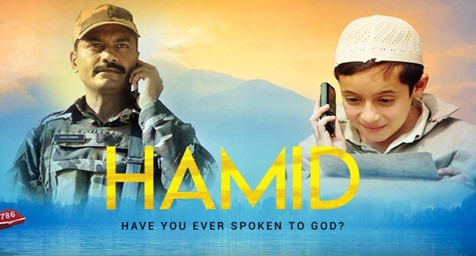 ...
6. Raazi (2018)
Alia Bhatt Alia Bhatt is a trendsetting actress from Mumbai, >> Read More... and Vicky Kaushal starring film is an inspirational and unbelievable story of a Kashmiri girl, Sehmat, who gets married to a Pakistani army officer. She worked as a spy of India while living in Pakistan. This bravery is perfectly portrayed on the screen. Many scenes can even give goosebumps to the audience.
...
7. Haider (2014)
Haider is a film about a young boy, Haider, who returns Kashmir after a long time and found his father missing. Shahid Kapoor Shahid Kapoor also identifies as the name Shahid K >> Read More... , Tabu, and Shraddha Kapoor Shraddha Kapoor, born on March 3rd, 1989, is a you >> Read More... starrer film can give you goosebumps with the brutal reality of Kashmir terrorism and the dirty politics. The film consists many emotional scenes that can tear up your eyes.
...
8. Fanna (2006)
Aamir Khan Aamir Khan or Mohammed Aamir Hussain Khan is Bolly >> Read More... and Kajol starring film, Fanna, is a beautiful love story of Rehan and Zooni. Zooni is blind and Rehan falls for her. He helps her to get her eyesight back, but Zooni is unaware about the fact that Rehan is a terrorist and the situations started taking turns when Zooni met Rehan after seven years. The beautiful music and a soulful story keep the audience engaging throughout the movie.
...
Hrithik Roshan Hrithik Roshan with his unimaginable dance moves i >> Read More... and Preity Zinta Preity, also known as Preity Zinta is a famous Act >> Read More... starrer film Mission Kashmir, is Altaaf's revenge story. Altaaf is on a mission to kill the terrorists who killed his parents when he was young. The film is full of patriotism and gives the reality check of the terrorism issue.
10. Roza (1995)
Madhoo and Arvind Swamy Arvind Swamy is one of the finest actors from Indi >> Read More... starrer film, Roza, is an emotional story based on Kashmir terrorism. Roza's husband got kidnapped by the militants during a secret undercover mission in Jammu and Kashmir and Roza is on her mission to find her husband and bring him back. The film shows the beauty of Kashmir with contrast to the brutal reality of dangerous Kashmir due to terrorism.