The revolution of Bollywood from the movies such as Mughal-E-Azam, Kaagaz Ke Phool, and Mother India to Shershaah, Gangubai Kathiawadi, and Gully Boy Click to look into! >> Read More... has given its audience abundance of iconic scenes, that will inspire and create an emotional and social connection between the characters and viewers. The dialogue delivery, background music, and a perfect emotion of a character helps the scene to be iconic. A list of ten iconic Bollywood scenes are as follows.
1. Kaalia (1981)
Kaalia is an iconic movie starring , Parveen Babi The actress who changed the face of Bollywood and >> Read More... , and Pran. The movie got hit by one of its iconic scenes where Kallu fights with a criminal in jail and delivers an iconic dialogue 'Hum Jahan Khade Ho Jaate Hai, Line Wahi Se Shuru Hoti Hai'. The story is about Kallu, who robs for saving his elder brother, but got arrested.
...
2. Yeh Jawaani Hai Deewani (2013)
One of the most iconic films of Ranbir Kapoor Ranbir Kapoor is a noted Indian film actor. He was >> Read More... and Deepika Padukone Deepika Padukone is an Indian actress and model. S >> Read More... , which tells us to live our life fully before we die. The last scene of the movie when Bunny returns back from the airport leaving his dream job and stands in front of Naina's door, holding a cake in his hand. The film gave an iconic scene when Bunny proposes Naina, 'Paris Ko Na Bol Diya. Tujhe Haa Jo Bolna Tha... Risk Nahi Lena Tha Boss, Tujhe Koi Aur Pata Leta Toh?'. This scene itself has a separate fanbase.
3. 3 Idiots (2009)
3 Idiots, one of the films that was successful globally, teaches us some important life lessons. The scene when Rancho is convincing his friend Raju not to run after success but to gain knowledge, gives the audience a lesson how to be a successful person. 'Success Ke Peeche Mat Bhaago, Excellence Ka Peecha Karo, Success Jhak Maarke Tumahre Peeche Ayegi,' is definitely one of the iconic scenes in Bollywood.
...
4. Welcome (2007)
Welcome is one of those films in the Bollywood, whose every character has its own fanbase. Starring , Anil Kapoor Anil Kapoor was born on 24th December 1956 in Mumb >> Read More... , Nana Patekar Nana Patekar is a popular Indian actor who was bor >> Read More... , and , this is a full comedy package film. One of the most iconic scenes is the last part of the movie, where RDX invited everyone to play passing the parcel game on a see-sawing house, which obviously made no sense, but gave the audience a full package of laughter. RDX's dialogue 'Abhi Hum Zinda Hain' is all for your mad laughter in a non-sense game.
...
Our childhood memory is incomplete without Hera Pheri starring Akshay Kumar, Sunil Shetty Bio coming soon... >> Read More... , and Paresh Rawal The Padma Shri award winner who shot to fame with >> Read More... . Every scene of this movie is a meme material. The scene when Babu Bhaiya delivers his iconic dialogue 'Yeh Babu Rao Ka Style Hai' is one of the best scenes in the Bollywood industry.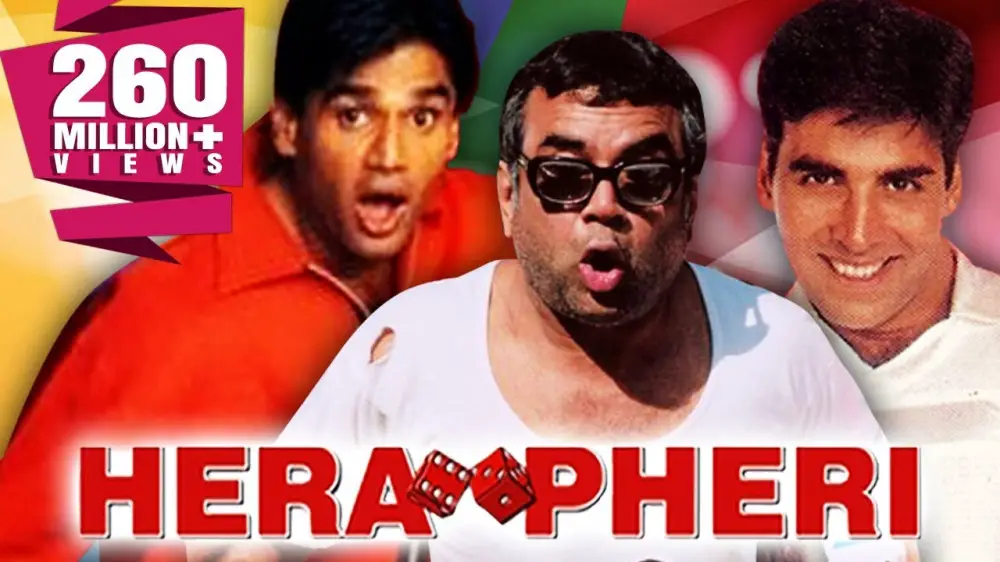 ...
6. Dangal (2016)
The movie which broke the records all over the world starring Aamir Khan Aamir Khan or Mohammed Aamir Hussain Khan is Bolly >> Read More... and Zaira Wasim Zaira is an Indian Television and Movie Actress. S >> Read More... , takes you to an inspirational journey of Geeta and Babita Phogat. The film became iconic all over the globe with just one scene when Aamir Khan delivers his dialogue 'Mhaari Chhoriyan Chhoron Se Kam Hai Ke'. This inspires the society and teaches a lesson not to distinguish between a boy and a girl.
...
Bajirao Mastani is an iconic historical movie starring Ranveer Singh Ranveer Singh Bhavnani is an Indian movie actor wh >> Read More... , Deepika Padukone, and Priyanka Chopra Born on 18 July 1982, Priyanka Chopra is an establ >> Read More... . The movie is a love triangle where Bajirao, who is married to Kashibai, falls in love with Mastani and delivers an iconic scene while saying 'Bajirao Ne Mastani Se Mohhabat Ki Hai Ayyashi Nahi'. This is an intense movie with amazing war scenes.
...
8. Barfi (2012)
Barfi is one of those movies which teaches us the language of love without any barriers. This movie starring Ranbir Kapoor, Priyanka Chopra, and Ileana D'Cruz, was successful overseas. The scene actually became iconic when Barfi and Jilmil expressed their love for each other and eventually got married. Not just this scene but the emotions in every scene of this film touched the hearts of the audience.
...
9. Gangubai Kaathiawadi (2022)
One of the most iconic films of this year, Gangubai Kaathiawadi has shown how to fight for our rights and respect. Starring Alia Bhatt, Vijay Raaz Vijay Raaz (Born: 5th June 1963) is an Indian film >> Read More... , and Ajay Devgan Ajay Devgn is an Indian film actor. He is perhaps >> Read More... , the film became iconic when in a scene, Gangubai says, 'Maa Ka Naam Kaafi Nahi Hai'. This whole scene tells how women got no identity in the society from the early age and are only represented through a man. This is definitely a powerful scene, that talks about the rights and respect of an individual woman.
10. Dilwale Dulhania Le Jayenge (1995)
Last but not the least, the most iconic and evergreen movie of Bollywood, DDLJ, starring Shahrukh Khan and Kajol is romantic love story of Raj and Simran. The last scene of the movie is what made everyone emotional when Simran got the permission to go with Raj. 'Jaa Simran Jee Le Apni Zindagi' is undoubtedly the line that every child wants to hear from their parents, demanding for freedom.