The friendship bond between male friends is known as Bromance. Friends are important part our life and imagining a life without them is difficult. The friendship between male friends is really strong and always ready to help in any dangerous situation. The hit pairs like Jai-Veeru, Muuna Bhai-Circuit reminds us of true friendship goals. Bromance is a cool topic for Bollywood to make movies on. Here are some Bollywood movies based on Bromance.
1. Chhichhore (2019)
Sushant Singh Rajput Sushant Singh Rajput is one of the famous Indian t >> Read More... and Shraddha Kapoor Shraddha Kapoor, born on March 3rd, 1989, is a you >> Read More... starring film Chhichhore is based on college life. The film takes you on a journey of your college when the days were carefree and fun with friends were the only life. The film absolutely throws light on the bromance, when all the six friends decided to remove the '' tag of their hostel group.
...
2. Sonu Ke Titu Ki Sweety (2018)
'A friend in need is a friend in deed' perfectly fits to the story of Sonu Ke Titu Ki Sweety starring Kartik Aryan, Sunny Singh Sunny Singh, an upcoming Indian actor, was born in >> Read More... , and Nushrratt Bharuccha. The story is about two best friends Sonu and Titu. Sweety comes in the life of Titu as his fiancé who was a gold-digger. Sonu did his best to separate Titu and Sweety. The movie focus on the theme Bromance vs Romance.
3. Yeh Jawani Hai Dewaani (2013)
Ranbir Kapoor Ranbir Kapoor is a noted Indian film actor. He was >> Read More... , Aditya Roy Kapoor, and Deepika Padukone Deepika Padukone is an Indian actress and model. S >> Read More... starrer film Yeh Jawani Hai Deewaani is a friendship genre film. Bunny and Avi are childhood friends and know each other well. Bunny decides to persue his dream of travelling while Avi remains in India and many misunderstandings happens between them. The movie focused on the theme of friendship the whole time.
...
4. Kai Po Che (2013)
Kai Po Che starring Sushant Singh Rajput, Rajkumar Rao, and Amit Sadh A well-known actor who appears in Indian Televisio >> Read More... , is beautiful story of bromance. The three friends Ish, Govi, and Omi starts an academy to train the aspiring cricketers. The story takes many twists when their friendship was ruined due to the political conditions. The film takes the audience on an inspirational journey of friendship, dreams, and reality.
...
5. Zindagi Na Milegi Dobara (2011)
ZNMD starring Hrithik Roshan Hrithik Roshan with his unimaginable dance moves i >> Read More... , Farhaan Akhtar, and Abhay Deol Abhay Deol is an actor and director of the TV indu >> Read More... is an adventurous story of three friends Imaraan, Arjun, and Kabir. The three friends decide to travel Spain before Kabir gets married. The trip made them fall in love with life, defeat their fears, and make their bromance stronger. The film will make you fall in for every single scene.
...
Delhi Belly is a film with an interesting plot starring Imran Khan Imran Khan is an Indian film actor, who is famous >> Read More... , Kunaal Roy Kapoor, and Vir Das Vir is a stand-up comedian and actor. He is known >> Read More... . The story is about three friends Tashi, Arup, and Nitin who get involved with some gangsters and their life takes a big turn. The film sticked on the theme of bromance throughout and gave the audience some many hilarious scenes.
...
7. 3 Idiots (2009)
The blockbuster film 3 Idiots starring Aamir Khan Aamir Khan or Mohammed Aamir Hussain Khan is Bolly >> Read More... , Sharman Joshi Sharman Joshi was born in Mumbai, Maharashtra to a >> Read More... , and R Maadhvan is a heart-touching story of three friends. Raju and Farhaan are on their journey to find their friend Rancho and during their journey they recalled all the moments they lived during their college life. A fun and inspirational movie will stick to your mind forever.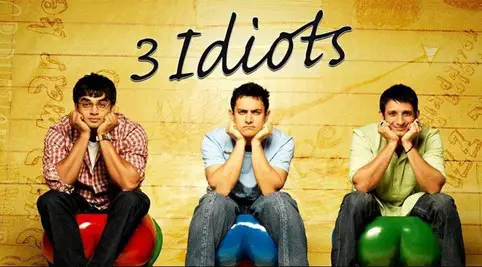 ...
8. Dhamaal (2007)
Dhamaal is a full comedy film starring Arshad Warsi Arshad Warsi is most popular for his role as Circu >> Read More... , Ritesh Deshmukh, Jaaved Jaffery, and Sanjay Dutt July 29, 1959, was the day when the two legends of >> Read More... . The film is about four lazy and unemployed friends Roy, Manav, Aditya, and Boman, who are on their mission to find the hidden treasure in Goa, when Inspector hatched their plan. The movie will take the audience on a hilarious adventure with the strong bromance bond.
...
Dil Chahta Hai, starring Aamir Khan, , and Akshaye Khanna Akshaye Khanna is a popular Indian film actor. He >> Read More... is about a battle between bromance and romance. The three friends Akash, Sid, and Sameer got divided after their graduation because of their love lives. They broke their friendship and were busy in their own worlds and got united after a very long due to an event. The movie talks about a strong friendship bond which never breaks no matter what.
Aamir Khan and Salman Khan Salman Khan is a very famous Indian actor and a pr >> Read More... starrer film Andaz Apna Apna is a comedy film. The movie is about two lazy friends Amar and Prem, who decides to win the heart of a rich and wealthy girl Raveena in order to acquire her father's money, but the situation turned upside down when Teja enters in their story. The hilarious scenes with a true friendship goal is all the film is about.