Bollywood has been showing several genres of films. Here is the list of films about a doctor's life. Doctors have been playing a crucial role in our lives. They work endlessly and their daily life is portrayed through several art forms. The films show us such cases from their tireless life to hard work.
1. Anand
The film Anand is based on the life of an oncologist named Dr. Bhaskar Banerjee Bio coming soon... >> Read More... and a cancer patient. He treats the poor free of cost. His friend treats the rich and uses that money to treat the poor. Anand is suffering from intestine cancer. He is soon going to die. But he is still cheerful. Both Anand and Bhaskar become good friends. Anand helps his friend to confess his love for Renu, an ex-patient. He wants himself to be remembered as a happy person, not a cancer patient. One day when Bhaskar moves out to bring medicine Anand dies, calling his name. He cries for him when he cannot see him in his last breath.
...
2. Anuradha
The film Anuradha is about the love story of a radio singer and dancer named Anuradha Roy Bio coming soon... >> Read More... and a doctor named Dr. Nirmal Chowdhary. They marry against her father's wish. The doctor's mother died of an illness, so he decides to serve the poor in a village. He suggests her not to follow his struggling life still she insists. But after marriage she faces hardships. She must live in a village and do all the household work. She leaves her career. When her father sees her condition, he suggests they live in the city but the doctor and his daughter deny it.
3. Dil Ek Mandir
The film Dil Ek Mandir is a complicated love story that is a love triangle between the doctor, Dr. Dharmesh; his patient, Ram, and his wife Sita. Ram is suffering from cancer. He is treated by the doctor, who is his wife's former lover. They feel uncomfortable while conversing in front of Ram. He overhears them speaking and asks her to leave him to marry her former lover, the doctor. The doctor promises her to provide the best treatment. He must perform surgery and not let it seem biased even if he dies. But after an incident, the doctor dies and the couple inaugurates a hospital in the doctor's memory.
...
4. Dr. Kotnis Ki Amar Kahani
The film Dr. Kotnis Ki Amar Kahani is based on the life of Dwarkanath Kotnis, who worked during World War II World War II is a Malayalam information TV show on >> Read More... . He returns home after completing his medical studies. His parents open a dispensary for him in the city. But he plans to serve the war victims in China. He sets out with four other doctors. He works endlessly in the war zone. His assistant is a Chinese lady disguised as a man. She is a medical student. He brings her out of depression. They marry and serve military medicine together. They help the injured soldiers.
...
5. Khamoshi
The film Khamoshi is about a nurse in a mental hospital. The nurse Radha is sad since one of her patients, Dev Kumar Bio coming soon... >> Read More... leaves the hospital when he is cured. Then another man is a patient, who is a writer and a poet named Arun Choudhary. He is suffering from depression when his love interest rejects him, who is a singer. She narrates her life history about how she took care of the soldiers in Ladakh during the Sino-Indian war. When he leaves after being cured, she is again sad as she became emotionally attached to him too. Now she is a patient in that hospital ironically.
...
6. Ek Doctor Ki Maut
The film Ek Doctor Ki Maut is based on the life and work of a doctor whose work is neglected. Dr. Dipankar Roy Bio coming soon... >> Read More... prepares a vaccine for Leprosy after years of hard work. The news is shown all over the television. But due to professional jealousy, he is threatened by all other doctors and his colleagues. He is humiliated in the press. He suffers a mild heart attack as he could not bear the humiliation. He does not take medicines. He is humiliated continuously by various other means. Finally, he gets an invitation for research work at an international organization with respect.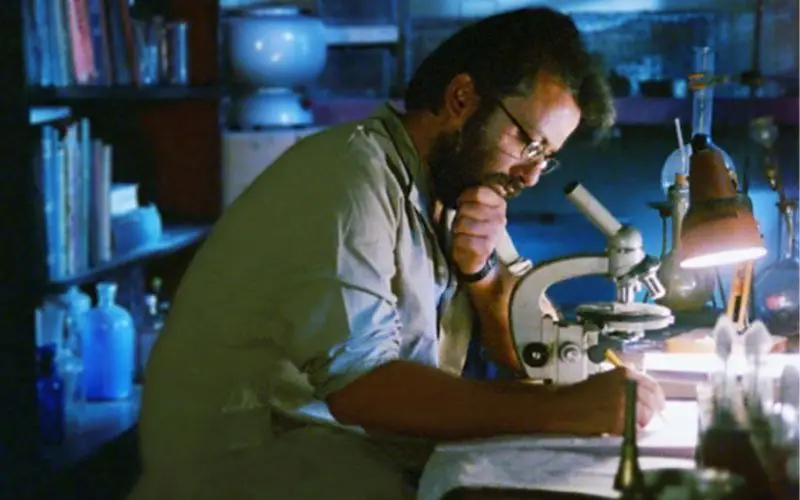 ...
7. Munna Bhai MBBS
The film Munna Bhai MBBS is about a man named Murli Prasad Dharma aka Munna bhai, who runs an extortion racket. He pretends to become a real doctor when his parents visit him. All his workers disguise themselves as doctors, patients, and nurses. Later he is revealed in front of his parents about his real identity. He promises to set things right and enrolls in medical college. He cheats on the entrance exam and gets admitted. He starts curing depressed people with his kindness. He does not become a doctor but is known for his kindness. He opens a real hospital in his family's village.
...
The film Dear Zindagi is about a girl and her psychologist. Kaira is a cinematographer who wants to become a film director. She faces relationship problems and leaves to live with her family in Goa. She suffers from insomnia. She meets a psychologist at a medical mental health conference. Her brother is the only person in her family who supports her. She argues with her parents about leaving her alone to grow up with her grandparents. She starts taking therapy sessions with a doctor, named Dr. Jug. His regular therapy works. She starts having an infatuation with him but later realizes it. She finally makes her film.
...
9. Kabir Singh
The film Kabir Singh is about a man of the same name who is a house surgeon at the Delhi Institute of Medical Sciences. He is a bully and suffers from anger management issues. She claims a new student named Preeti Sikka to be his. They have an intimate relationship and develop feelings. He completes MBBS and for post-graduation, he leaves and still maintains a relationship with her. Their relationship is rejected by Preeti's parents being conservative. Later she is forced into an arranged marriage. He becomes a drug abuser. Later after a series of incidents, they marry.
10. Bemisal
The film Bemisal is about Dr. Sudhir Roy and Dr. Prashant Chaturvedi. They run into Ms. Kavita Goel and suggest Prashant get married. Sudhir tells Kavita about his flashback when she inquires about why he cannot wed her. His sibling developed mental illness, and he was the second son of a struggling schoolteacher. He develops into a pediatrician as Prashant does. Sudhir tries to reason with Prashant when he opens a medical practice and raises the price, but he is unreceptive. Kavita and Prashant welcome Sudhir home from prison after nine years.