Bollywood celebrities have crazy habits and possession that leaves you jealous and desirous at the same moment. Motorbikes are one of those possessions, which a lot of riders and travel geeks love to own. Hence, all the bike fans, get ready!  Because today we are going to tell you about 10 Bollywood actors, who adore bikes more than anything. Their bike collection is super expensive and epic. Some Bollywood actors are even the brand ambassadors of luxurious bike franchises. So let's explore the best bike collections of Bollywood actors! Let's start the ride without any further bluff!
1. SIDHARTH MALHOTRA
...
Sidharth Malhotra Sidharth Malhotra is an Indian actor who was born >> Read More... is the young hot sensation who ruled millions of hearts since his debut movie 'Student of the Year,' directed by Karan Johar Karan Johar is one among the top ten celebrities i >> Read More... . Siddharth started his career with modeling and possessed a passionate love for the two-wheelers. People can even spot him riding his priciest possession Harley Davidson Fat Bob on the streets of Mumbai. He once rode it while promoting his movie along with the co-star Jacqueline Fernandez Jacqueline Fernandez is one of the top actresses i >> Read More... . Apart from crazy bikes he also owns a few costly SUVs which he uses as his daily drives.
2. SHAHID KAPOOR
...
Shahid Kapoor Shahid Kapoor also identifies as the name Shahid K >> Read More... is one of the experienced actors, who started his journey as a back dancer in Bollywood movies. Shahid Kapoor's bike collection is one of the best ones any bike lover can dream. The collection has classic Harley-Davidson Fat Boy consisting of HD smart security system, Anti-lock Braking System (ABS), etc. costing around ₹19 lakhs along with BMW 310R (Cost: ₹2.99 lakhs), the sporty Yamaha MT01 (Cost: ₹10.5 lakh), touring wonder BMW R1250GS Adventure(Cost: ₹18.25) and fabulous Ducati Scrambler 1100 Special(approx Cost: ₹11 lakhs). Shahid can easily be seen flaunting his bikes along with his children slaying the poses with it.
3. SALMAN KHAN
...
The 'biggest Khan' Bollywood star actor Salman Khan Salman Khan is a very famous Indian actor and a pr >> Read More... is the priciest Bike lover who owns such models that make all other actors jealous, especially with his Suzuki collections. Apart from owning expensive cars like Audis and BMWs, since he is the brand ambassador of the Suzuki Hayate, he has gifted the fastest bikes in the world- Suzuki Hayabusa superbike worths INR 15 lakh (ex-showroom price) along with Suzuki GSX-R1000Z that costs 16 lakh (ex-showroom price). He also owns the Limited edition blue Intruder M1800 R and Yamaha R1 that rip through anyone's cool look in the Bollywood industry.
4. RANBIR KAPOOR
...
Ranbir Kapoor Ranbir Kapoor is a noted Indian film actor. He was >> Read More... is a legendary actor who has a wide array of cinematic experiences at a very young age. His Car collection is equally sassy as his bike collection. But Fans went crazy over one of his movies ' Roy Click to look into! >> Read More... ' look, where he is riding a Harley-Davidson V-Rod costing around Rs 21.86 lakhs. Therefore, apart from his Audi R8 and Range Rover Vogue, he owns one classic Harley Davidson Fat Boy in a bright metallic red shade given to him by another actor & huge bike geek, Sanjay Dutt July 29, 1959, was the day when the two legends of >> Read More... himself. Ranbir is an avid shopper & it's easy to predict that perhaps by the end of the pandemic, he might buy another two-wheeled beauty.
...
5. JOHN ABRAHAM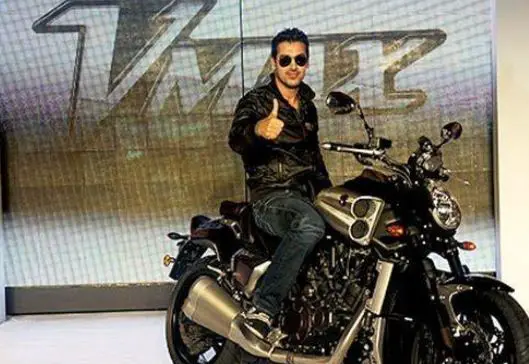 ...
John Abraham Like some of our sexy stars, John Abraham has had >> Read More... is another hardcore actor & crazy bike fan who loves to own sporty bikes. John Abraham bike collection includes incredible Kawasaki Ninja ZX-14R (with 1200 cc engine) priced Rs.19.70 lakhs, Aprilia RSV4 RF costing Rs. 22.80 lakhs, splendid Yamaha YZF R1 worth Rs. 19.24 lakhs, sports star Ducati Panigale V4 costing around Rs. 21.87 lakhs, MV Agusta Brutale of Rs. 16.99 lakhs and limited anniversary collection of Yamaha Vmax. He is a bike fan who might throw the entire bike single-handedly in the movies, but in real life, all of his bikes are his closest darlings.
6. VIVEK OBEROI
...
Vivek Oberoi Vivek Anand Oberoi's birth was on 3rd Septembe >> Read More... is an experienced actor who made his mark in Bollywood movies through films like Omkara, Saathiya, Prince Click to look into! >> Read More... , Grand Masti Click to look into! >> Read More... , etc. At the same time, he has also seen doing fabulous stunts in the movie 'Prince' with sporty bikes. Vivek's bike love is entirely deep for superbikes and apart from expensive car rides, he has a fabulous yellow Ducati 1098, which he bought in the year 2010 worth Rs. 45 lacs. Vivek now judges various drama reality shows but could be easily spotted in the city riding his bike beauties.
7. R. MADHAVAN
" R Madhavan R Madhavan is a popular film actor in Tamil and Hi >> Read More... " aka Ranganathan Madhavan is a famous actor, writer, & producer, born in the small town of Jamshedpur. Recently, he was seen in a popular Amazon Prime series 'Breathe'. Madhavan's love for bikes was seen from the beginning of his acting career. He added the BMW K1600 GTL motorcycle to his bike collection initially. He also owns the classic Indian Roadmaster Cruiser that costs INR 40 Lakh, a touring bike with a capacity of 64.4 liters. He also possesses Yamaha Vmax, which costs around Rs 24 lakhs, and Ducati Diavel as his sports infatuation for the bike world.
8. RANNVIJAY SINGH 
The Roadies sensation and judge Rannvijay Singh Ranvijay Singh is the prolific television host of >> Read More... has shown his bike love since his early age. Ranvijay owns a total of 8 incredible bikes that includes rockstar Kawasaki ZX-7 pricing around INR 9.5 lacs and many other classic motorbikes, which he usually flaunts in his regular Instagram posts while making the Roadies contestants sweat through the shows. Apart from assigning hardcore challenges to the participants in the show, he is a real hearty who knows a lot about bikes and loves to spend his quality time traveling with such cruizers.
9. ROHIT ROY
Rohit Roy Born on 5th April, 1968, Rohit Roy is an extremely >> Read More... is a Television sensation who made his recognition in Bollywood movies through phenomenal movies like Apartment and Dus Kahaniyaan Click to look into! >> Read More... . Rohit is a very experienced actor and loves to entertain his fans through regular jokes over Twitter and Insta, which sometimes lead him to serious trouble as well. But Rohit's bike collection is also unique for his humor. He possesses a limited edition Honda Rune that costs around Rs. 24 lacs, and there are only 600 units in the entire world of this model, isn't it amazing! He even shared his extreme passion in the initial phases of pandemic lockdown in India, where he rode his bike after waiting for 4 months.
10. UDAY CHOPRA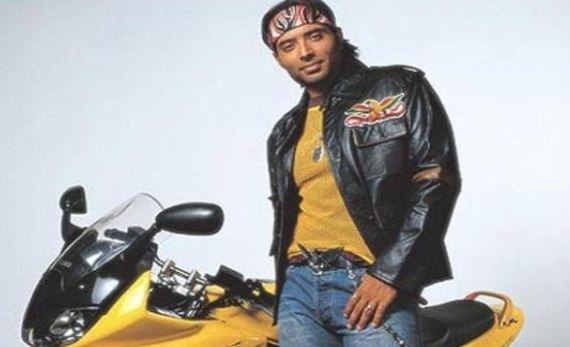 Uday Chopra Born on 5th January, 1973, This actor is the son o >> Read More... is a successful producer and actor who gained fame from the release of the Bollywood movie Dhoom series, where Uday portrayed riding some expensive bikes. He shares some strange love with his bikes, but you might be surprised to know that he even owns three supersport motorbikes from the Dhoom franchise itself. His emotional connection with his bikes is to such an extent that he even named them himself as Betty, Anny, and Esmeralda. One of them is the top Suzuki Bandit costing around Rs. 10.75 lacs, BMW K 1300 R and BMW S 1000 RR priced Rs 27.5 lakhs. He is a bike lover who treats his bikes like his own daughters.