Weekend? Do you wish to jump onto the couch and see a movie with family or a group of friends you invited to come over but don't know where to start? Worry not, we've got you covered. We've made a curated list, so let's get right into it.
1. Yeh Jawaani Hai Deewani
It is a 2013 romantic drama film directed by Ayan Mukherji starring Ranbir Kapoor Ranbir Kapoor is a noted Indian film actor. He was >> Read More... and Deepika Padukone Deepika Padukone is an Indian actress and model. S >> Read More... as the leads. The film deals with the theme of friendship, love and living life, beyond just chasing your dreams. It also reflects the quotation, "In order to go fast, you sometimes need to slow down." Despite receiving mild responses from critics, the film fared with flying colors at the box office.
...
2. Chennai Express Click to look into! >> Read More...
An Indian romantic action comedy film by Rohit Shetty Rohit Shetty is a famous Director in Bollywood who >> Read More... in 2013, starring Shah Rukh Khan Shah Rukh Khan or also known as SRK is a prominent >> Read More... and Deepika Padukone as the leads. The story revolves around a girl trying to escape her father's goons, and a boy traveling to Rameshwaram to deposit his grandfather's ashes into the sea. It contains the elements you would expect from a Rohit Shetty movie with themes ranging from hilarious comedy to heart-melting love scenes all the way to the action we've all come to love. The film received lukewarm response and performed very well with it, crashing through records both in domestic and international markets.
...
3. ' Golmaal Click to look into! >> Read More... ' Series
...
It is a trilogy which is of the comedy genre with elements of action mixed into it. It hasn't garnered much attention from the critics over the years but has kept the audiences flocking to the movies with its each iteration. We recommend you to watch it if your day didn't go as planned. It has all the elements to keep you laughing till the end!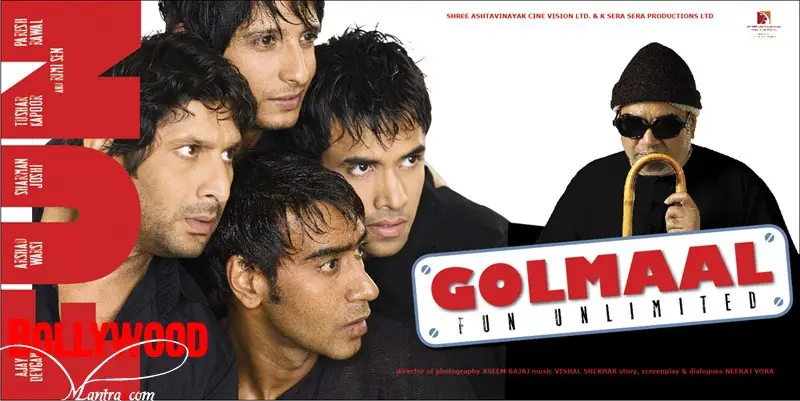 4. OMG – Oh My God!
...
An Indian satirical comedy- drama movie directed by Umesh Shukla Umesh Shukla is an Indian actor, writer, dialogue >> Read More... in 2012 with and Paresh Rawal The Padma Shri award winner who shot to fame with >> Read More... portraying the lead roles. It shows us the story of an atheist shop owner who sells idols. One day, he finds his shop broken and collapsed due to an earthquake. When tries to claim his insurance, they reject it by telling him that it comes under the "Act of God" and hence they cannot issue the insurance amount. How he manages to claim the money and what problems he has to solve, is what the film is all about. Treated as a satirical take on God, we ask you to watch it if you'd missed it earlier. It might just be the one thing which can make your day! It garnered acclaim for its narration and satirical plot.
...
5. ' Housefull Click to look into! >> Read More... ' Series
It is a series of Indian comedy movies with a multi-star cast with Akshay Kumar mostly playing the lead role. It isn't in the good books of critics but is a blockbuster amongst the audiences with people liking them due to their funny scenes and we recommend you watch one if you doubt the information!
...
6. ' Barfi! Click to look into! >> Read More... '
...
A 2012 Indian romantic comedy-drama film by Anurag Basu Anurag Basu is a jack of all trade Indian film/tel >> Read More... with Ranbir Kapoor as the main protagonist and Priyanka Chopra Born on 18 July 1982, Priyanka Chopra is an establ >> Read More... and Ileana D Cruz in the supporting roles. It showcases the experiences of a deaf and mute boy named Murphy, right from his childhood to the day he finds the love of his life. It has a great screenplay, excellent direction, great story and above all, an extraordinary cast who have delivered their performances to perfection. The film released to highly positive reviews with critics praising Kapoor's acting skills and gave brownie points to Chopra for her admirable and brave portrayal of a mentally challenged girl.
7. Zindagi Na Milegi Dobara
An Indian comedy-drama film by Zoya Akhtar Zoya Akhtar has now become a household name promin >> Read More... which had hit the theatres back in 2011. It has Hrithik Roshan Hrithik Roshan with his unimaginable dance moves i >> Read More... , and a couple of other stars portraying the lead roles. The movie is about three friends who wish to go on a road trip where each one of them selects a location and a sport they choose to enjoy with unexpected twists and moments. It's a great movie if you wish to experience the joy of being with your "gang" all over again. It has got a brilliant story, romance, comedy, emotion and of course good music. It is perceived as one of the highest grossing movies of the year with a big thumbs up from critics as well as the audiences!
8. ' 3 Idiots Click to look into! >> Read More... '
A Rajkumar Hirani Rajkumar Hirani is one of the ace director, screen >> Read More... film which came out almost 6 or 7 years ago with Aamir Khan Aamir Khan or Mohammed Aamir Hussain Khan is Bolly >> Read More... and Kareena Kapoor Khan Kareena Kapoor is a super hit actress working in I >> Read More... portraying the lead roles, supported by Boman Irani Boman Irani is a well known name today in the Bol >> Read More... , R. Madhavan, Sharman Joshi Sharman Joshi was born in Mumbai, Maharashtra to a >> Read More... and many others. It revolves around the adventures of three friends who meet up at an engineering college and have a varied opinion over life and describes the consequent impact of their parents on their career decisions. It aggressively reflects the mindset of parents and students alike and contains elements of defiance, crazy inventions, regret, love and a collection of candid moments. We recommend you to watch it, in case you missed it due to any reason whatsoever.
9. Bajrangi Bhaijaan Click to look into! >> Read More...
A 2015 Indian drama film made by Kabir Khan Kabir khan is a very much renowned director of Bol >> Read More... with stars like Salman Khan Salman Khan is a very famous Indian actor and a pr >> Read More... and child debutant Harshaali Malhotra Harshaali Malhotra is a model and a child actress >> Read More... playing the lead roles. The story is about a young girl who gets separated from her parents while returning from India to Pakistan after a pilgrimage in India and gets stranded in the country. The protagonist vows to take the girl back to her hometown and sets up on a journey from India to Pakistan. The film garnered widespread acclaim for its fresh story along with compelling performances from the cast.
10. 'PK'
It is a 2014 Indian satirical science fiction comedy film made by Rajkumar Hirani having an A-class star cast with Aamir Khan being the protagonist. The story is about an alien who is sent to the Earth to learn about the characteristics of human beings but in turn loses his only way of going back after getting looted by a villager. How he finds his way home and how he interprets human notions makes up the rest of the story. The film sheds light on the blind beliefs of people towards spirituality and the falsehoods of fake spiritual gurus who mislead the public with their perceptions of God. It has got a good story, screenplay and above all, a calculated and perceivable conclusion.
OTHER NOTABLE FILMS INCLUDE: 
Hum Tum Click to look into! >> Read More...
Dil Chahta Hai Click to look into! >> Read More...
My Name Is Khan
Kabhi Alvida Naa Kehna
Wake Up Sid Click to look into! >> Read More...
Dilwale Dulhania Le Jayenge
Chak De! India