From Acting to Parenthood
1. Vivek Oberoi and Priyanka Alva:
Congratulations to Vivek and his wife Priyanka for sanctifying with a "baby-girl." First baby boy and now a little princess, Oberoi family seems to be complete now.
2. Ayushmann Khurrana and Tahira:
Even Khurana's family appears to be complete. The Vicky Donor of Bollywood became the father for the succeeding time when his wife Tahira gave confinement to a baby girl on April 21, 2014. The newborn girl was named Varushka.
3. Omi Vaidya and Minal Patel:
Remember Silencer from the movie "3 idiots" Omi Vaidya? He finally got his kick when his wife gave birth to a baby boy. His baby is cute like him, isn't he?
4. Urvashi Sharma and Sachin Joshi:
The Delhi girl, also a Bollywood actress and model, Urvashi Sharma gave confinement to baby girl on January 21, 2014.
5. Imran Khan and Avantika Malik:
Though never acted as the father in any of his movies, Imran becomes the father in his reel life. His wife, Avantika Malik delivered a baby girl on June 9, 2014, who was then named Imara Malik Khan.
6. Ritesh and Genelia Deshmukh:
The cutest couple of Bollywood, Ritesh, and Genelia, who got married in 2012, entered the parenthood when Genelia gave birth to their first baby boy. This love birds named their boy "Riaan." Genelia is rumored to be expecting for the second time.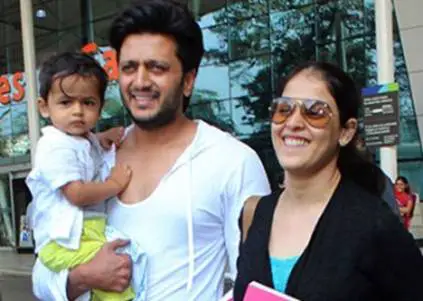 7. Mohit Suri and Udita Goswami:
The duo of Bollywood actress and director, Udita and Mohit too got into the world of parenthood on January 29, 2013. The couple was blessed with a baby girl.
8. Nawazuddin and Anjali Siddiqui:
The most talented actor of the Bollywood, Nawazuddin appreciated for his dedication in his work, is now a bestow father. His wife, Anjali gave confinement to a baby boy on his birthday itself (May 19). Who can be luckier than him?
9. Rani Mukherjee and Aditya Chopra:
Bollywood actress, Rani Mukherjee married to the son of Yashraj Chopra; Aditya Chopra gave birth to a baby girl on December 25, 2015. The couple named their daughter with initials of their own name-'Adi 'from Aditya and 'Ra' from Rani, is pronounced as "Adira."
10. Ali Zafar and Ayesha Fazli:
Congratulations to Ali Zafar and his wife for becoming parents for the second time. The couple got blessed with the baby girl on February 23, 2015.