India is just not about its adults. A huge part of our country are its children. These children are not interested in the movies that we watch. They prefer their cartoons, that are light-hearted, fun and sometimes even educational. Today we will be discussing 20 such cartoon movies that enjoy great popularity in India.
1. "Chota Bheem Himalayan Adventure"
The film is an extension of the popular television series. As adults, we many not find it intriguing, but the kids have loved the cartoon so much that it has not one but several films. This one is based on Bheem and his friends traveling to Manali to enjoy the snow sports on their vacation but end up having to face the villain who wants to usurp their kingdom.
2. My Friend Ganesha
The movie is an attempt to make children more aware of the tales that are related to Lord Ganesha's life and their subsequent importance. It became pretty popular among the kids also because it had some scenes that were not animated, where a child is fascinated as he hears the tales. This makes it more relatable to the children.
3. "Koochie Koochie Hota Hai"
" Kuch Kuch Hota Hai Click to look into! >> Read More... " was a masterpiece according to those in cinema and a lot of its fans. It has almost become a classic. So, when the film completed 20 years, it was a big occasion not just for the fans but also for the film's crew. So, it was decided that they would then make an animated film with the same core love story as that of the movie.
4. Delhi Safari Click to look into! >> Read More...
The movie is about many animals living in a forest, that humans plan to demolish. The steps that the animals take involve protesting to the human population and raises awareness about the loss of flora and fauna from the face of earth. Many popular actors give their voice to the actors, like Akshay Khanna, Urmila Matondkar Urmila Matondkar is an Indian actress born on 4th >> Read More... , Sanjay Dutt July 29, 1959, was the day when the two legends of >> Read More... and ' Govinda Govinda is a popular Bollywood star who is known f >> Read More... '.
5. Motu Patlu King Of Kings
Motu Patlu is another favourite among the kids that is originally a television series but was such a massive hit among the kids that it was converted into a movie. The movie was given average reviews by the critics, but for those who the movie was actually built, the kids, loved the movie like they had loved the series on television.
6. ' Mahabharat Click to look into! >> Read More... '
The tale has been repeatedly told in television series, cartoon series, and other such formats. However, in a way that pleasantly surprised the audience, the film was adopted as an animated film where the characters were dubbed by actors like Amitabh Bachchan Amitabh Bachchan was conceived on October 11, 1942 >> Read More... .
7. Ramayana: The Legend Of Prince Rama
The epic has been narrated several times. In India, it has without any doubts been accepted as a true story. So we see it on our television screens in various forms, sometimes as movies, sometimes as television shows and sometimes as cartoons. In 1992, a new form of animation was used to create the film, where three different schools of animation were combined to form the movie.
8. ' Doraemon Doraemon is a Japanese cartoon series written by t >> Read More... '
The cartoon series has been immensely successful in India, with it becoming one of the first cartoons that kids become acquainted with in their lifetime. The characters, the concept, has all been received a lot better than anyone expected and a cat from the future has become a good amusement for the kids. So, since the television series was raking in so much money, the makers also decided to come out with a movie. The movie did phenomenally well, so it was followed up by many more films.
9. 'Shinchan'
The show was hilarious from the very beginning. Forget the kids, even the adults loved the show. Of course, soon parents started to realize that the Shinchan needed to be made aware that it was not alright to behave as Shinchan behaved. Nevertheless, the show was loved enough to make big bucks. The makers then made a bunch of movies, that were equally well received.
10. ' Dashavtar Click to look into! >> Read More... '
Narrated in the powerful voice of Shatrughan Sinha Shatrughan sinha is a well known name of the Hindi >> Read More... , the movie had religious connotations as it focuses on the evil that has repeatedly tried to conquer the earth and many times God has to come to earth in the form of a mortal to get rid of the evil. Even though Krishna and Rama are the most popular avatars, there were eight others, all of which are mentioned in the film.
11. ' Kochadaiiyaan Click to look into! >> Read More... '
A film that has ' Rajinikanth 'Rajinikanth' is the name that is known in >> Read More... ' in it can never be unsuccessful. This film also starred Deepika Padukone Deepika Padukone is an Indian actress and model. S >> Read More... and the story is somewhat similar to that of 'Baahubali', but the similarity is very slight. The film focuses on a warrior and his unmatched valor and bravery through which he quickly wins heart and makes enemies with the same speed.
12. Jungle Book Story Coming Soon... >> Read More...
The classic tale of Mowgli, the child who grows up among animals believing himself to be an animal and then is protected by then from the evil creatures in the forest like Sher Khan and Kaa. This series was recently made into a movie, where actors like Priyanka Chopra Born on 18 July 1982, Priyanka Chopra is an establ >> Read More... and Irrfan Khan Irrfan Khan is a noted Bollywood actor who started >> Read More... voiced the characters. The animated movie had come out much earlier.
13. Krishna Aur Kans Click to look into! >> Read More...
When every mythological tale is converted into animated movies for children, then why would the tale of Krishna not be made into an animated movie? Krishna, a young boy who is actually Lord Vishnu himself in disguise saves the world from the evil clutches of Kansa, who is his maternal uncle who imprisoned his parents and killed his siblings as soon they were born, right in front of their mother.
14. Cheenti Cheenti Bang Bang
Directed by R. D. Malik, the film released in 2008, and gave an amusing view of the world of insects.
15. Toonpur Ka Superhero Click to look into! >> Read More...
Released in 2010, the film was the first live action 3D animated film ever to be made in India. Starring Kajol Devgan and Ajay Devgan Ajay Devgn is an Indian film actor. He is perhaps >> Read More... in pivotal roles along with various other animated characters, the film was the story of a village full of animated characters who are saved by Ajay Devgan, who plays a superstar in the film. Since he is a hero and does stunts and action in his films, the animated characters believe that he can also save them, and the story unfolds from there, as their paths start to collide.
16. 'Ghatotkach'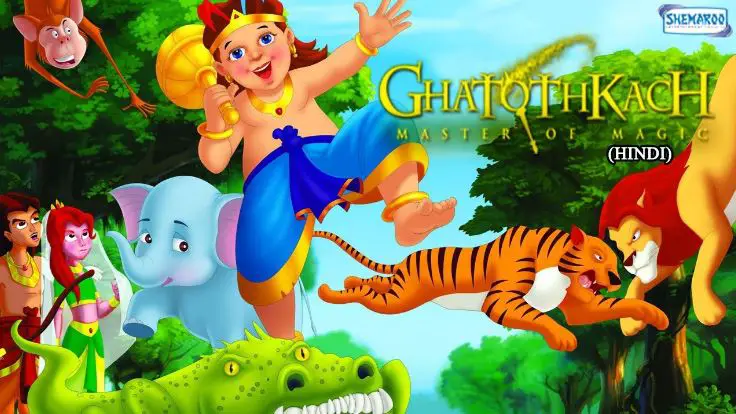 Ghatotkach was the first son of Bheem, the strongest muscularly of the five Pandav brothers in Mahabharata. The child was born from Bheem's marriage with a giantess, and since both his parents were such strong individuals, the child too was a wonder. However, during the war of Kurukshetra, the child had to die while fighting the Kauravas so that Arjuna could be saved.
17. Roadside Romeo Click to look into! >> Read More...
Starring Saif Ali Khan Saif Ali Khan is a film celebrity born to actress  >> Read More... and Kareena Kapoor Khan Kareena Kapoor is a super hit actress working in I >> Read More... in lead roles, the film was released in 2008 and was about a dog, who meet when Laila is singing and dancing on her rooftop. The two fall in love and eventually end up together. The movie was romantic, and comic, along with presenting a cocky, but adorable dog played by Saif Ali Khan who is a true Romeo when he falls in love.
18. ' Hanuman Hanuman is an Indian playback singer working chief >> Read More... '
This was perhaps the most successful animated film that India has ever produced. Focusing on the life of Lord Hanuman, who remain to this day the most devoted devotee of Lord Rama and an incarnation of Lord Shiva. The film was so successful that even its subsequent parts could not match up to its success. Almost every person living in the country has seen and loved the film that beautifully describes Lord Hanuman's life.
19. Pandavas: The Five Warriors
Again, the story focused on India's greatest epic after Ramayana, The Mahabharata, and how the five brothers fought against the hundred Kauravas who were their cousins but lusted after their blood and go to any extent to kill them and insult them. It talked about their life as the husband of Draupadi and as the sons of different father, born of several Gods. The Pandavas themselves were demigods.
20. Sons Of Ram
The film was released in 2012 and focused on the life of two princes who everyone recognizes, but no one really knows. Ramayana is the tale of Sita and Rama, but what about their sons? What happened to their life? What were their struggles and how did they cope with everything happening around them? These are the things that the film deals with primarily.