Laughter is the best medicine. Here are ten of the most hilarious scenes from bollywood that will tickle your funny bone.
1. ' Hera Pheri Hera Pheri is a comedy based TV show which came on >> Read More... '
Paresh Rawal The Padma Shri award winner who shot to fame with >> Read More... as Baburao Ganpatrao Apte (Babu Bhaiya)
as Raju
Suniel Shetty Suniel Shetty, a renowned Bollywood actor, was bo >> Read More... as Ghanshyam (Shyam)

The scene where Raju is being chased by Ghanshyam. Raju aims to through a matka on him but as Baburao intervenes the matka hits him on the head and he reacts with his famous line "Khopdi tod saale ka!"
Paresh Rawal's comic reaction is the best to witness.
...
...
2. 'Chup Chup ke'

Shahid Kapoor Shahid Kapoor also identifies as the name Shahid K >> Read More... as Jeetu
Paresh Rawal as Gundya
Rajpal Yadav Rajpal Yadav, the hilarious Indian movie actor, ac >> Read More... as Bandya

Jeetu pretends to be mute. He is asked by Gundya from which city he is and gives him examples via hand gestures of places like Ratnagiri as Ratna fell down, Kolkata as call katta and so on.
The confusion created is hilarious.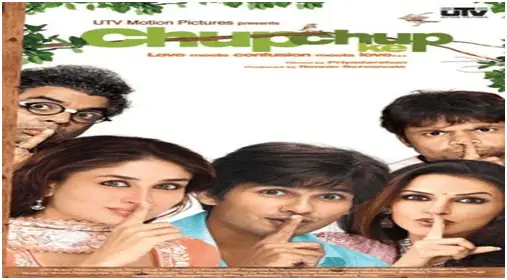 ...
3. ' Andaz Apna Apna Click to look into! >> Read More... '

Aamir Khan Aamir Khan or Mohammed Aamir Hussain Khan is Bolly >> Read More... as Amar
Salman Khan Salman Khan is a very famous Indian actor and a pr >> Read More... as Prem
Raveena Tandon Raveena Tandon is an Indian film actress who is kn >> Read More... as Karishma/Raveena

Amar and Prem want to marry Raveena for her money. Amar pretends to loose his memory as a way to stay inside Raveena's house. Prem enters as a fake doctor.
In this scene he is trying to talk to Raveena but Amar mixed pills in his food causing him to have diarrhea leaving him switching between the washroom and Raveena.
 
...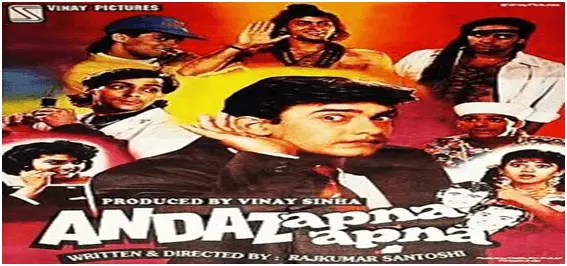 4. ' Pyaar Ka Punchnama Click to look into! >> Read More... '

Kartik Aryan as Rajat
Nushrat Bharucha Who will forget the dictator and bossy girlfriend >> Read More... as Neha

The movie is about how three single young men fall in love and how they get to know the side effects of love and relationships.
In this scene Rajat starts blasting about what are the problems faced by a man in a relationship.
The whole monologue is the best sequence of the movie.
...
...
...
5. ' Singham Click to look into! >> Read More... '

Ajay Devgan Ajay Devgn is an Indian film actor. He is perhaps >> Read More... as Bajirao Singham
Prakash Raj Prakash Raj, born on 26th of March, 1965, as Praka >> Read More... as Jaikant Shikre

The movie is about the constant battle between the honest inspector 'Singham' and the corrupt politician goon Jaikant.
Towards the end of the movie the whole police force gathers at Jaikant Shikre's house giving alternate ideas of how to kill him and make it look like suicide.



6. ' Dil Chahta Hai Click to look into! >> Read More... '

Aamir Khan as Akash
as Sameer
Akshaye Khanna Akshaye Khanna is a popular Indian film actor. He >> Read More... as Siddharth (Sid)

Three childhood friends live a carefree life. They go on a trip to Goa where Sameer falls in love with a foreigner. While the other two return Sameer extends his stay with the girl who ends up robbing him of all his belongings leaving him penniless. Sameer returns back to Mumbai in a lorry and after hearing his story Akash and Siddharth poke jokes at Sameer.





7. 'Amar Akbar Anthony'

as Anthony Gonsalves

In this scene Anthony is taking to himself after a drunken brawl. He looks at himself in the mirror and explains why he shouldn't drink alcohol and tries healing his wounds by applying medicine to the mirror instead of his wounds.





8. ' Jab We Met Click to look into! >> Read More... '

Shahid Kapoor as Aditya
Kareena Kapoor as Geet

The scene takes place when Geet is depressed after being rejected by Anshuman. Geet gathers courage and calls him and abuses him leaving him shocked.





9. 'Satte pe Satta'

Hema Malini Hema Malini is perhaps the only dream girl of the >> Read More... as Indu
Amitabh Bachchan as Ravi

Ravi and his six uneducated brothers are orphans who lead a simple but unruly life. Ravi falls in love with Indu and tricks her into marrying him saying that he has only one younger brother. When the truth is revealed Indu is angry on Ravi for lying.



10. ' 3 Idiots Click to look into! >> Read More... '

Aamir Khan as Ranchordas Chanchad/Phunsukh Wangdu
Omi Vaidya Who will ever forget this remarkable face in Bolly >> Read More... as Chatur

Chatur is selected to give the teachers day speech in Hindi which he gets typed from the librarian but Ranchordas exchanges a few words making it hilarious.