Shafqat Amanat Ali Shafquat Amanat Ali Khan was born on February 26, >> Read More... Khan PP is a Pakistani pop and classical singer, lyricist, and composer who is a part of the Patiala Gharana musical tradition. He served as the lead singer of the Pakistani pop rock band Fuzön. He is also a well-known playback singer in the Indian film business. He was the youngest child of renowned classical vocalist Ustad Amanat Ali Khan Ali Khan was a renowned actor of Hindi Cinema. He >> Read More... .Ali began studying music at the age of four under the instruction of his uncle, Ustad Bade Fateh Ali Khan. The latter is Pakistan's leading exponent of Hindustani classical music. Two songs from the 2006 film Kabhi Alvida Naa Kehna, Mitwa, and Yeh Honsla from the film Dor, helped Ali break through to mainstream stardom in Bollywood.The top 10 Shafqat Amanat Ali Khan songs that you have at least once listened to are below.
1. Dildaara
The notable singers Shekhar Ravjiani Shekhar Ravjiani is a renowned Indian music direct >> Read More... , Vishal Dadlani Vishal Dadlani mostly known by duo name Vishal She >> Read More... , Shafqat Amanat Ali, and Clinton Cerejo Clinton Cerejo is an Indian singer and music produ >> Read More... , notable singers, provide the voices for the song Dildaara-Stand by Me from the Ra. One album. The song Dildaara (Stand by Me) has a duration of 4:5 minutes and was composed by Vishal and Shekhar. The song "Dildaara," which the songwriters based on Ben E. King's "Stand by Me," was given an official authorization to use.
...
2. Manchala
Shafqat Amanat Ali, Vishal & Shekhar, and Nupur Pant Nupur Pant is a well-known playback singer. She wa >> Read More... perform the Hindi song Manchala. 2014 saw the release of Manchala, a track from the album Hasee Toh Phasee Click to look into! >> Read More... . Anurag Kashyap Born on 10th September 1972, Anurag Kashyap has es >> Read More... and Karan Johar Karan Johar is one among the top ten celebrities i >> Read More... are the producers of the romantic comedy-drama movie Hasee Toh Phasee, written and directed by Vinil Mathew Vinil Mathew, the ad-filmmaker was born in the yea >> Read More... . Parineeti Chopra The bubbly actress, born on 22nd October 1988, lan >> Read More... and Siddharth Malhotra both appear in the song.
...
3. Bin Tere
In 2010, Punit Malhotra A young newcomer in Bollywood in the field of Dire >> Read More... wrote and directed the romantic comedy "I Hate Luv Stories," produced by Ronnie Screwvala's UTV Motion Pictures and Karan Johar's Dharma Productions. Sonam Kapoor Sonam Kapoor, Daughter of Anil Kapoor and model Su >> Read More... and Imran Khan Imran Khan is an Indian film actor, who is famous >> Read More... play pivotal roles. The lyrics to "Bin Tere" were written by Vishal Dadlani. Vishal Dadlani's well-known compositions are Bin Tere, Tu Meri, and Bang Bang Click to look into! >> Read More... (Title Track). The song "Bin Tere" was performed by Sunidhi Chauhan Sunidhi Chauhan, a very famous Indian playback sin >> Read More... and Shafqat Amanat Ali.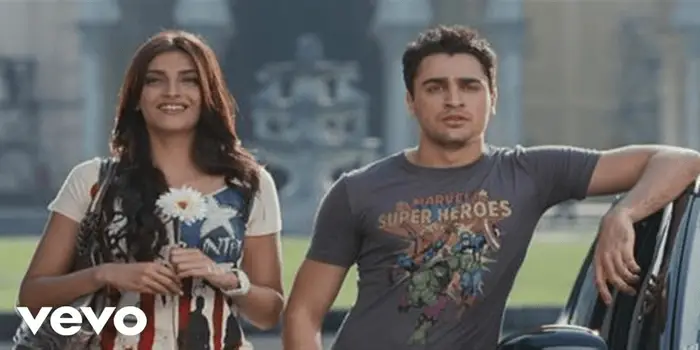 ...
4. Mitwa
In the 2006 Hindi film Kabhi Alvida Naa Kehna, directed by Karan Johar and starring Shah Rukh Khan Shah Rukh Khan or also known as SRK is a prominent >> Read More... , Rani Mukerji Rani Mukerji is one of the most celebrated Indian >> Read More... , Abhishek Bachchan Abhishek Bachchan, or Abhishek Srivastava, is a ve >> Read More... , Preity Zinta Preity, also known as Preity Zinta is a famous Act >> Read More... , , and Kirron Kher Kirron Kher or Kirron Anupam Kher was Kiran Thakar >> Read More... , comes the well-known Hindi song "Mitwa." Many places in New York City, including Park Avenue and Pier 17, where the film's original narrative was based, were used to film the popular Mitwa song about falling in love. Scenes from the stadium were filmed at the Bukit Jalil National Stadium in Kuala Lumpur, Malaysia.
5. Yeh Honsla
The 2005 release of the Hindi song Yeh Honsla comes from the album Dor. Yeh Honsla is a 4-minute, 47-second song. Shafqat Amanat Ali Khan sang the song "Yeh Honsla," which was written by Mir Ali Hasan and featured Nagesh Kukunoor Nagesh Kukunoor was born in Hyderabad to Kusuma Su >> Read More... , Gul Panag A former beauty queen, model and social activist, >> Read More... , Ayesha Takia Ayesha is a Bollywood film actress, born on 10th A >> Read More... , and Shreyas Talpade Those who follow Bollywood movies are accustomed t >> Read More... .
...
6. Tere Naina
In 2010, we saw the release of the Hindi song Tere Naina from the film My Name Is Khan. Niranjan Iyengar Niranjan Iyengar is an Indian screenwriter and lyr >> Read More... wrote the charming song, which was sung by Shafqat Amanat Ali. Shankar Ehsan Loy oversaw the music. Shah Rukh Khan and Kajol are the song's lead actors.
...
7. Darmiyaan
Shafqat Amanat Ali and Clinton Cerejo sing the song Darmiyaan from the 2012 film Jodi Breakers Click to look into! >> Read More... . In addition to Milind Soman Born on 4th November 1965, Milind Soman is a super >> Read More... , Dipannita Sharma Dipannita Sharma is an Indian supermodel cum actre >> Read More... , Omi Vaidya Who will ever forget this remarkable face in Bolly >> Read More... , and Mrinalini Sharma Mrinalini sharma is Indian actress born in New Del >> Read More... playing supporting roles, the movie stars R. Madhavan and Bipasha Basu Bipasha Basu, born in January 7,1979 in Delhi, is >> Read More... in the pivotal roles. Shaadi Fast Forward was the planned title for the film before Jodi Breakers was selected.
...
8. Milon Ke Faasle
Shafqat Amanat Ali and Altamash Faridi Altamash Faridi, an Indian playback singer, was bo >> Read More... , two well-known singers, lend their voices to the song Milon Ke Faasle from the Ishqeria album. A popular boy named Raghav denies the existence of Kuhu, a small-town girl who falls in love with him. Her friends, on the other hand, intend to make him fall in love with her while having fun in the process. Ajay Garg wrote the lyrics for the song Milon Ke Faasle from the album Ishqeria.
...
9. Teri Jhuki Nazar
Teri Jhuki Nazar, Hindi music, was released in 2013. When Nisha and photographer Vikram first meet, they click right away. They soon settle into his house, where she discovers more about the mystery behind Roshni's unexplained kidnapping. The song, composed by the great musician Pritam for the film Murder 3, only features Shafqat Amanat Ali as the lead vocalist.
10. Tu Hi Mera
The Hindi song "Tu Hi Mera" lyrics from the film Jannat 2 is sung by Shafqat Amanat Ali, with music by Pritam and lyrics written by Sayeed Quadri Sayed Quadri is an Indian poet who has worked as B >> Read More... . Sonu sells illegal weapons, but he subsequently teams up with ACP Pratap Raghuvanshi to stop this criminal business. Mangal, a powerful criminal and armament dealer, is their most dangerous adversary.