Watching one favourite actors of ours on screen is a great feeling. But what if we could observe two or more of our famous actors on the screen at the same time? This was achieved through multi-starrer. Today Multi-starrer has become the new trend in the cinema. Multi-starrer also ended fan wars with big heroes coming together with their equals to work upon. Multi-starrers also give a universal appeal as fans of both stars are coming together. Multi-starters bought a new face to the cinema, and Tollywood is no exception. So, let us see some of the best multi-starrer movies in Tollywood.
1. RRR
It is when the Mega Fans and Nandamuri fans came together. RRR is a multi-starrer movie directed by SS Rajamouli. The film stars Jr NTR and Ram Charan Ram Charan is a famous Tollywood actor and an entr >> Read More... in lead roles playing Komaram Bheem and Alluri Seetha Rama Raju. This movie is a fictional story about their friendship. The movie has got massive collections worldwide and gained international fame and recognition.
2. Seethamma Vakitlo Sirimalle Chettu
Seethamma Vakitlo Sirimalle Chettu is a 2013 family drama directed by Srikanth Addala Srikanth Addala is a popular film director, who is >> Read More... . This is a multi-starrer movie with Mahesh Babu Born on 9 August 1975 in Chennai, Mahesh Ghattaman >> Read More... and Venkatesh in the lead roles. The movie revolves around two brothers who have different outlooks on life. While one is practical and lives in the present, the other is more emotional and believes in traditional values. Both the actors played their roles to perfection that one might think they are brothers for real. This movie is often regarded as the best Family drama in Tollywood you can watch with your loved ones.
Another Multi-starrer with Venkatesh, but this time the other is Power star, Pawan Kalyan Pawan needs no introduction to South Indian people >> Read More... . Gopala Gopala is the remake of the Hindi film "Oh My God." It is the story of Gopala Rao, an atheist who loses his shop due to an earthquake. So he files a case against god, and lord Krishna himself comes to Gopala Rao while he is fighting the case. Venkatesh played the role of Gopala Rao, and Pawan Kalyan played the role of lord Krishna.
...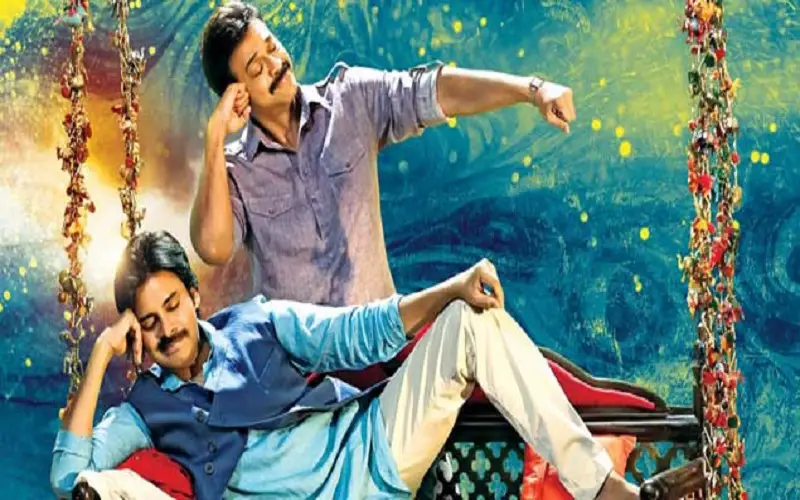 4. Oopiri
Oopiri is a Telugu drama released in 2017 and directed by Vikram Kumar Bio coming soon... >> Read More... . It is a new story about a wealthy businessperson who loses control of his hands and legs after an accident and hires a guy on parole as his caretaker. As the film goes deep, the bond grows between them, and it is a story of their friendship. Nagarjuna played the wealthy businessman, and Karthi played the caretaker role.
...
5. Devadas
Devadas is a 2018 drama by Sriram Adithya. It's a multi-starrer film starring Nagarjuna and Nani. The movie revolves around the friendship between an honest doctor and a dreaded gangster. Nagarjuna played the role of Deva, a dreaded gangster. Nani played the role of Das, the doctor. 
...
6. F2
F2 is a comedy-drama directed by Anil Ravipudi Anil Ravipudi is a director and a screenwriter for >> Read More... and released in 2018. It is a multi-starrer movie with Venkatesh and Varun Tej Varun was born on 19th January 1990 in Hyderabad, >> Read More... in lead roles. F2 is a family drama with the primary intention of comedy. The film delivered them well and became a massive success at the box office, collecting 130 crores.
...
7. Manam
Manam is also a multi-starrer with a massive cast. The Akkineni Family has created this drama to connect us with our families. It is when the three generations of the Akkineni family came together from ANR, Nagarjuna, and Naga Chaitanya Naga Chaitanya is a Telugu actor and he is into th >> Read More... leading the show. The movie also has the entire family with cameos from Amala and Akhil. Manam is a complete multi-starrer but from the same family.
...
8. Masala 
Masala is another multi-starrer starring Venkatesh and Ram in lead roles. The plot revolves around Rehman, who moves to Bheemarajapuram with his sister. He lies to Balaram, a powerful landlord. Rehman introduces himself as Ram to Balaram. He must face several struggles during this. Ram played Rehman, and Venkatesh played Balaram.
...
9. Bheemla Nayak
Bheemla Nayak is the official remake of Ayyappanum Koshiyum Click to look into! >> Read More... . The movie begins with a battle between SI Bheemla Nayak and Daniel Shekar. It is when the latter tricks the SI into corruption Bheemla Nayak gets suspended. Pawan Kalyan played Bheemla Nayak, and Rana played Daniel Shekhar.
Venky Mama is the story between a Maternal Uncle and his nephew. It is when the nephew loses his parents as a child and is raised by his maternal uncle as his very own despite opposition from the grandfather. To portray this bond, real-life Uncle-nephew came in the form of Venkatesh and Naga Chaitanya. Naga Chaitanya is the nephew of Venkatesh in real life too.