One of the most evolved regional cinemas in India is the Marathi cinema. The history of Marathi cinemas is dated as long back as Hindi cinema. Though the Hindi film industry grew over time, Marathi films didn't get that much screen across the country, affecting their reach. But time and time again the film directors have shown the magic of Marathi cinemas and made a wealthy profit from box office collection.Here is the list of must-watch Blockbuster Marathi films:
1. Sairat 
Sairat created hysteria and history. Released on 20th April 2016, this movie has it all; over-the-top class music by Ajay-Atul, sophisticated craft by Nagraj Manjule Nagraj Manjule is an Indian film director, writer, >> Read More... that made simple scenes stand out, and the iconic lead pair, Akash Thosar Akash Thosar is an Indian actor working in the Hin >> Read More... and Rinku Rajguru.Made on a budget of 4 Crore INR, the movie had a box office collection of 110 crore INR at the end of its theatrical run, making it the highest-grossing Marathi film to date.
...
2. Pawankhind
Pawankhind is an epic retelling of history. After Farzand and Fatteshikast, the writer-director Digpal Lanjekar Digpal Lanjekar is an Indian Director and Actor. H >> Read More... returned with the story of the battle of pawan khind to continue his film series dedicated to the bravery of Chattrapati Shivaji Maharaj. There are a few cinematic liberties taken while retelling though, the crux of the story is maintained. With a budget of 10 crore INR, the movie earned 76 crores INR, making it a huge blockbuster.
3. Natsamrat 
An absolute must-watch. Directed by Mahesh Manjrekar Mahesh Manjrekar is a renowned actor, director and >> Read More... with Nana Patekar Nana Patekar is a popular Indian actor who was bor >> Read More... as the leading actor playing the role of Ganpat Belwalkar, a Shakespearean actor. Exceptionally wonderful acting and monologues will tear your heart into pieces as you sit hypnotized by his outstanding performance. An emotionally enriched drama. Natsamrat is an adaption of a Marathi play by the same name. With a budget of 7 crore INR, it had a 48 crore INR box-office collection.
...
4. Katyar Kaljat Ghusali 
As far as Indian Musical drama goes, this is a masterpiece by Subodh Bhave Subodh Bhave is an actor and director in the Marat >> Read More... . It has been adapted from a Marathi play by the same name. Recreating a masterpiece is not easy, but combined with the fantastic direction by Subodh, the musical expertise of Shankar Mahadevan Shankar Mahadevan, a well-renowned, talented and f >> Read More... , and extraordinary acting by Sachin Pilgaonkar This Actor received National Award for his perform >> Read More... , this movie is worth every penny and time. The movie made 40 crore INR during its run time in theatres.
...
5. Timepass 2 
Timepass 2 is a sequel to the movie Timepass that follows the incomplete love story of a boy named Dagadu and a sweet shy girl Prajakta. It had a box office collection of 40 crore INR. It will be recommended to watch Timepass; which is the first part before watching this sequel for you to get the ongoings of the story.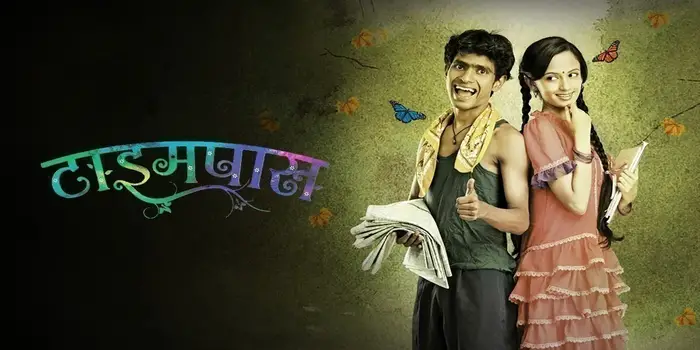 ...
6. Lai Bhaari 
A film that promises full entertainment. If you like simple, cliched, Bollywood films, this is the movie for you. With its power pact dialogues and the Marathi debut of Riteish Deshmukh Riteish Deshmukh is the son of a politician, late >> Read More... , this film has won many hearts. The quirky one-liners are sure to give you total Sholay vibes. There are also a lot of similarities between Rowdy Rathore Click to look into! >> Read More... and Lai Bhaari but, both the movies have their charm, which makes them worth your watch. The box office collection was 40 crore INR for this movie.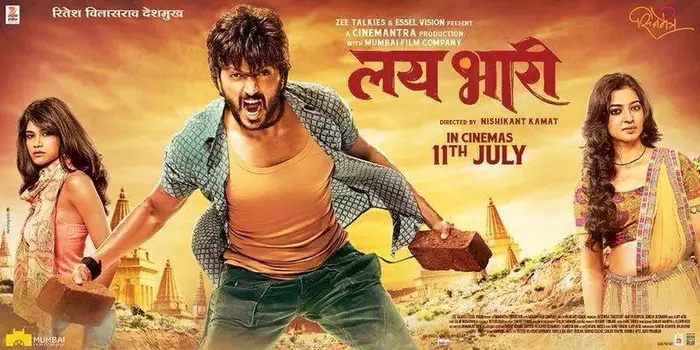 ...
7. Dagdi Chawl
Dagdi Chawl is inspired by the real-life of an underworld gang and their clash with an individual from some other chawl; however, the script comes out to be spicy to increase the entertainment value. It is Chandrakant kanses's debut film as a director and has Ankush Chaudhary, Pooja Sawant Pooja Sawant is a Malayali actress. She has mainly >> Read More... , and Makarand Deshpande Makarand Deshpande is an Indian actor and director >> Read More... in leading roles. It made a 37 crore INR box office collection.
...
8. Timepass 
Who doesn't love a good love story? That's what Timepass is about. What starts as a short-term fling makes you rethink love. A teenage love story that will make you giggle, cry, laugh, and enjoy love. This movie was a hit on the screens as the audience loved the chemistry of the lead characters and the songs went pretty viral too. With a budget of 2 crore INR, it made a collection of 33 crore INR. 
...
9. Duniyadari
Inspired by the bestseller "Duniyadari" by late author Shri Suhas Shirwalkar, this film talks about college, love, and friendship. The movie is packed with fun and emotion, amazingly directed by Sanjay Jadhav Bio coming soon... >> Read More... , and brilliant performance by all the actors. This, college romance is sure not to miss. With a budget of 5 crore INR, it earned a profit of 25 crore INR, the total box-office collection being 30 crore INR.
10. Me Shivajiraje Bhosle Boltoy
With its crisp editing and brisk pace, this movie never gets dull, even with a run time of 160 minutes. Mahesh Manjrekar has written this story with utmost sensitivity about a common Marathi man being mistreated in his state. A movie that will have your rasp attention as the story unfolds. It earned 25.5 crore INR during its runtime in theatres and was a total hit.