India's oldest and most prestigious film industry, having a century-long tradition, is Marathi cinema. There is a long tradition of realistic and socially significant Marathi films about Maharashtra's traditions, challenges, and culture. Marathi artists and filmmakers have succeeded in Bollywood and other regional film industries, and Marathi movies have received national and international accolades. Marathi film has seen a significant transition due to the emergence of young, creative directors, writers, and performers experimenting with new subjects and genres. Due to the popularity of Marathi films among Indian audiences, several have been translated into other languages. As a result, certain Marathi films have been recreated in other languages, while others have been remade in other languages. Below is a list of the top ten Marathi movies that are remakes of other films.
1. Jarab (2013)
The Marathi action movie Jarab was influenced by the Hollywood movie " Taken Taken is a Franco-American crime action thriller d >> Read More... " featuring Liam Neeson I don't know who you are. I don't know wha >> Read More... . Ankush Chaudhary plays a cop looking for his kidnapped friend in the Marathi version. Instead of a friend, Taken kidnaps the protagonist's daughter. The kidnapping story in its entirety is shocking. As the child (Kim Mills) hides beneath the bed and informs her dad (Liam) about the kidnappers, Jarab recreates the event. The story continues in a more Bond-like manner.
...
2. Aga Bai Arrecha (2004)
Aga Bai Arrecha, directed by Kedar Shinde Kedar Shinde is an actor, director, producer and s >> Read More... , is partially based on Hollywood's "What Women Want" movie. The persona portrayed by Mel Gibson in the original was based on this individual's ability to read women's minds following an injury. Similar skills are granted to actor Sanjay Narvekar in the Marathi version. In the movie, Sanjay receives a particular "ear" for ladies after being blessed by his village's kuldevi. It shows how he went from being irritated to being pleased, cheerful, and in control of his life.
3. Zapatlela (1993) and Zapatlela 2 (2013)
An early 1990s Marathi movie directed by Mahesh Kothare Mahesh Kothare is a yesteryear Marathi and Hindi a >> Read More... was partially inspired by the English horror film Child's Play. Later, he produced a 3D prequel with Sonalee and his son Adinath Kothare as the main characters. The possessed doll Tatya Vinchu, however, was the star of the performance. Mahesh concentrated more on the picture's entertainment value than making it just another horror movie. Hence it wasn't as frightful as the Hollywood version.
...
4. Half Ticket (2016)
It is a 2016 Indian Marathi film produced and directed by Samit Kakkad Samit Kakkad is a Marathi director based in India. >> Read More... , Suresh Jaisinghani, and Mohit Jaisinghani. The film portrays the story of two slum child brothers and their unrelenting will to achieve their unreachable dreams. It is an authorized remake of Dhanush and Vetrimaaran's critically acclaimed Tamil film Kaaka Muttai Click to look into! >> Read More... . The film premiered on July 22, 2016. Half Ticket was picked for the Indiwood Panorama Competition section during the second Indiwood Carnival 2016 in Hyderabad. Half Ticket won the Ecumenical Jury Award at the 2017 Zlin International Film Festival in the Czech Republic.
...
5. Navra Maza Navsacha  (2004)
It is a 2004 Marathi film. The principal parts in the movie are played by Sachin Pilgaonkar This Actor received National Award for his perform >> Read More... , Ashok Saraf Ashok Saraf was born on 4 June 1947. This popular >> Read More... , and Supriya Pilgaonkar Supriya Pilgaonkar is best known as Supriya in the >> Read More... , respectively. The journey that the couple takes from Bombay to Ganapatipule to keep their pledge is shown in the film. The storyline of the film is taken from the Hindi film Bombay to Goa, which was released in 1972, and was a remake of the Tamil film Madras to Pondicherry, which was released in 1966.
...
6. Bhikari (2017)
This movie, sometimes known as Beggar, is a 2017 Marathi-language action thriller directed and co-produced by Ganesh Acharya Ganesh Acharya is an Indian choreographer, who is >> Read More... . Swapnil Joshi Swapnil Joshi is an Indian television and TV actor >> Read More... , Rucha Inamdar Rucha Inamdar is a young talent in the film indust >> Read More... , and Kirti Adarkar Kirti Adarkar is a Hindi Film Actress of Indian Ci >> Read More... portray the prominent roles in the film. Sayaji Shinde He is one of the most famous Tollywood and Bollywo >> Read More... , Guru Thakur Guru Thakur is a versatile actor, playwright, poet >> Read More... , and Kailash Waghmare Kailash Waghmare is an Indian film industry actor >> Read More... play minor roles in the film. The narrative of this film, a remake of the Tamil film Pichaikkaran, which was released in 2016, follows a young businessman who is pushed into living the life of a beggar to rescue his ailing mother and must overcome a variety of hurdles along the way. The film was released on August 4, 2017, with mostly positive reviews.
...
7. Ved (2022)
Genelia D'Souza produces Riteish Deshmukh's 2022 Marathi-language love drama Ved (Madness). Jiya Shankar Jiya Shankar is a Hindi TV actress who has worked >> Read More... and Ashok Saraf lend a hand. Majili, a Telugu love drama released in 2019, was recreated. Ved was released in theaters on December 30, 2022, with critics complimenting the characters (especially Riteish and Genelia), cinematography, music, and background soundtrack but criticizing the plot and meandering storyline. On February 12, 2023, it became the highest-grossing Marathi film of 2022 and the third-highest of all time, collecting 74 crores (US$9.3 million). It is Deshmukh's most successful Marathi film, surpassing Lai Bhaari (2014). Commercial and critical success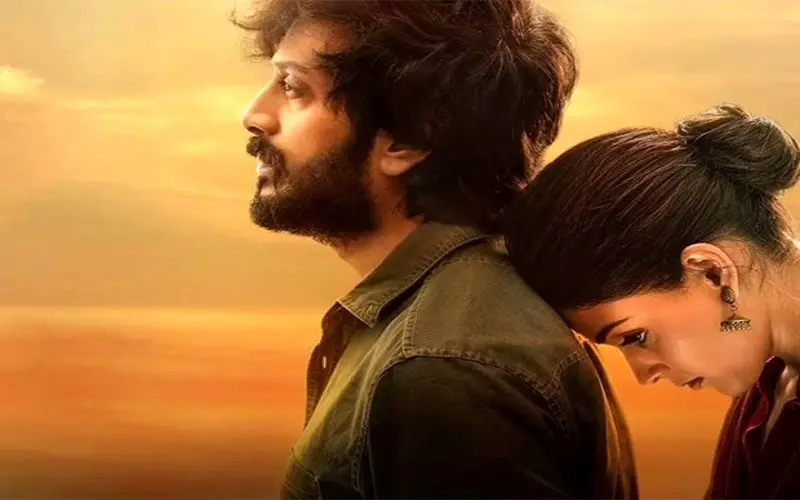 ...
8. Tu Hi Re (2015)
Sanjay Jadhav Bio coming soon... >> Read More... 's 2015 love story drama features Swwapnil Joshi, , and Tejaswini Pandit Tejaswini Pandit, brought into the world 23 May 19 >> Read More... feature in Tu Hi Re. After Duniyadari and Pyaar Vali Love Story, this is Sanjay Jadhav, Swwapnil Joshi, and Sai Tamhankar's third film. It is a true remake of the 2006 Tamil film Sillunu Oru Kaadhal, which starred Jyothika, Suriya, and Bhumika. For this film, Sai Tamhankar and Tejaswini Pandit sang their first playback songs. Sai Tamhankar and Tejaswini Pandit on Dil Dosti Duniyadari Dil Dosti Duniyadari is a TV serial that aired on >> Read More... promoted Tu Hi Re Swwapnil Joshi.
...
9.  (2016)
The film was produced in Marathi and was filmed in India. It was released in 2016. It is an officially sanctioned replica of the Telugu movie Brindavanam (2010). This film, "Vrundavan," stars Raqesh Bapat, Pooja Sawant Pooja Sawant is a Malayali actress. She has mainly >> Read More... , and Vaidehi Parashurami Vaidehi Parashurami is an Indian Model and Actress >> Read More... . Pooja is the love of Krish's life, and he adores her. Bhoomi, a close friend of Pooja's, wants to finish school, but her father wants to marry her to a local gangster. Pooja asks Krish to assist her in deceiving her father and asks him to pretend to be Bhoomi's lover while she's at it. The three of them will eventually have a more challenging time getting along as a result of this.
10. Dokyala Shot (2019)
Shivkumar Parthasarathy Shivkumar Parthasarathy is an Associate Director o >> Read More... is the director, and Uttung Hitendra Thakur Bio coming soon... >> Read More... is the producer of the 2019 Marathi movie Dokyala Shot. A Marathi youngster experiences memory loss as a result of a head injury. His pals learn after the incident that he is unaware of getting married. Based on events in the life of the film's cameraman Prem, this movie is a remake of the Tamil film Naduvula Konjam Pakkatha Kaanom (2012). Based on a true story, the debut feature is from the filmmaker. The film was highly praised when it was released on March 1, 2019.