1.1983(2014)
Easily one of the best movies from India, 1983 is the tale of Rameshan( Nivin Pauly Nivin Pauly is predominantly a Malayalam actor. Bo >> Read More... ) and his love for Cricket. The film shows the impact India's 1983 world cup win left on the hearts of many Indians, and how that single incident had changed the course of their lives. This tale of Cricket, love, and family, was director Abrid Shine's debut.
...
2.Karinkunnam Sixes(2016)
This movie had a stellar cast including Manju Warrier Manju Warrier is a South-Indian film actress, born >> Read More... , Babu Antony When Babu Antony (real name Bob Anthony) holds up >> Read More... , Sudev Nair Sudev Nair is an actor well known for his award-wi >> Read More... , and Gregory. It narrated the tale of a volleyball coach who trains a group of Jail inmates and forms a team. The film was noted for the brilliant performances of the actors, as well as the thrilling scenes of the volley tournament.
...
3. Happy Journey Click to look into! >> Read More... (2014)
...
Happy Journey, directed by Boban Samuel Boban Samuel is a famous Malayalam cinema director >> Read More... , is one of the best movies by Jayasurya. It followed the life of a blind cricketer who, with the help of friends and a mentor, battles odds to make it big in the game. The movie also had Lal, Aparna Gopinath Peering through her professional looking glasses a >> Read More... and Balu in lead roles.
4.Kochhavva Paulo Ayyapppa Coelho(2017)
...
Inspired from Paulo Coelho's 'The Alchemist,' this movie is about a young boy's dream to travel in an aeroplane. In pursuit of this goal, young Ayyappan learns swimming and becomes a champion at it in the hope of going abroad. Kunchacko Boban Kunchacko Boban is a handsome young guy who got in >> Read More... plays the youngster's mentor and swimming coach.
5.Sevenes(2011)
...
Sevenes had Kunchako Boban, Asif Ali, Nivin Pauly and Aju Varghese Aju Varghese is an Indian film actor, born to Varg >> Read More... in the lead, and depicted the tale of a group of seven youngsters, playing together as a football team. This Joshiy directorial explores the circles of crime that lie around the Sevenes football tournaments of Kerala. The group fall into a crime circle and their struggle to free themselves from it, form the rest of the plot.
...
6.Goal(2007)
...
Goal marked the debut of Rejith Menon The South Indian heartthrob, Rejith Menon, made hi >> Read More... and was directed by Kamal. The film depicted an orphan's dream to play football for the school in which he works as a janitor. Rahman plays the school team coach who notices his talent in the game, and enrols him in the school and thus includes him in the team.
7.Tournament(2010)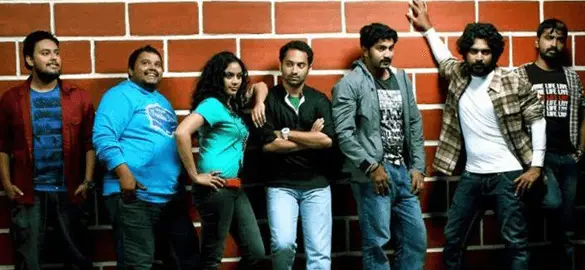 Tournament is a road movie, as much as it is a sports movie. Directed by Lal, it had a group of youngsters including Roopa, Fahadh Faasil Born in 1983, Fahadh Faasil is known for his works >> Read More... , Rahul Madhav Rahul Madhav is one among the actors presently hav >> Read More... and Manu in the lead. The film revolved around a cricket tournament in which the protagonists wants to get selected, and each character plots to stop the other contestants from playing.
8.Speed Track(2007)
Directed by S.L Puram, Jayasurya, Speed Track had Dileep, Riyaz Khan Riyaz Khan is a Tamil and Malayalam film and telev >> Read More... and Madhu Warrier Madhu warrior was born on 5th July 1976 in Nager c >> Read More... in the lead. Dileep played a former athlete who returns to the track to earn money for his crippled brother's treatment. His return to form leads to a rivalry between the college's Relay team. This story of love, friendship, and family was a huge success.
9.Mahasamudram(2006)
Mahasamudram had Mohanlal playing a middle-aged footballer from a fishermen community. The movie tracks his life, after he is forced to keep a murder secret to bring his jailed wife back. This sports drama- cum- thriller has been directed by S. Janardhanan.
10.KL 10 Pathu(2015)
KL 10 Pathu had Unni Mukundan Born on the 22nd of September, 1987, Unni Mukundan >> Read More... in the lead and was a celebration of the Malappuram district. And it would be almost impossible to avoid the football roots of the region. The story revolved around Sevenes football tournament. A team has to track down their major player who has eloped with his love, and make him participate in the tournament.